The notion of TV as decor often creates an aesthetic conundrum: When the TV is on, all is fine as it serves its purpose; when it's turned off, though, it can be a big, black, boxy blemish. But since televisions are an integral part of most American homes, it comes down to finding clever ways to work your oversize screen into a room's scheme. With that in mind we rounded up five of our favorite media/TV rooms where televisions mounted in plain sight still manage to look chic.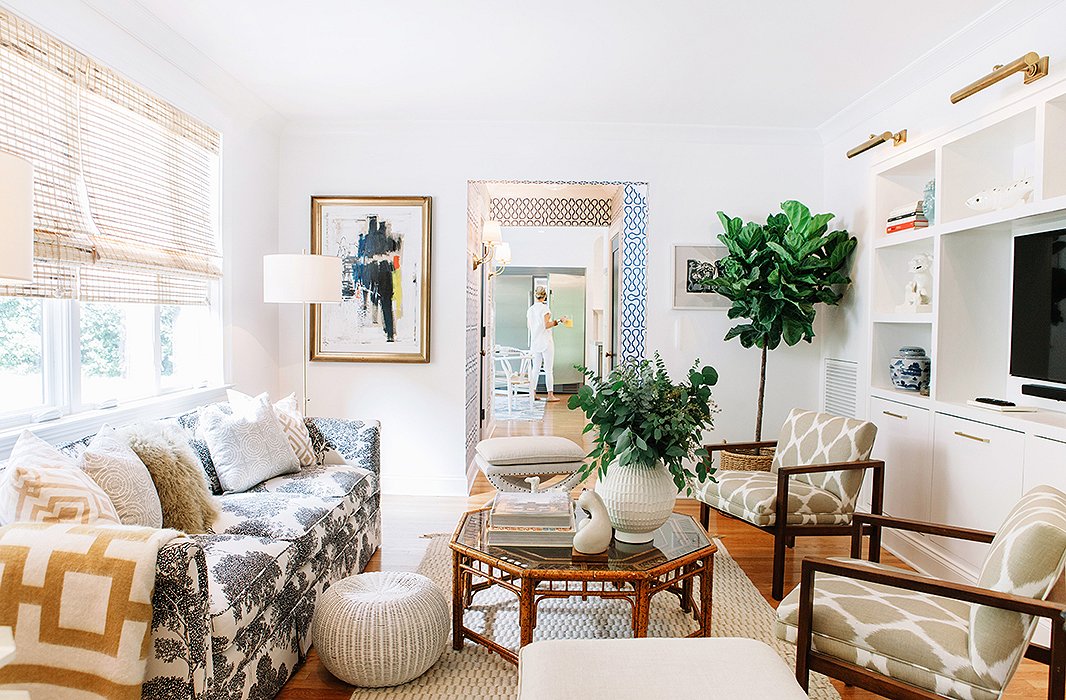 Rethink Your Shelves
In this bright and airy enfilade, bookshelves were installed to frame the television and finished with brass library lights to read more like a fine display case than a traditional media unit. If custom cabinetry isn't an option, try faking the look by positioning your TV atop a vintage dresser or sideboard between two étagères. The rest revolves around clever furniture arrangement: Here, two midcentury-inspired armchairs flank the screen but face the sofa—an arrangement that keeps the space geared toward social interaction.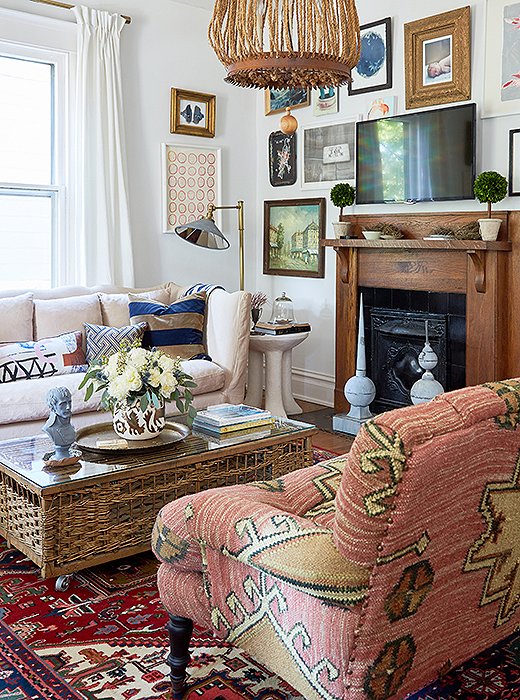 Distract with Layers
Many floor plans render the space above the fireplace mantel as the most sensible spot to hang or set a TV. If this is your scenario, focus on the surrounding accessories and finishing touches. Here, the vacant screen becomes part of a larger gallery wall and anchors the neighboring framed works. Topiaries and a pair of spherical sculptures add symmetry and polish. To further balance the functionality of the space, play up a stylish mix of patterns—starting with a classic Persian rug, for instance, and ending with mismatched pillows.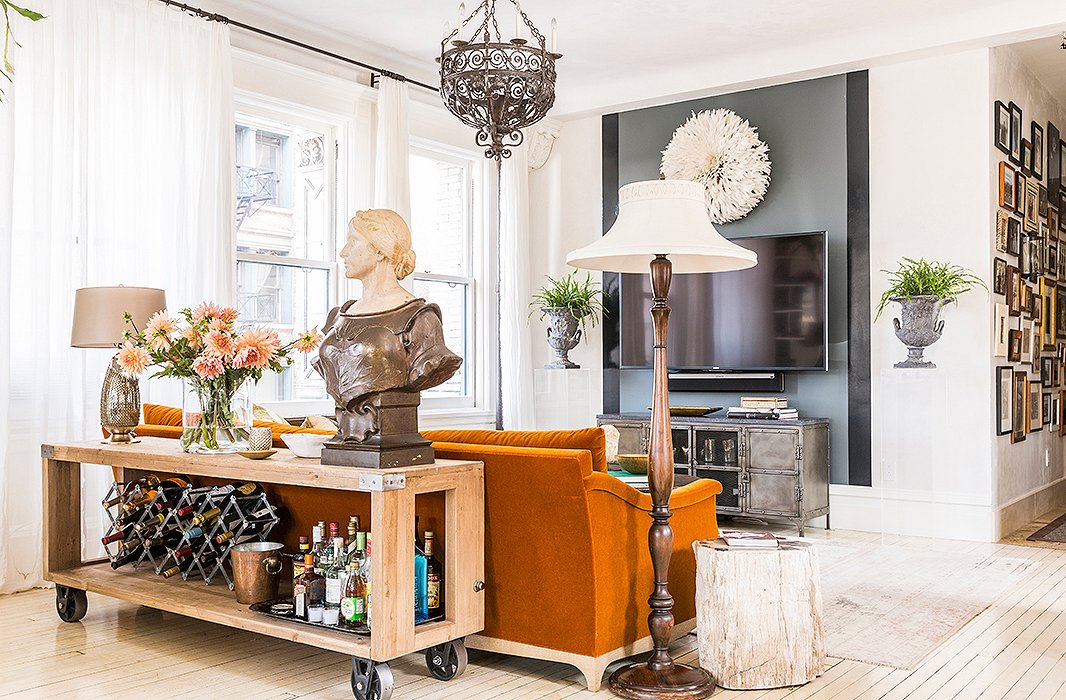 When in Doubt, Be Bold
If your television's big, make everything around it bigger and bolder. In this New York loft, an isolated coat of dark gray paint helps camouflage the flat-screen TV (dulling its visual impact) and sets the stage for everything else to shine bright. Over-the-top pieces such as an African juju headdress, a Joan of Arc bust, and urns planted with verdant ferns make for an expressive space that redefines the term entertainment room.
Don't Be Afraid to Go High
All too often people are hesitant to place a television above eye level for fear of a craned neck, but as long as there's seven to eight feet between where you'll be sitting and the screen itself there shouldn't be any postural problems. In this den, a few shelves were removed from the top of a built-in to create a TV niche, allowing the artwork to remain the room's focal point. Meanwhile, a carefully curated assortment of chintz, gingham, and chinoiserie dazzles at eye level.
A Utilitarian Approach
If you value function above all else, there's nothing wrong with setting your TV front and center as the focal point in your family or media room. This can work surprisingly well in wide-open floor plans, complementing the space's more boxy, modern lines. We do, however, recommend using a conduit to cover any stray wires and cords—adhered to drywall and painted the same color as the room, it (and everything it hides) virtually disappears.