From her couture wedding dresses to her bespoke red-carpet gowns, fashion designer Monique Lhuillier knows how to turn heads. Just ask Reese Witherspoon, Eva Longoria, and Drew Barrymore, who have all worn her designs. It's not so surprising, then, that Lhuillier's holiday party is as showstopping as her silk-and-lace creations. Below, the designer gives us a walk-through of how to pull together a holiday fete filled with all the glamour of a fashion show.
Add Shine, Sparkles, and Bubbles!
The best part of any fashion event? The free-flowing bubbly, of course. "We always serve champagne," says Lhuillier, "as it always puts us in a celebratory mood." Equally glitzy touches include metallic decorative objects, which Lhuillier says "add sparkle and twinkle" and "make a room feel special."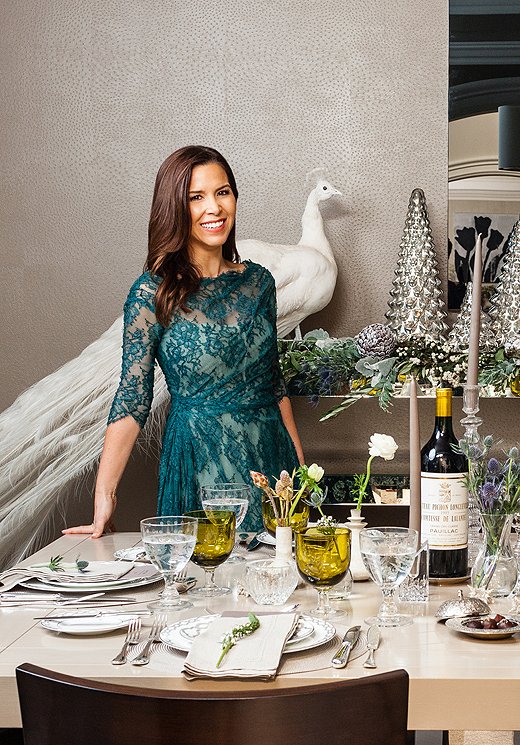 Always Have a Surprise Element
No show is complete without a showstopper. The two white peacocks, permanently planted in Lhuillier's dining room, infuse a serious amount of drama and are totally unexpected. "I add tiaras from my bridal collection to their necks for a little holiday sparkle," she says. Lhuillier also separates couples at the table for a surprise element that in turn leads to better conversation.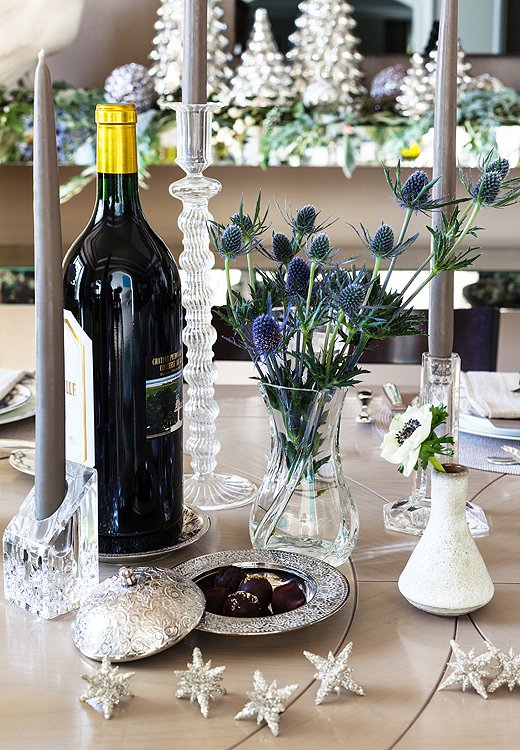 The Table is Your Runway
As guests move their eyes down the table, continue to surprise and delight their senses. Lhuillier likes candles for the cozy warmth they create, flowers for adding a pop of color, and dark chocolate truffles (her personal favorite), which pull double-duty as decor and a sweet treat for guests to pass around. "I like for my table to feel elegant but not entirely perfect," she says. "I am a strong believer in mixing and matching china and glassware."
Make Guests Feel Like VIPs
"Great company always sets the tone for a successful party," says Lhuillier, who puts as much thought into creating guest lists as she and her team do in deciding the front row at her fashion shows. To make everyone feel special, she places a personal touch at each place setting. "I love adding different flowers to my napkins—it is a conversation starter and gives an organic feel to the table."
Don't Forget Music, Lighting and Scent
"No matter what the occasion is, it is important for our house to feel inviting and comfortable," Lhuillier says. To instantly relax guests and set a festive mood, she dims the lights, plays lounge music, and lights scented candles. "The scent of a candle is one of the first things your guests will experience," she says. "It's all about striking the perfect balance of sights, touch, smells, and sounds to create an elegant and memorable atmosphere."
I'm inspired by luxurious materials and exquisite detailing. I believe my gowns need to feel special and unique. This same aesthetic is brought to my table and decor in my house.