During the holidays, the mantel is a place by which to gather with friends, to exchange gifts with family, and if you have little ones, to patiently wait for Santa to make his grand entrance. So it's worth your while to go the extra mile to warm up the hearth—and there's more to it than hanging those stockings with care. Ahead, see our favorite ways to have yourself a very merry mantel.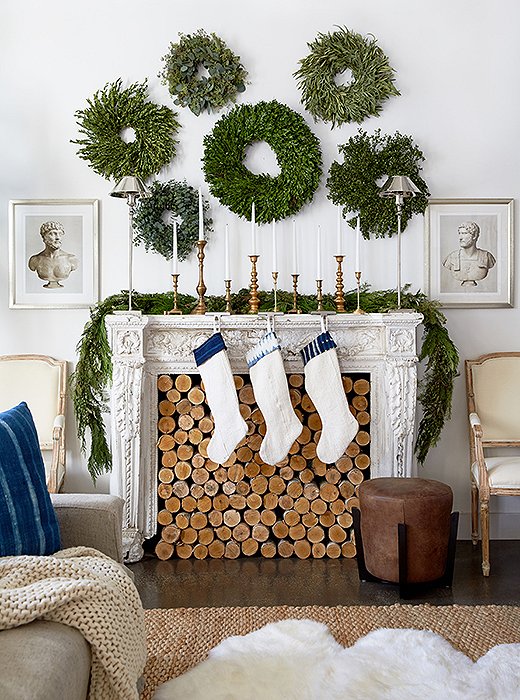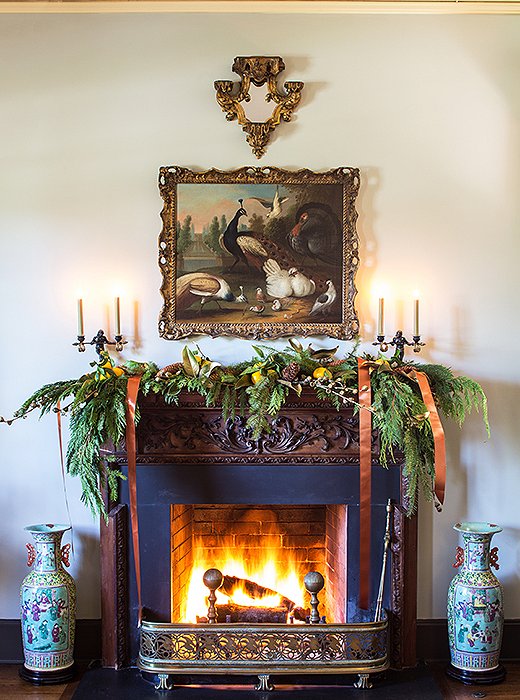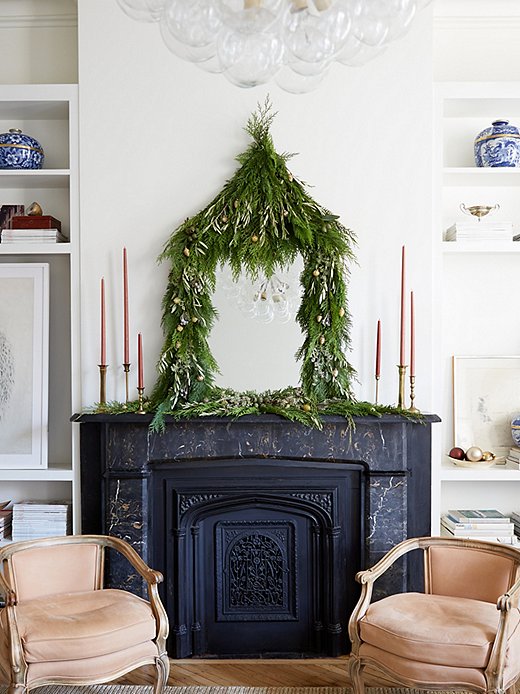 Grand and Green
The look: The timeless appeal, the lush appearance, that woodsy smell… nothing feels more quintessentially holiday than greenery. But it's not just for one holiday: We love greenery because you can decorate with it in the fall and keep it up until after New Year's. Try it on your hearth for a look that will feel fresh and festive all season long.
The elements: You guessed it—any and all manner of greenery can be involved to create this look, including wreaths, garlands, swags, and topiaries made up of eucalyptus, boxwood, magnolia, fir, and more. Mix a few varieties together to create a layered look, or try sneaking in a few pinecones or dried citrus for extra color and texture.
Idea to steal: Sets of candlesticks feel right at home nestled amid a lush garland—and are an easy way to add a subtle glow to your space if you're not planning on lighting the fireplace.
Full-Spectrum Fun
The look: Though we'll always love red and green for this time of year, something a little bolder and brighter plays right into the cheerful mood of the season. From the hottest of pinks to the deepest of blues—plus a sprinkling of gold and silver—no hue on the color wheel is off-limits.
The elements: Pair cheerful with chic to avoid going too kitschy. A smattering of sophisticated pieces, such as metallic ornaments and nutcrackers, will help elevate rainbow-bright stockings, pom-pom garlands, and any other bold baubles in the space.
Idea to steal: Let the kids in on the decorating action! Throw a family tree-trimming party and let them deck out their own miniature versions with handmade ornaments—an activity that's certain to help them savor the season even more.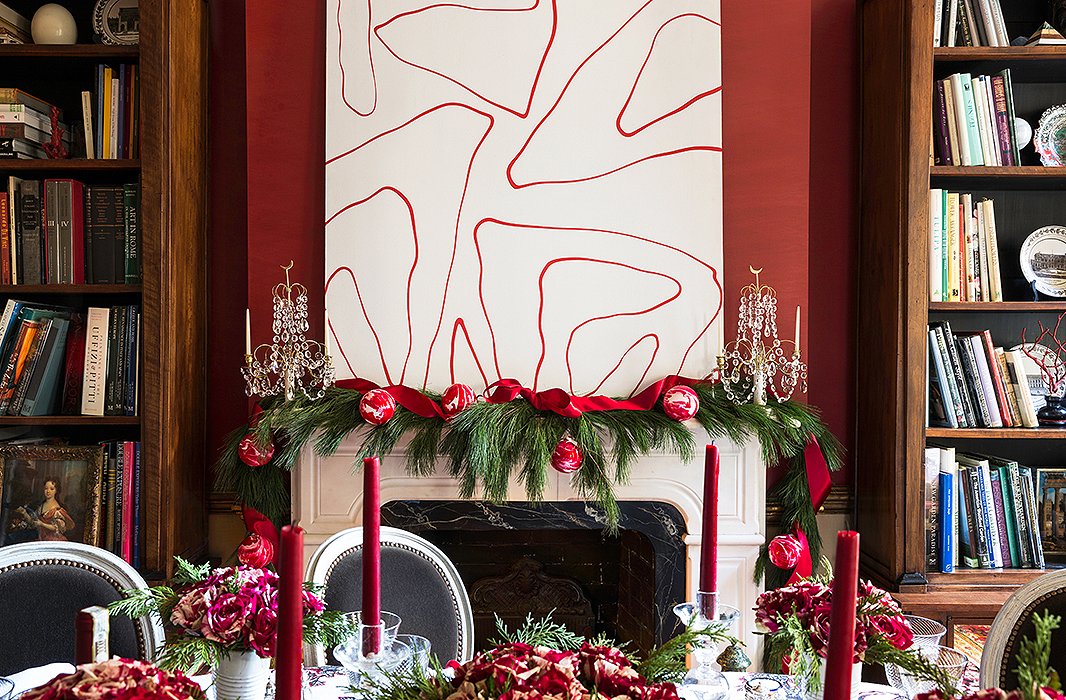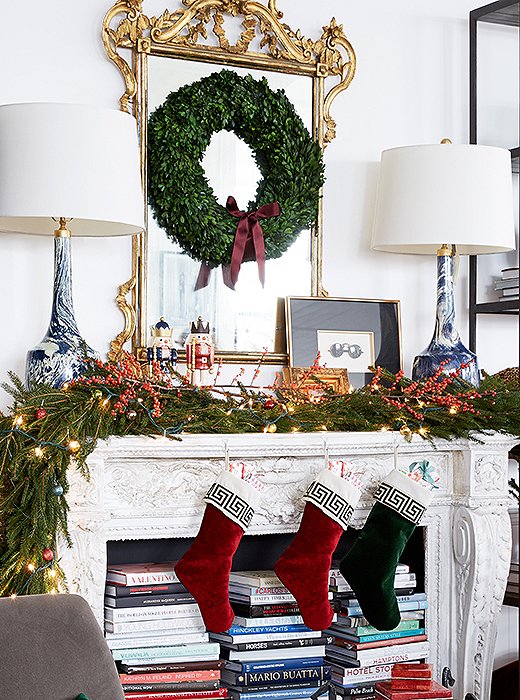 Timeless with a Twist
The look: New traditionalists, this look is for you. The classic hallmarks of Christmas decor—red and green, fresh greenery, lights—feel entirely fresh on these mantels thanks to a few fashion-forward finds.
The elements: It's all about creating an inspiring mix: vintage with new, timeless with modern. Start with a strong, traditional foundation (a garland bedecked with Christmas ornaments, stockings, ribbons), then bring in an element or two of the unexpected—like the pair of marbleized lamps and the oversize abstract painting seen here.
Idea to steal: Nonworking fireplace? No worries. Try filling your hearth with stacks of books for a collected look that will feel right at home among the classic-modern mix. (Plus it's the perfect place to store your tomes for the season if you're clearing off a bookshelf or coffee table to display your nutcrackers or other holiday collections.)
A Metallic Moment
The look: Though frosty in appearance, this mantel is anything but short on warmth. Its elegant, glamorous flair gives it a celebratory vibe—making it an easy way to seamlessly transition your hearth from Christmas to New Year's.
The elements: Focus on incorporating a wide mix of textures to bring more life to the subdued color palette. Go beyond your basic greenery by using a variety of plants, such as the blue thistle, olive branches, and silvery sprigs of berries seen here. The sparkling houses and trees bookending the mantel add unexpected whimsy to the look—certain to delight and surprise guests. The only thing that's missing? A bottle of champagne.
Idea to steal: Incorporate graphic appeal without disrupting the monochromatic palette with bold black-and-white artwork and simple color-blocked stockings.
Dark and Handsome
The look: Thanks to its dapper, literary look, this mantel would feel right at home amid shelves of books in a library—or in any other space with cozy vibes. It's much moodier than your usual holiday hearth, but a few classically festive touches bring in just the right amount of cheer.
The elements: Strike a pleasing balance by pairing the masculine (an oil painting, nutcrackers, and antler accents) with the classically Christmas (a decorative lemon tree and kissing ball, snowy bottlebrush trees, and embellished stockings).
Idea to steal: Not everything on your mantel needs to be taken down or rearranged for the season. Give existing artwork a new look for the holidays by outfitting it with a gorgeous garland of greenery.