Natural-fiber rugs have long been designer favorites—their earthy texture lends a relaxed, easy vibe to a space, and their higher-than-average durability makes them a practical choice too. But with such a range of styles and materials on the market, how do you find just the right one for your space? Below, we're decoding the four most common types of natural-fiber rug: jute, sea grass, sisal, and hemp. From pros and cons to key care tips, here's everything you need to know to find your ideal style.
Determining Your Needs

When shopping for a natural-fiber rug, keep placement, usage, and look and feel in mind. Do you have young children who'll sit or play on the rug? You won't want to pick a scratchy weave. Shopping for a high-traffic spot? Choose a darker hue or a stain-resistant weave to keep it looking fresh.
High-traffic areas include hallways, family rooms, the foyer and entryway, and the kitchen. Rugs that are durable and stain-resistant are best for these spaces.
Medium-traffic rooms get regular use but aren't main thoroughfares for your home—think the dining room and the home office.
Low-traffic spaces include bedrooms, formal living rooms, and guest rooms. Rugs in these rooms will get the least wear and tear, so don't be afraid to go luxe with lighter colors and softer materials.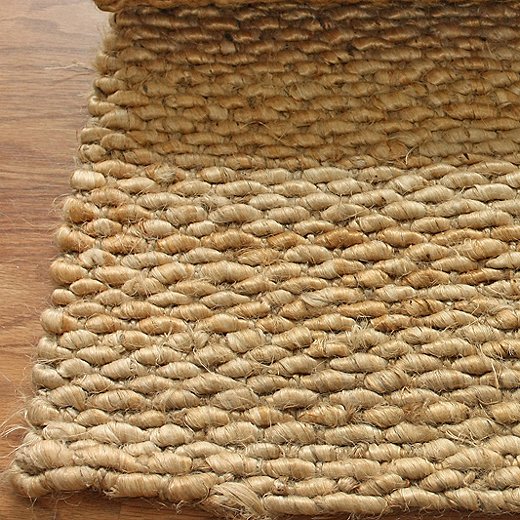 Jute
Jute rugs have a perfectly imperfect texture that adds earthy beauty to a room. The same fiber used to make burlap, jute grows in shiny, green stalks that are soaked, stripped, and spun before weaving. This process gives the fibers a natural brown hue, but they can also be dyed a range of colors.
Pros: Because jute fibers come from the plant's stalk, not its leaves, the material is wonderfully soft; it almost resembles wool.
Cons: That softness means it's also the least durable of the bunch, making it best for low- and medium-traffic areas.
Cleaning and care: Vacuum regularly, and blot spills quickly.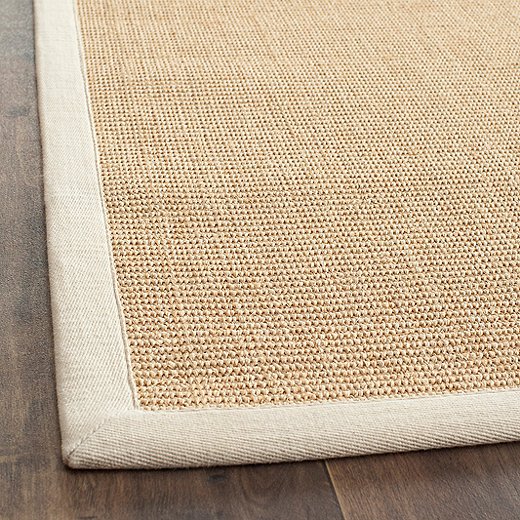 Sisal
The keyword with sisal is durability. Made from the sisalana, or agave, plant native to Brazil, Mexico, and Africa, sisal fibers are the toughest of the group (they're often used to make rope and twine). Like jute, sisal can be dyed and comes in a range of earthy hues.
Pros: Especially durable sisal is great for high-traffic areas.
Cons: Sisal fibers are coarse, so they're less comfortable underfoot than jute. They're prone to becoming a bit slippery with a lot of wear, so avoid using sisal runners on stairs. And because sisal is absorbent, tough stains can be tricky to remove.
Cleaning and care: Vacuum regularly, and remove spills quickly.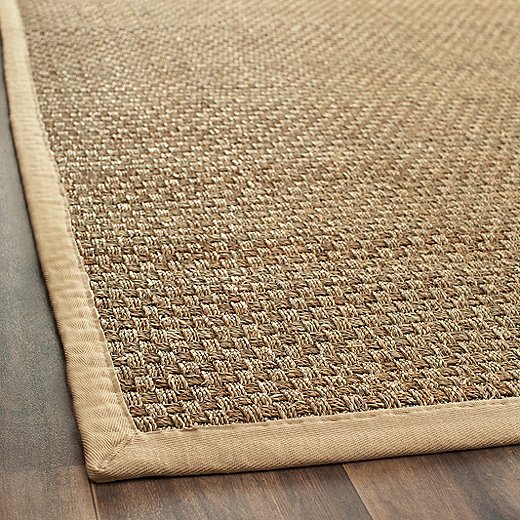 Sea Grass
Sea grass offers texture galore. Grown in saltwater marshes, it's nonporous and thus incredibly water-resistant. Sea-grass fibers have a light sheen and often start out with a light-green tinge that fades to khaki. Sea-grass rugs are typically bound with cotton or leather and backed with latex, so while they're not reversible, they do stay put.
Pros: Sea grass is stain-resistant and incredibly durable. It also feels better beneath bare feet than sisal, so it's a great choice for kitchens and bathrooms. Sea grass is fast-growing and easy to harvest, making it an eco-friendly choice.
Cons: Like most other natural-fiber rugs, sea-grass styles cannot be used outdoors. Because the fibers don't take dye well, color choices are limited.
Cleaning and care: Vacuum regularly, and blot spills quickly.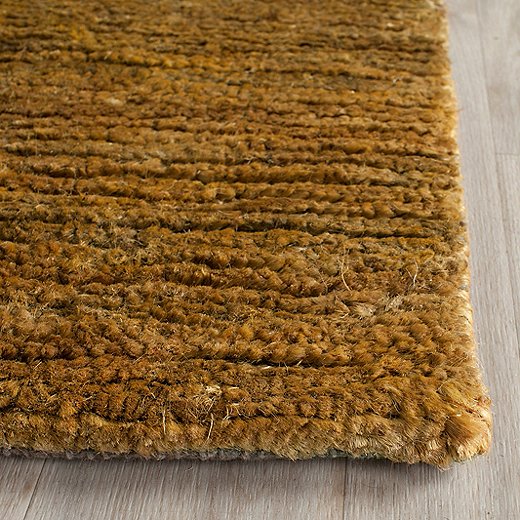 Hemp
Hemp fiber has been used in textiles for thousands of years. Like sea grass, it is naturally durable and makes for highly hard-wearing rugs. In its natural state, hemp is a coppery brown hue, but it can be dyed and woven into intricate patterns.
Pros: Hemp is sustainable, mildew-resistant, and incredibly strong. And while its texture can be coarse, it will soften with use.
Cons: You can expect some shedding from hemp rugs.
Cleaning and care: Vacuum regularly, and spot-clean.