Chaise lounges are the ultimate luxury furniture piece. The chaise has a history as long as modern civilization, but the style as we've come to know it was first popularized in France during King Louis XIV's reign. Louis XIV was known for his taste in the finer things, as evidenced by his passion project: Versailles. It was at Versailles that the chaise became a key piece of furniture needed to survive the long days and many parties. The formality of life back then meant one couldn't simply retire to the bedchamber for a nap. But the aristocrats du jour could find themselves a lovely chaise where they could sit for a spell. While the days of Versailles may be over, their influence remains.
The modern chaise may no longer be a place for courtiers to lie down after a long day, but it is the perfect place for you to curl up. We designed a chaise that gives a contemporary refresh to a traditional silhouette. Meet the Roslin, available exclusively at One Kings Lane.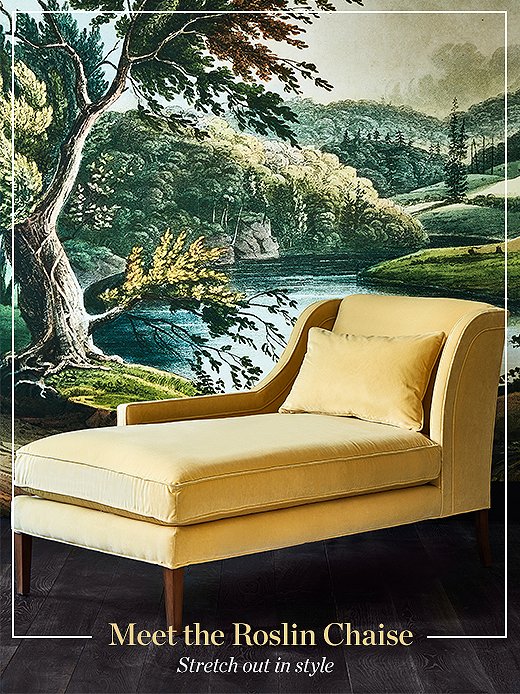 Meet the Roslin
All of the made-to-order furniture in the One Kings Lane Collection is designed with you in mind. Classic lines, soft upholstery, and handcrafted details are just a few of the reasons we know you'll love the Roslin chaise.
Sumptuous upholstery: You can stretch out in style on the Roslin thanks to its soft velvet upholstery, available in seven colors: canary, fig, jade, navy, forest, teal, and light gray. It's also available in white linen.
Chic silhouette: The curvaceous lines of the Roslin are rooted in tradition yet imbued with a modern sensibility. This piece looks just at home in Versailles as it does in a New York City loft. It is available in both right- and left-facing models.
Made in America: The Roslin is proudly made to order right here in the USA, exclusively for One Kings Lane. We handpicked each of the fabrics and finishes to fit in any space. 
Our Style Guide
If you love the idea of the chaise but don't know if it's right for you or how to style it, don't worry. We asked our director of interior design, Becca Roderick, for advice.
Consider scale. "The biggest consideration when looking at a chaise is the scale," says Becca. She suggests thinking of it as a supporting player. "It should feel like a nice addition to the other furniture within the space and not as if it is overwhelming the room."
Make it a destination. "A chaise is the perfect place to sit and read a book or enjoy a beverage," Becca says. Make the most of it by partnering your chaise with a small side table and a floor lamp. "It's a classic trio.
Live your style. "The great thing about a chaise is that it can be styled to work with any aesthetic," says Becca. If you're a Naturalist, Becca suggests pairing it with a table that has a raw wood finish. A vintage throw or pillow is the perfect accessory for the Eclectic. A Curator should keep things streamlined with a sleek floor lamp. For the New Traditionalist, Becca suggests pairing it with a classic garden stool. 
Need more help? Book an appointment with One Kings Lane Interior Design.