Pillows and throws are the simplest way to give any sofa that gorgeous, impeccably finished decorator look (not to mention the utmost lounge-ability). But with nearly endless potential combinations, it can be hard to know where to start. Here, we're breaking down the basics, from pillow sizing to patterns, to help you fashion your perfect sofa setup.
The Blank Canvas
Whether white, gray, navy, or black, a neutral sofa (such as the one above) is a decor classic—and allows for the greatest variety of pillow combinations. Some sofas come with a set of throw pillows, such as the white squares here, but that doesn't mean you're stuck with them. Swap out two, three, or all of the pillows to give your sofa a fresh, custom look.
As a general rule, an odd number of pillows makes for the most natural, inviting arrangement: three for smaller sofas, and five for larger ones. For this 92-inch sofa, we'll use five—but our guidelines can be applied to sofas of any size.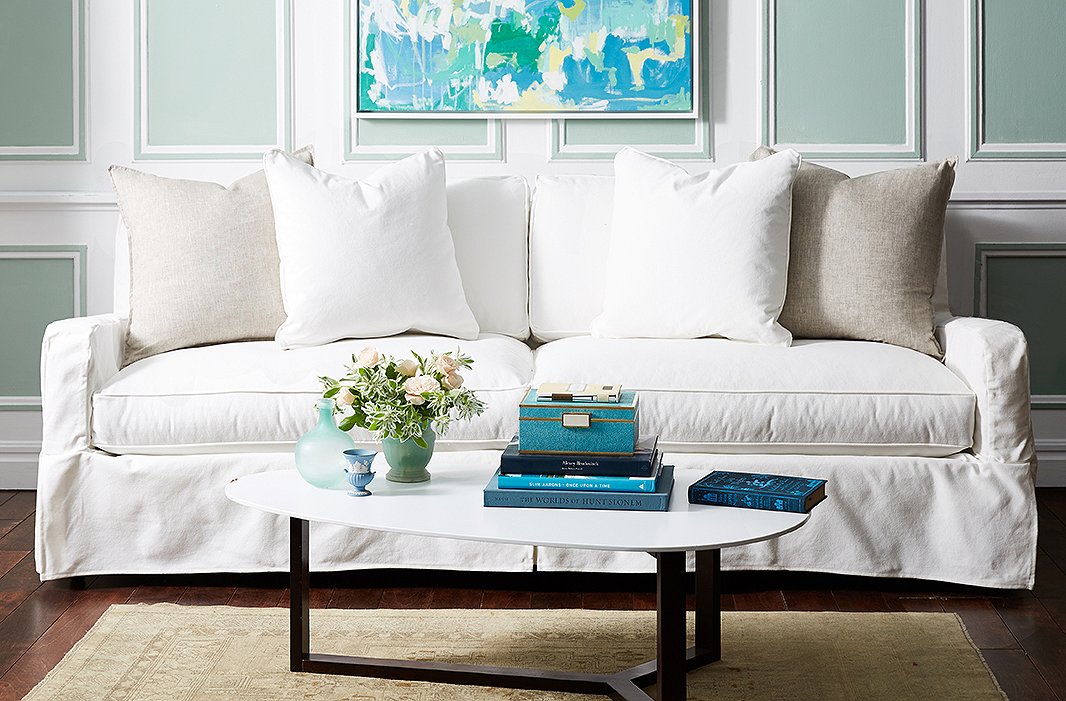 Creating a Versatile Base
Start with a pair of neutral-tone pillows—either 22- or 20-inch squares, which feel comfortably plush on larger sofas, or standard 18-inch squares—to create a versatile foundation for the rest of your arrangement.
For these base pillows, choose a texture that plays against your sofa in an interesting way. We love how these smooth linen squares look against our sofa's crisp cotton slipcover—but velvet or wool would be equally lovely.
Color, Pattern, and Personality
Now for the really fun part! Pick a pair of square pillows—either the same size as your first layer or a little smaller—in a color and pattern you love. Look for something that picks up on the hues of the surrounding room; your area rug makes a good starting point, but you can also take inspiration from your wall color or other upholstery.
Here, we chose pieces in a classic blue stripe, which lends a subtly summery vibe to the white sofa and ties into the art and accents in the space.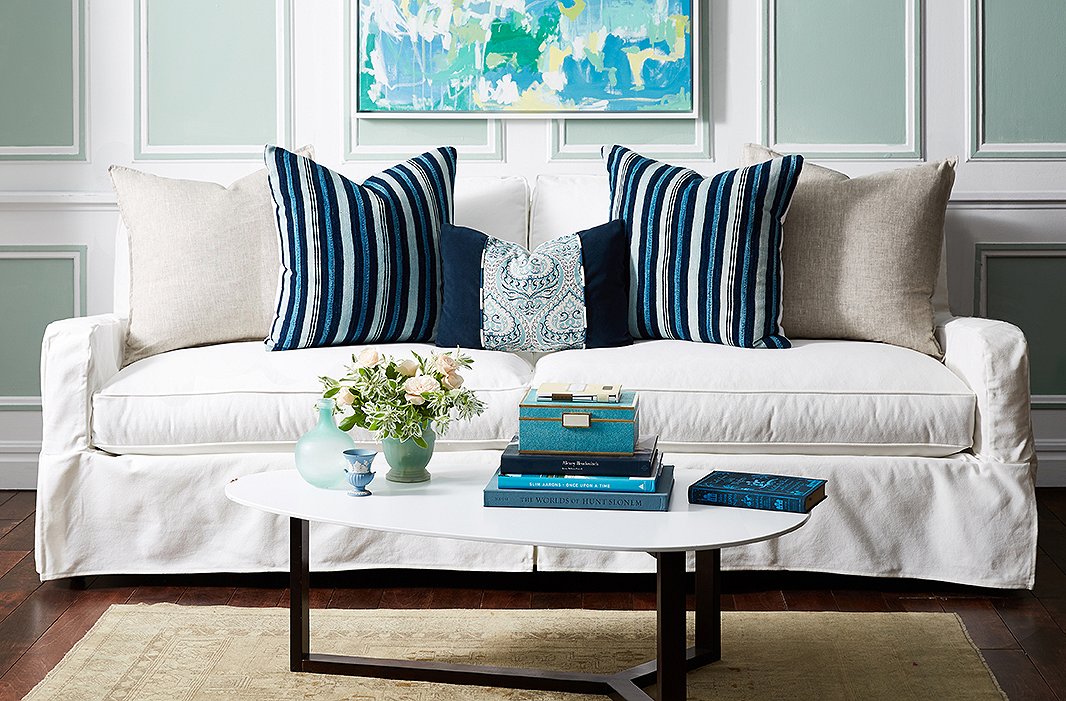 The Wild Card
To complete your pillow party, add one more piece in a smaller size (bolsters or lumbar pillows are perfect here) and a standout texture or pattern: Think metallics, embroidery, or even faux fur.
We opted for a paisley print with a navy border, which complements the striped squares without being matchy-matchy. The smaller size and rectangular shape give balance to the overall arrangement, adding interest and keeping the sofa from feeling overcrowded—you want plenty of room to get cozy, after all!
The Finishing Touch
No beautifully styled sofa is complete without a throw, which adds one more layer of gorgeous texture (and majorly ups the comfort factor). We chose a light quilted style in a neutral hue that can transition from summer to fall with ease.
For a tailored look, fold the throw neatly over the back or arm of the sofa; for a relaxed feel, simply drape it over one side.
Bonus Round: Change It Up…
… for the season, for the holidays, or whenever the mood strikes! Simply switching out one or two pillows can give your sofa (and room) a whole new look. Here, replacing the striped squares with pillows in a navy-and-white animal print is a simple swap that takes the sofa from breezy chic to laid-back glamour.