"Comfortable, clean, and a few inches to the left," says Suki LaBarre when describing the look of the New York City apartment she shares with husband Morgan Buksbaum, who works in entertainment marketing. Decorated almost entirely in shades of black, white, and gray, it illustrates how a mix of textures (mud cloth, velvet, hide) and styles (global, midcentury, industrial) can create a gender-neutral look full of character.
Achieving said look came all the more naturally given Suki's role as director of strategy and growth for One Kings Lane. Most everything was purchased directly from the site, and a number of design decisions were made with an assist from One Kings Lane Interior Design. "The designers gave me the confidence to take risks," Suki says. "There were certain things that I thought might be over-the-top and ridiculous, but they encouraged me to go for it." Without the designers, pieces such as the bedroom's shagreen bed and the dining room's oversize chandelier might not have made the cut.
A space primed for laid-back living, the apartment is a far cry from what it once was. Before renovation, it resembled "something you'd find at a souk in Marrakech," says Suki. Dark floors were paired with walls painted in green and blue, and lanterns hung where recessed lighting now shines. It was the kind of place one could imagine layered with rich fabrics, rugs, and a hookah or two.
But not all is gray in the revamped space; the couple's gallery-worthy art collection lends bold strokes of color to every room. Suki's mother spent the better part of her career at Artforum and Interview magazines, during which she amassed an array of works by artists including Robert Longo and Roy Lichtenstein, as well as a personal portrait by Andy Warhol, all of which now hang in Suki and Morgan's new space. "We feel so lucky to be able to enjoy her collection every day," Suki says, and the neutral backdrop lets each piece stand out—prompting all who enter to take a moment to pause in front of each one.
Read on for a full tour of Suki and Morgan's home and see how it went from a bohemian nest to a cleanly contemporary apartment with room to grow—or what Morgan refers to as a "home I rarely want to leave… like ever." From choosing the right palette to creating a layout that flows, we're breaking down what you need to know to channel the look.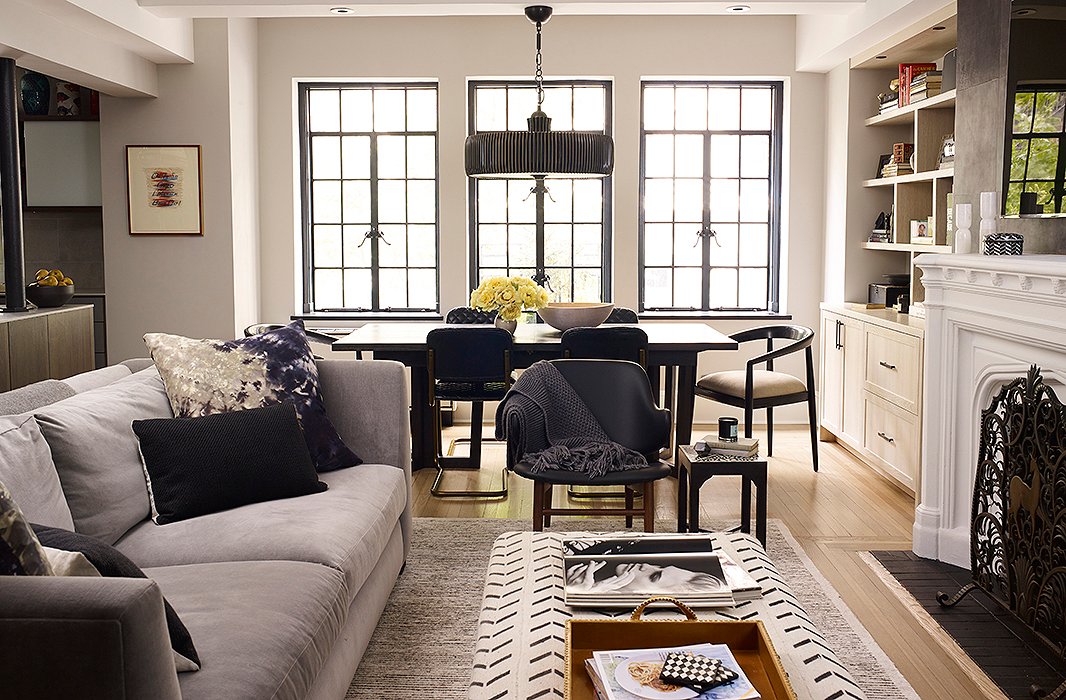 Tip 1: Translate Your Personal Style and Let It Shine
Before you begin a renovation or decorating project, you must decide what kind of look you want. Are you Parisian chic or American classic? Charming and coastal or glamorous and mod? If unsure, write down a list of the movies you think are the most stylish, hotels you stayed in and loved, and your go-to clothing brands. More often than not, you will find a common thread among your favorites, which will give you the insight needed to isolate your style and go after it with conviction. Pinterest, too, is a great resource, and one that Suki and Morgan used when trying to merge her affinity for things off-kilter and his fondness for "rock-and-roll with a bohemian vibe."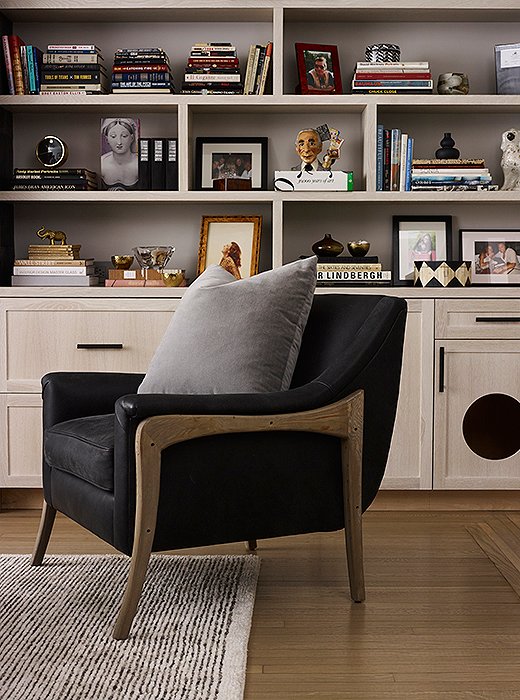 Tip 2: Create a Layout That Flows
Whether you're knocking down walls as Suki and Morgan did or just looking to rearrange a few chairs to increase the chi, a layout that functions is key to good living. For Morgan, the kitchen was one of the most important areas of focus. A skilled chef, he wanted an open-plan kitchen/dining area to cook with ease and entertain like a pro. In order for this to happen a wall needed to be knocked down and replaced with a large marble counter where hot pots could be set without worry and conversation could continue freely from one room to the next. "It makes the apartment feel so much larger," he says, and has the added benefit of allowing more sunlight to pour through the original iron windows.
In terms of furniture placement, a natural flow was achieved by centering the living room's sofa to the original Tudor-style fireplace and positioning the dining table and chairs in the enclave closest to the kitchen for easy access. To give the bedroom a spacious feel, the couple invested in quality essentials (a king-size shagreen bed, sizable nightstands) and left the rest fairly bare. After all, in New York City—or any other place where small-space living is the norm—spaciousness is a luxury. Suki and Morgan took their time in selecting furniture and deciding where to place each piece. "When we were shopping online, we made sure to check the dimensions and tape out where we thought things should go on bare floors and really tried to visualize what it would look and feel like," Suki recalls. The result? Rooms in which every pieces has its place and nothing feels crowded.
Don't be intimidated by decoration. Pick a color palette, a piece you love, and just start building from there.
Tip 3: Focus Your Palette
A cohesive color palette is essential for any well-decorated space. But where to start? Suki and Morgan began by selecting a major foundational element: the floor. They wanted a space that felt light and bright, and a cerused oak finish provided the perfect solution. With a swatch of the floor in hand they picked paint, cabinets, and hardware, keeping the finishes consistent from room to room.
When it came time to choose furniture, they began with the sofa, matching its gray velvet to what they'd selected for hard finishes. "We spent a lot of time thinking about how the different tones would work together," Suki says. "There had to be enough of a contrast between each thing so that nothing felt matchy-matchy." Look closely and you'll see how the sofa picks up on the rug's deeper tones, the richness of the adjacent leather armchair, and the nubby white mud cloth on the Tammy Price ottoman.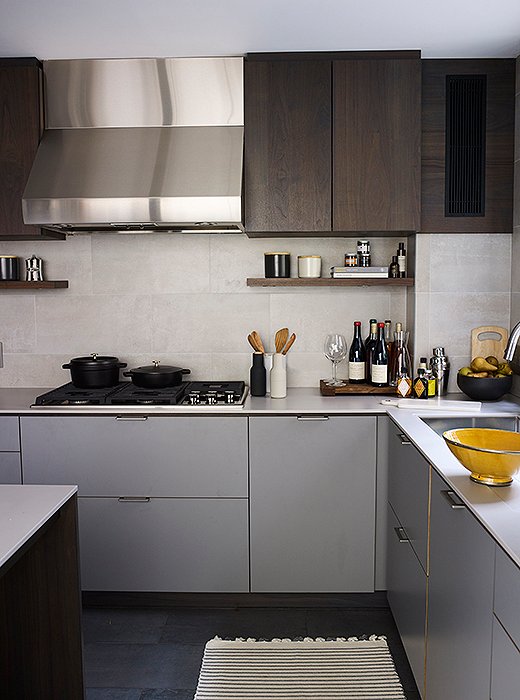 We wanted something that didn't feel cluttered. There needed to be a sense of calm; the colors, the furniture, and the materials are all very clean but warm.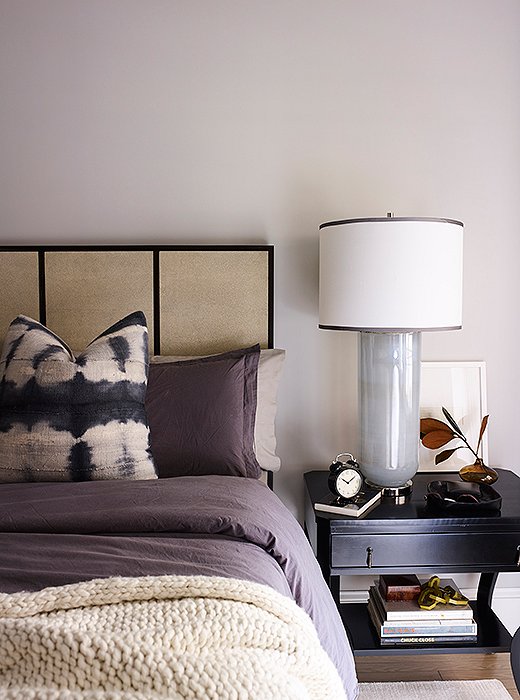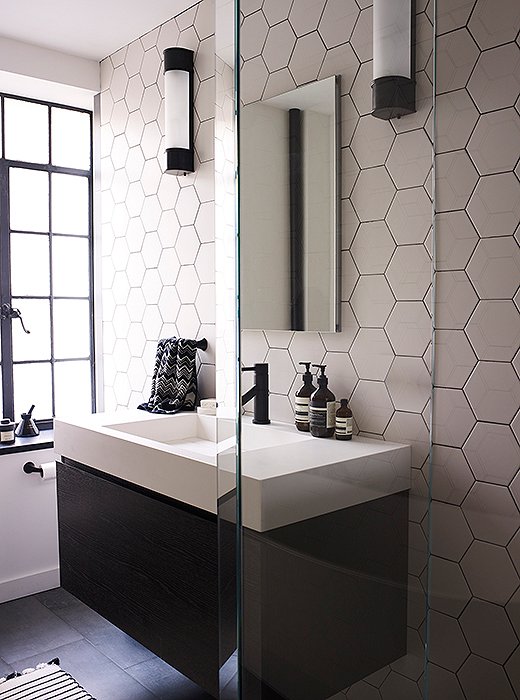 Tip 4: Remember the Effects of a Beautiful Home
With any design project, there will inevitably be a few moments of doubt. You'll second-guess your decisions, consider settling for something you don't actually love, and late at night, alone with your thoughts, begin to tally up each and every expense and question if it's all worth it. But to this we say, sally forth! As Suki and Morgan can attest, a beautiful home makes for a better way of life. "A remodel is stressful, and there are curveballs, but it was something Suki and I tackled as partners," Morgan says, "which I feel brought us closer together." Suki agrees, referring to their experience as a "tremendous undertaking with challenging twists and turns," but one that resulted in a perfect reflection of their lifestyle and aesthetic. "It's priceless," she concludes. And if it ever gets to be too much, don't be shy in asking for help. Suki and Morgan looked to One Kings Lane Interior Design, as you can too. Alternatively, a stylish friend with a good eye and a strong opinion can help you find your way out of the weeds and into a home you love.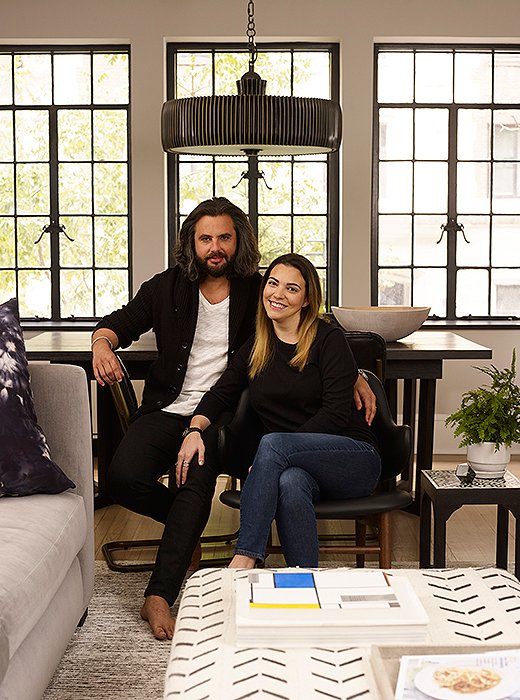 A remodel is stressful, and there are curveballs, but it was something Suki and I tackled as partners, which I feel brought us closer together.