To hear Trina Turk tell the story, there were many reasons she and her husband, Jonathan Skow, would not have wanted their Palm Springs home, affectionately known as "Ship of the Desert."
"We were looking at a lot of stereotypical Palm Springs homes: walls of glass, flat roofs," she reminisces sitting in her kitchen decked out in a breezy, bright caftan (what else?). "Then our realtor said, 'I do have a home, but it's not the style you want, it's not the size you want, and it's over your budget.'"
That was 1998. And after seeing the unique home (a streamline Moderne style inspired by a sea vessel), surviving the "financial stretch," and a fire that nearly destroyed the house, the L.A. couple settled into a dedicated renovation and now have a chic desert oasis they love and retreat to weekend after weekend.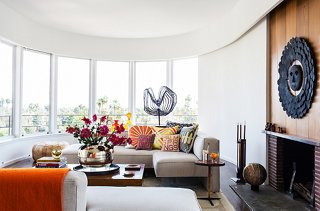 Minimalists No More
After they completed the renovation with the help of architectural firm Marmol Radziner, they kept the interiors quite clean. "Our thinking was it was all about the outdoors, and we didn't want to distract from the views," says Trina. But 13 years later, there is definitely more color and pattern. "It's how we live and who we are. Design is an ongoing process that never ends. It's an evolution." The process also inspired a new expression for Trina's colorful designs. "I guess that's why I started making textiles and pillows," she says. "I needed them for my house."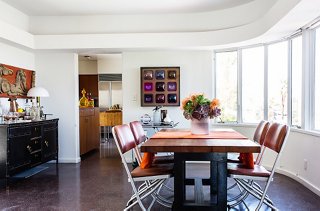 Mixing What Matters
Finding the home's unique vintage pieces was fairly easy given that the property is nestled in the center of  a "collector's paradise." But Trina's approach balances the beautiful with the practical. "One of our rules is to have certain things that we don't worry about," she explains. "Our dining room table is a bit trashed, so people can forget coasters and it's okay." The Warren McArthur dining chairs are pragmatic too: "They fold up, so we can move them outside." One treasured passion purchase was the plexiglass piece by artist Aaronel deRoy Gruber. "She did a lot with layered color… which I love!"
"Our home is anchored by pieces my husband, Jonathan, and I have collected over the years. Adding, deleting, and switching things up over time gives a home true character."
Pick a Bright Bedroom, Any Bright Bedroom
Having a larger house than expected means Trina and Jonathan can entertain lots of friends and family, who have their pick of stylish accommodations. "Everyone lays claim to certain rooms as their own," says Trina. What's common to all of them are the bright, quirky textiles and accents. "Designing a room and a head-to-toe look are not that different! Color, texture, proportion, and fabrics are all important—from a room's architecture (the body) to the furniture (clothing) to the art and accents (jewelry, shoes)."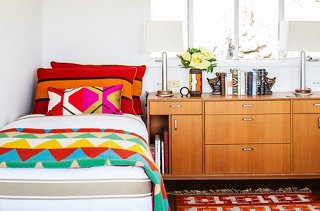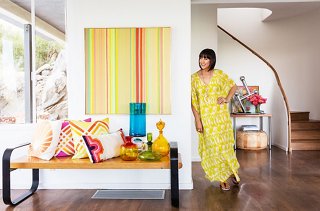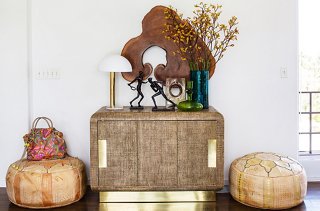 Always on the Hunt
Call it a professional or personal hazard: Trina is constantly seeking inspiration for her line or her leisure-time escape. "I guess I need visual stimulation," she says. "Sometimes it's work inspiration, and sometimes it's just for fun. I'm inspired by glassware, ceramics, jewelry. I am never really looking for anything in particular." And everything gets put to good use in this home. "We don't have any displays per se. We want to use what we collect."
What I love about this house is that it's fairly clean. It's not minimalist per se but airy-looking. It doesn't look good with tons of stuff everywhere.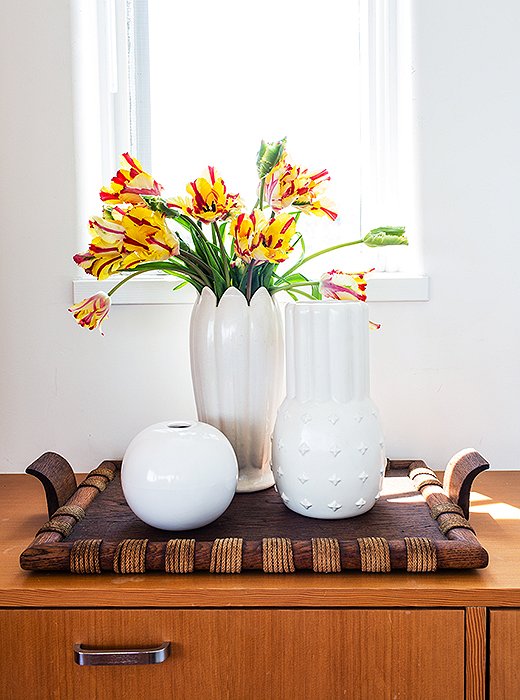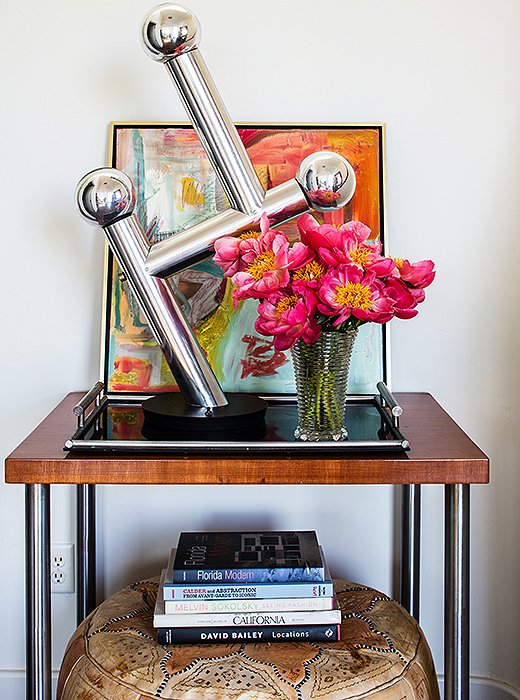 This painting was done by a friend who stayed here. I intended to hang it, but now I kind of like the way it looks leaned againt the staircase.