Bob Richter's love of antiques goes back to childhood. "Our family home was multigenerational and filled with wonderful things that were often relegated to the attic," he says. He spent many hours of his youth scrounging around up there, playing and looking for something cool. "It was a free place for me to go picking," says the author and TV personality. Like Helen of Troy, the hours in the attic launched a thousand (metaphorical) ships for Bob. He has spent his adult life hunting for antiques that have a special meaning. He's parlayed that passion into television appearances, an interior design firm, a vintage dealership, and two books—the latest of which, on stands now, is all about living with vintage.
Vintage Living
"Like many others out there, I'm a 'stuff' person," says Bob. This was the underlying principle of his book Vintage Living. A lifelong collector, Bob has a lot of stuff, but "it's important to me that my home doesn't actually look like a flea market or thrift shop," he says. The book shows how to cohabitate with all that stuff and make it feel personal (and not at all like a thrift shop.) "I display by color and shape. I mix styles and periods—that's the fresh way to live with vintage," he says.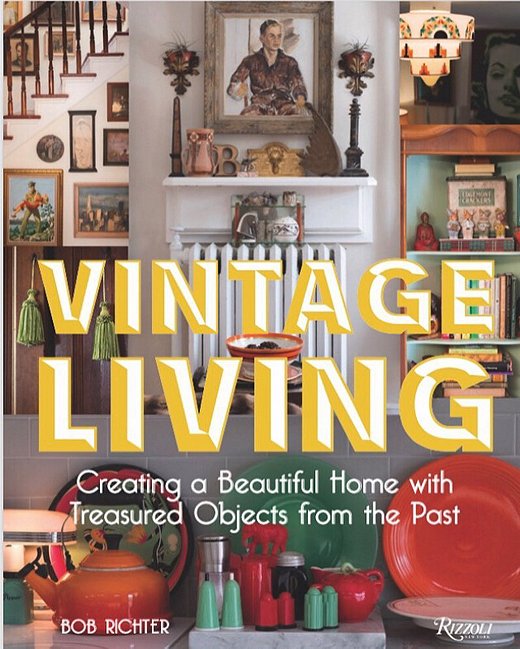 Over 13 chapters, Bob covers what it means to live thoughtfully surrounded by other people's stories—and how to make your own. The first half of the book is an adventure. Bob takes you from his eclectic home in New Jersey to an actress's colorful getaway to the home of a mayor-turned-vintage dealer. Through the various homes Bob tours, readers get a sense of how to curate a vintage collection of their own. "These homes showcase how to live with collections and family heirlooms in a fresh, uncluttered way," he says.
The latter half reads as an expert's how-to guide. Bob takes you through some of his favorite ways to arrange vintage collections—think color blocking and symmetry—and teaches you how to entertain with a vintage flair. The final few chapters, though, are perhaps the most valuable to a vintage-lover. In them, Bob shares his industry secrets: tips on bargaining, where to find the best deals across the country, and ideas for hosting your own successful yard sale. 
Expert Advice
We love Vintage Living because it offers something many books don't: a blueprint. Read on for snippets of Bob's expert advice on how to find the best deals and embrace the vintage lifestyle. 
On the lifestyle: "Part of the Vintage Living mentality is understanding that stuff outlives us," he writes. In Bob's eyes, we're just the stewards of other people's stories. Each item we collect has a past, and it is our job to make sure it lives on. To do this, Bob suggests giving vintage gifts, bringing back letter writing, and caring for vintage clothing. 
On hosting a yard sale: Yard sales are the everyman's auction house. "The thrill of pulling over, popping out of the car, and hunting for treasure is as alive in me today as it was when I was a kid," says Bob. He says the keys to hosting a successful yard sale are advertising, organizing, and being flexible. He also notes that kindness goes a long way with your customers. 
On hunting for vintage: Bob kindly shares his treasure map on the last page of the book. He lists 19 stores across the country that he considers to be the best of the best in antiquing. No road trip would be complete without them!