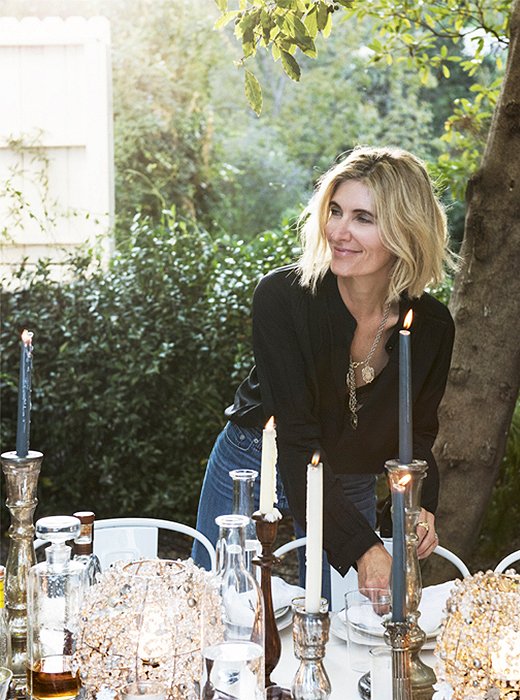 French girls may rule when it comes to effortlessly chic dressing, but if Amy Neunsinger is any indication, California women may one-up them when it comes to casually elegant entertaining. One look at her lovely, layered tablescape lets you know that there's a real point of view behind her hosting approach, yet it also leaves you to marvel at the seeming offhandedness of it all. How does the noted lifestyle photographer (she's shot for everyone from House Beautiful to Vanity Fair to, yes, One Kings Lane) pull it off? We got Amy, who lives in Laurel Canyon with her husband, Shawn, and two sons, to share her tips and step-by-step breakdown on how to throw an unfussy yet fabulous winter dinner party.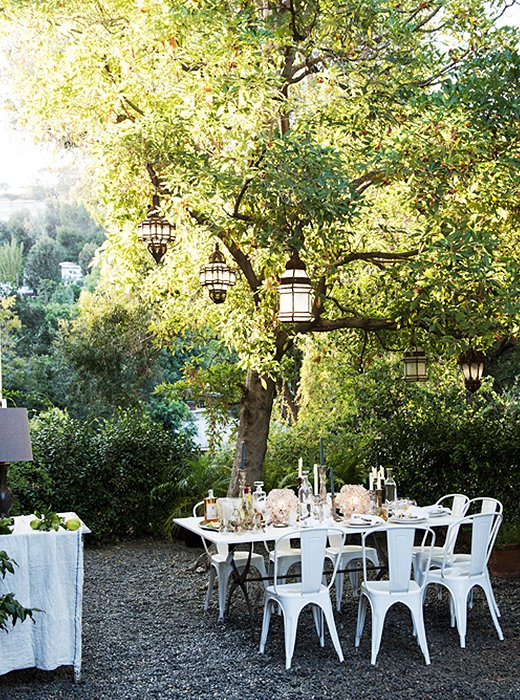 Plan a Smart (Seasonal) Menu
Amy focused on a meal appropriate to her eight guests that wouldn't leave her a slave to the stove. "I want menus where I don't have to be in the kitchen when the guests arrive. Everything can be done ahead of time and then at the last minute," she says. "I entertain because I want to see friends, and the food is what brings people together. I don't want to be in the kitchen the whole time, stressed out!"
Rather than heading to the store with a menu in mind, "I'm really guided by what the freshest ingredients available are. I love citrus for a winter menu," Amy says, noting that the theme can be carried from the cocktails to the main menu all the way to the decor. "It was everything that was available at the farmers' market. It just felt warm and cozy. It's in our DNA: In the winter you crave a hearty, stew-y meal."
I entertain because I want to see friends, and the food is what brings people together. I don't want to be in the kitchen the whole time, stressed out!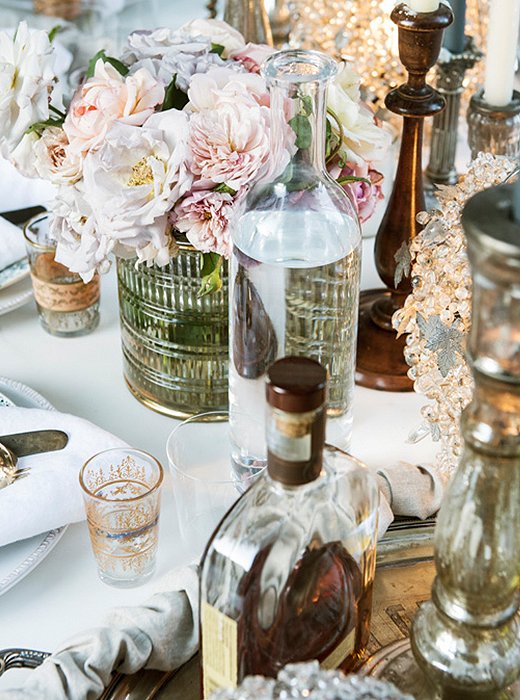 Set a Mix-and-Match Table
Once the menu is set, Amy turns her attention to presentation. Here, her beloved collection of vintage plates—accumulated over the years with no particular rhyme or reason—takes center stage. "I started my career shooting for Martha Stewart Living, and I was exposed to such beautiful vintage plates," sighs Amy. "So it started then, and I just continued buying pieces on my travels." Her table features an intermingling of vintage and modern elements. New dinner plates are layered under vintage salad plates, and crisp linen napkins are paired with vintage flatware. "It's a mix-and-match approach," she says. "It can't all be vintage. That's not how we live." Formality is cast aside in favor of a more carefree sort of chic: a table that, as Amy says, is "a little bit of new, a little bit of old, and a little bit of passed down."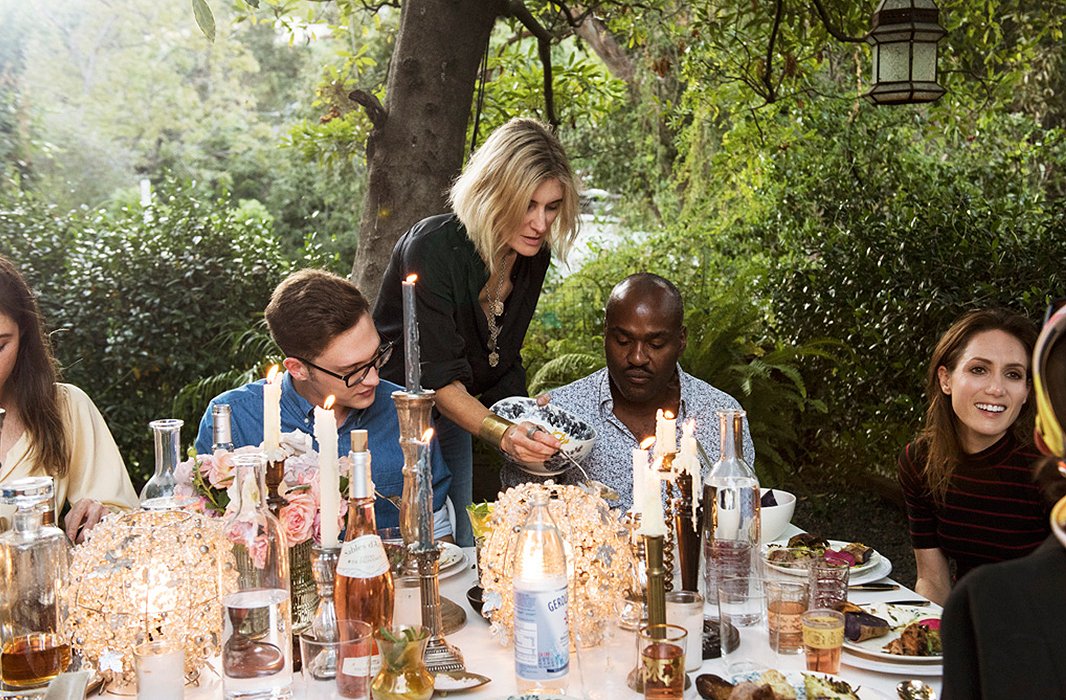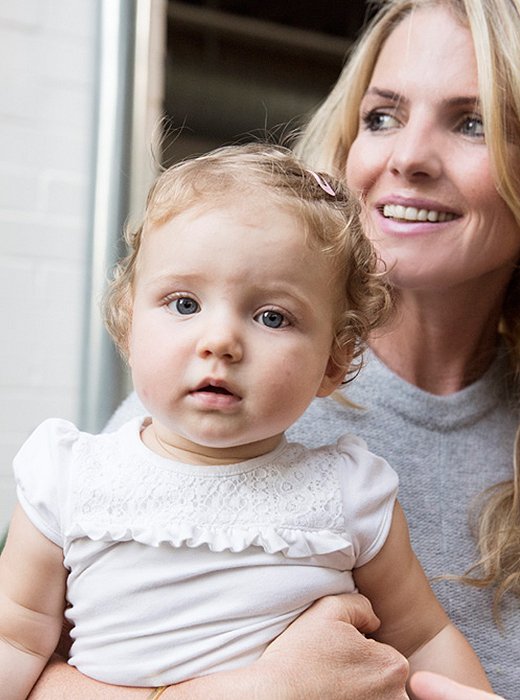 Keep the Evening Moving
Amy is a master when it comes to keeping a party flowing; one trick is serving dishes family-style. "I like people to sit down and pass. It's a really good way to warm up people who don't know each other—you know, they're helping each other serve." It also affords her the opportunity to showcase some of her special serving pieces.
Dessert is another opportunity for mingling. Often Amy will have guests come inside to grab a slice of pie or cake in the cozy room off her kitchen. People get to stretch their legs and have a chance to chat with guests who might have been positioned on the other end of the table. "It's all about flow," says Amy, who has entertained as many as 60 people in her backyard, courtesy of her accommodating barn-table seating. Sometimes it's a tight squeeze, but as she says, "I like keeping spaces cozy. It's much nicer to be in a room that has too many people than not enough."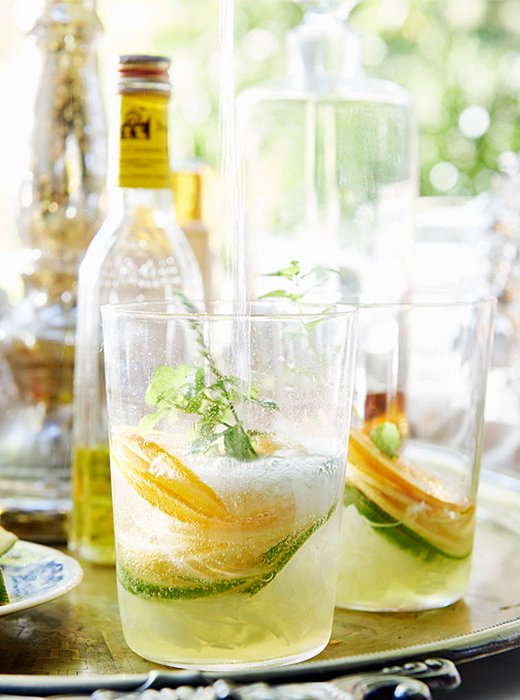 Limoncello Spritz
Makes one cocktail
An easy, refreshing cocktail to whip up in a flash with no muddling, shaking, or straining required. This drink goes down like a treat, so buyer beware.
Crushed ice
Several paper-thin slices of limes, lemons, and oranges
1.5 ounce shot limoncello
Sparkling water
Mint sprig, to garnish

Directions:
Fill a pretty cocktail glass halfway with crushed ice. Layer in citrus slices to the brim. Add a shot of limoncello and top off with sparkling water. Garnish with a sprig of mint.
I like people to sit down and pass. It's a really good way to warm up people who don't know each other—you know, they're helping each other serve.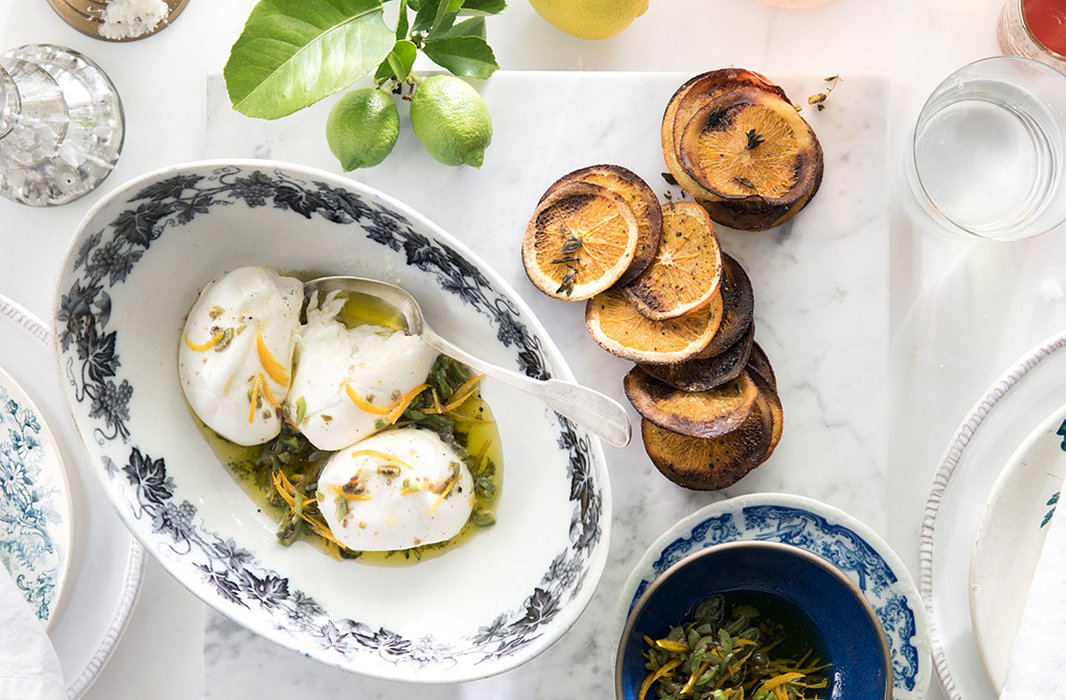 Orange Crisps with Fresh Burrata, Sumac, Green Olives, and Zest
Serves 8-10
Unexpected and gorgeous, orange crisps can be made in advance and stored in an airtight container. Recrisp in a warm, not hot, oven before serving if needed.

For Orange Crisps:
Makes about 24

2 medium organic navel oranges, washed and scrubbed
1 1/2 tablespoons olive oil
Sea salt
Fresh black pepper
Several sprigs of fresh thyme

Directions:
Heat an oven to 425 degrees Fahrenheit. Slice oranges into rounds, working with a sharp knife to produce slices as thin as possible.  
Brush a baking sheet with a 1/2 tablespoon of olive oil. Arrange orange rounds on the sheet, creating a single layer with little to no overlap. Drizzle oranges with the remaining tablespoon of olive oil. Sprinkle with a generous amount of sea salt, several cracks of black pepper, and fresh thyme.
Set in the oven and roast until the edges start to turn dark golden, about 15 minutes. Reduce oven temperature to 200 degrees and gently roast until the orange flesh is completely crisp, about another 45 minutes. Keep an eye on things, as oven temperatures can regulate at different speeds. Remove from oven and let cool before serving.

For Burrata and Dressing:
1 navel orange, scrubbed
1/2 cup green olives, pitted and roughly chopped
1 anchovy fillet, minced to a paste
1/4 teaspoon dried coriander seeds, roughly shopped
1/2 cup good-quality extra-virgin olive oil
4 balls of fresh burrata
Flaked sea salt

Directions:
Use a sharp knife or a vegetable peeler to remove the skin from orange with as little pith as possible. Slice zest into thin strips.
Place in a small bowl and add olives, anchovy, coriander, and olive oil. Place burrata in a serving bowl, and spoon the dressing on top, reserving some to present as a relish at dinner. Sprinkle with sea salt, and serve with orange chips.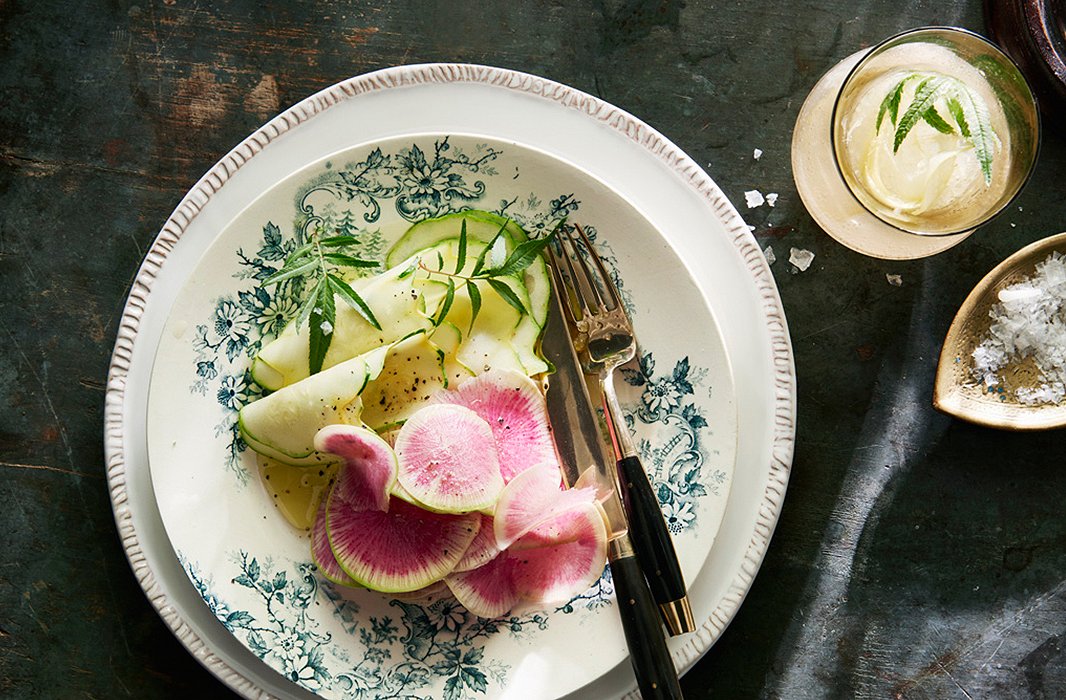 Watermelon-Radish Slaw with Pattypan Squash and Lemon
Serves 8-10

2 medium watermelon radishes, scrubbed
1/4 cup fresh lemon juice
3 medium pattypan squashes, scrubbed
Good-quality extra-virgin olive oil for drizzling
Flaked sea salt
Freshly ground black pepper
Several sprigs of fresh mint, tough stems removed
Directions:
Use a mandoline to slice radishes into paper-thin rounds. Place in a bowl and toss with lemon juice. Let stand about 10 minutes to pull the "sting" from the radishes. Slice squashes in a similar fashion and combine with the radishes. 
Toss and let stand another minute or two. Drizzle with a good amount of olive oil and season with salt and pepper,  Add mint and serve.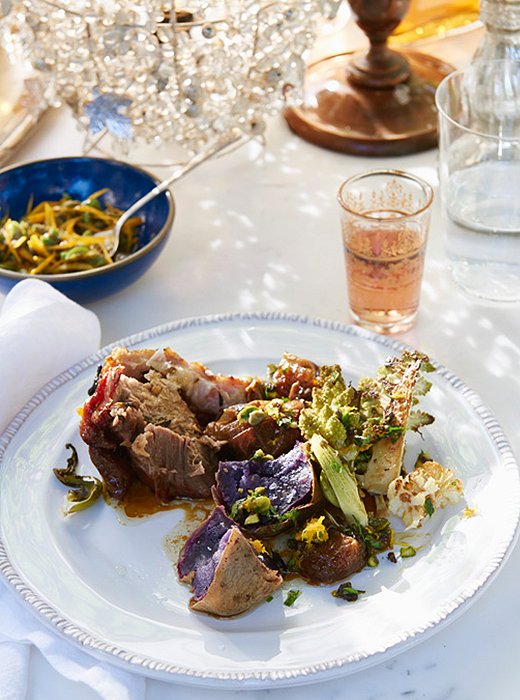 Roast Japanese Purple Sweet Potatoes with Rosemary and Coconut Oil
Serves 8-10

6 large Japanese purple sweet potatoes, scrubbed
2 tablespoons solid coconut oil
Several sprigs fresh rosemary, stems removed and leaves coarsely chopped
Flaked sea salt
Melted butter or olive oil,  for serving

Directions:
Heat oven to 425 degrees. Rub the outside of the scrubbed potatoes with coconut oil, then season with chopped rosemary and sea salt.  Set potatoes on a sheet pan and roast until they easily give with pressed, about 45 minutes depending on the size and shape of the potatoes. 
Remove from oven.  Cut into large chunks and served drizzled with melted butter or olive oil, with more salt on the side.
Slow-Roasted Pork Butt with Marmalade, Oregano, and Onions
Serves 8-10 (with leftovers if you are lucky)

8 medium shallots, peeled
10 large red pearl onions, peeled
1 leek, tough green leaves trimmed and the white part split, quartered, and rinsed free of grit
10 cloves garlic
8-pound boneless pork butt (often called pork shoulder)
Flaked sea salt
Freshly ground black pepper
Several sprigs fresh oregano
1/2 cup dry white wine
1/2 cup marmalade
Directions:
Heat oven to 425 degrees. Place shallots, onions, leek, and garlic in a heavy-bottom Dutch oven. Season pork with a generous amount of salt and pepper, covering the entire cut of meat with a nice, even coating. Tuck a few oregano sprigs into the empty crevice where the bone once was; make sure to season there too. 
Set pork butt over the shallots and onions, fat side up. Toss the remaining oregano sprigs into the Dutch oven, sprinkling some leaves over the top for good measure. Add wine to pot. Place in hot oven and let roast until top is golden brown and some bubbling is starting to happen down below. 
Reduce heat to 325 degrees, cover pot with lid or foil, and let roast another 6 hours, checking from time to time to make sure the Dutch oven has not run dry. 
Remove from oven. Mix marmalade with some of the juices that have collected in the pot, and pour the mixture over top of pork.  Increase the oven temperature to 400 degrees, then return the pork to oven and cook, uncovered, until the skin is crisp, about another 30 minutes. The pork should be tender enough to break up with a large spoon. Serve with juices and onions.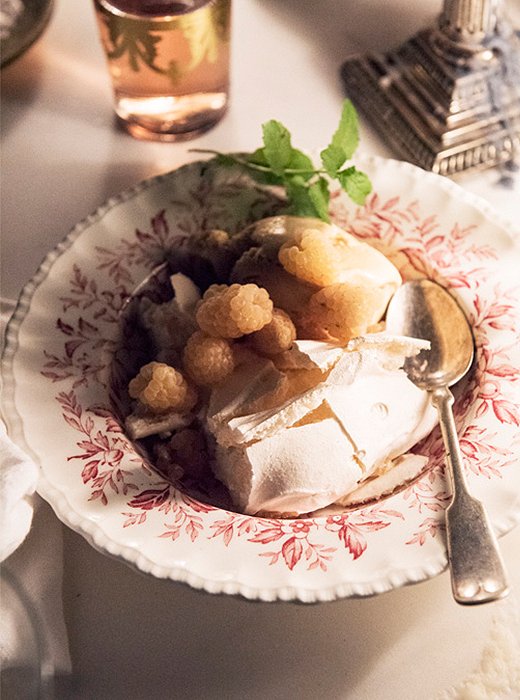 Burnt Orange Caramel Ice Cream, Meringue, and Raspberries

For the Burnt Orange Caramel Ice Cream (if not buying):
1 1/2 cups sugar
1/2 cup fresh orange juice
2 cups milk
2 tablespoons Grand Marnier or pure vanilla extract
10 large egg yolks
1/2 teaspoon flaked sea salt, plus more for sprinkling over the ice cream
2 1/2 cups heavy cream

Directions:
Combine 1 cup of sugar and the orange juice in a medium saucepan and set over medium heat. Melt the sugar, swirling pan as needed, until the sugar turns a molten golden caramel brown, about 3 minutes. Be careful not to burn. Slowly add the milk. The sugar will spit and harden, so use caution. Add Grand Marnier or vanilla extract, then set over low heat and simmer very gently so that the hardened sugar can dissolve into the milk.  
In a medium bowl, whisk together the remaining 1/2 cup sugar, egg yolks, and salt until pale yellow. Slowly add the egg yolk mixture to the simmering milk mixture, tempering the egg mixture first with a ladleful of hot milk and using a rubber spatula to keep the combined mixtures moving while they thicken to a thin custard consistency. 
When the custard mixture is just thick enough to coat the back of a spoon, pour in the cream. Remove from heat immediately and pass through a fine sieve, then set in an ice bath to chill. Freeze according to ice-cream machine instructions. Serve with meringue and berries and a nice sprinkling of salt.

For the Meringue:
6 large egg whites, room temperature
Big pinch cream of tartar
1/2 cup superfine sugar
1/2 teaspoon cornstarch
2 teaspoons Grand Marnier
2 teaspoons white vinegar

Directions:
Heat oven to 250 degrees. Line a baking sheet with parchment paper and set aside. Combine egg whites and cream of tartar in the bowl of an electric mixer with whisk attachment. Beat to form soft foamy peaks. With mixer running on medium high, gradually add sugar, tablespoon by tablespoon. Be patient: Meringues will bake up scaly if sugar is added too quickly. When all the sugar is incorporated add cornstarch, Grand Marnier, and vinegar. Beat a few minutes more. The meringue should be very thick and silky. Use a rubber spatula to spread meringue onto the prepared baking sheet and form into a nice billowy 10-inch round, about 2 inches thick. Place in oven and bake 2 hours. Turn off oven and let stand overnight. 

For Serving:
2 pints golden raspberries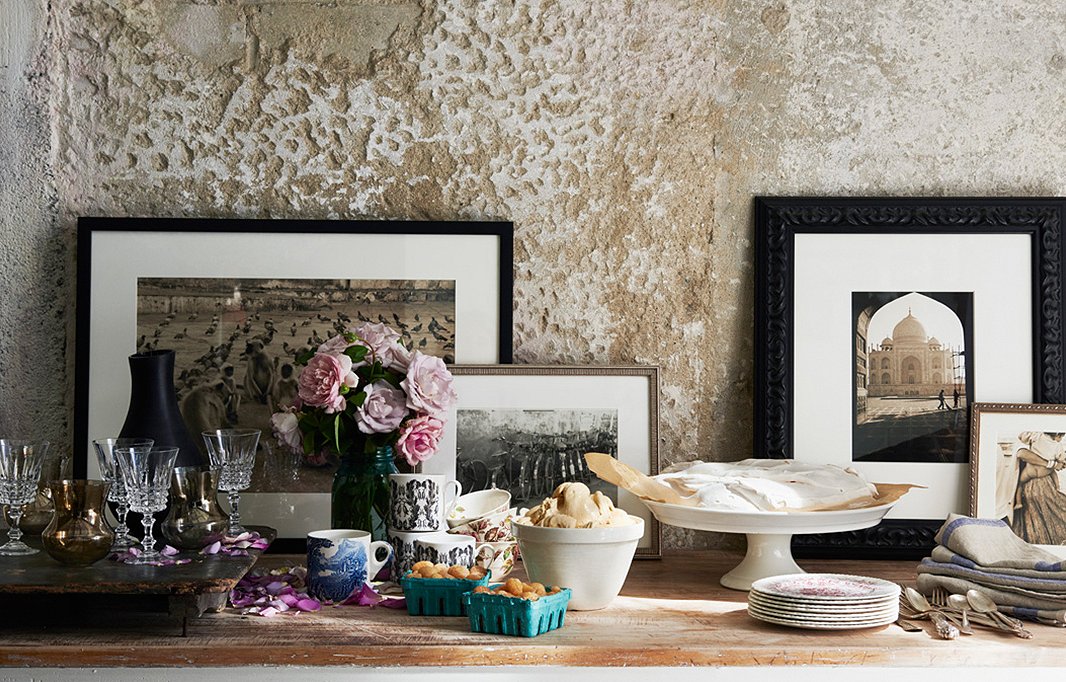 Amy's Checklist and Timeline
The Day Before:
-Bake meringue
-Make ice cream base (or break down and buy)
-Wash linens
-Pull out dishes, set table, and have a think about what is going where
Morning Of:
-Bake chips
-Put pork into roast
-Prep all vegetables, prepare all dressings and condiments
-Set table and bar
-Think about lighting—find candles, matches etc
-Count chairs
Late Afternoon:
-Cut citrus into rings for cocktails
-Set up dessert buffet (plates, silverware, coffee cups ) minus the ice cream
An Hour Before Guests Arrive:
-Roast potatoes and vegetables
-Glaze pork
-Bring burrata to room temperature
-Slice vegetables for salad
-Shower and put on party shoes
Party Time:
-Check to make sure food is seasoned and hot (although menu is designed so that the food is also delicious at room temperature)
-Ask friends to help toss, carve, and carry platters to the table
-Grab a cocktail and relax!