This is it: the apple pie of your dreams. People line up at 5 a.m. to snag this pie before Thanksgiving, and you'll see why. Apples are the clear star here, but there are subtle notes from surprise ingredients—like Angostura bitters for depth and apple cider vinegar for tang—that set it apart from the pack. Also, it doesn't abuse cinnamon. Emily Elsen, who founded Four & Twenty Blackbirds with her sister Melissa, thinks that "we overuse cinnamon in America—it's a powerful spice, and you don't want to bite into an apple pie and just taste cinnamon."
We got a behind-the-scenes peek at Four & Twenty Blackbirds' magical Brooklyn kitchen to learn how the Salted Caramel Apple Pie is done right, from crust to caramel to crimping. One tip: Use a mix of tart and sweet apples (like Granny Smith and Golden Delicious or Honeycrisp) to balance the sweetness of the caramel. And if you're making this for Thanksgiving, it can be made up to two days ahead.
It looks like lots of steps, but they quickly become second nature, we promise. And now you don't have to get up before dawn to fetch your own. Plus once you taste this crust, you'll want to make it for every other pie under the sun.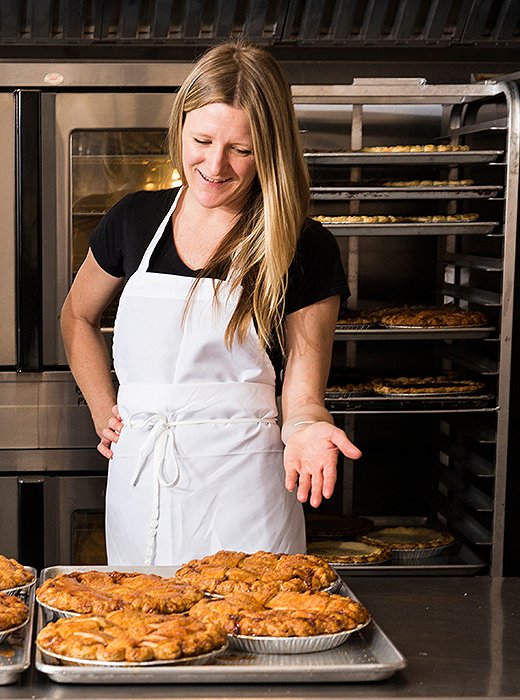 Ingredients
All-Butter Double Crust:
1 cup cold water
½ cup apple cider vinegar
1 cup ice
2 ½ cups unbleached all-purpose flour
1 teaspoon kosher salt
1 tablespoon granulated sugar
½ lb (2 sticks) cold unsalted butter, cut into ½-inch pieces

Filling:
1 cup plus 2 tablespoons granulated sugar
¼ cup water
¼ lb (1 stick) unsalted butter
½ cup heavy cream
2 lemons
6-7 baking apples (about 2 ½ lbs)
2-3 dashes Angostura bitters
⅓ cup raw sugar
¼ teaspoon ground cinnamon
¼ teaspoon ground allspice
A pinch of freshly grated nutmeg (ground nutmeg is fine too)
One grind of fresh black pepper
¼ teaspoon kosher salt
2 tablespoons unbleached all-purpose flour
¼ teaspoon flake sea salt, plus more for finishing
Egg wash (1 large egg whisked with 1 teaspoon water and a pinch of salt)
Demerara sugar, for finishing

Special Equipment:
9″ pie pan
Pastry blender (no mixer required)
Make the Dough
Have all ingredients measured and ready. Combine the water, cider vinegar, and ice in a large measuring cup or small bowl—and bring the butter out at the last minute (you want it to be cold, cold, cold).
Stir flour, salt, and sugar together in a large bowl. Add butter and cut it into the flour with a pastry blender or your hands. Work quickly, cutting it in until mostly pea-size pieces of butter remain.
Sprinkle 2 tablespoons of the ice-water mixture over the flour mixture, and cut it in with a bench scraper, a spatula, or your hands until it's fully incorporated. Add more of the ice mixture, 1 or 2 tablespoons at a time, mixing each time. It should take 10 to 12 tablespoons total to get the dough to the point where it holds together (sprinkle dry bits with more small drops of water to combine if necessary). Don't overwork it, and don't knead it like dough. It should have streaks of butter.
Cut the dough into two, and shape each half into a flat disc. Cover with plastic wrap and refrigerate at least one hour, preferably overnight, to give it time to mellow. Dough can be refrigerated for three days or frozen for one month.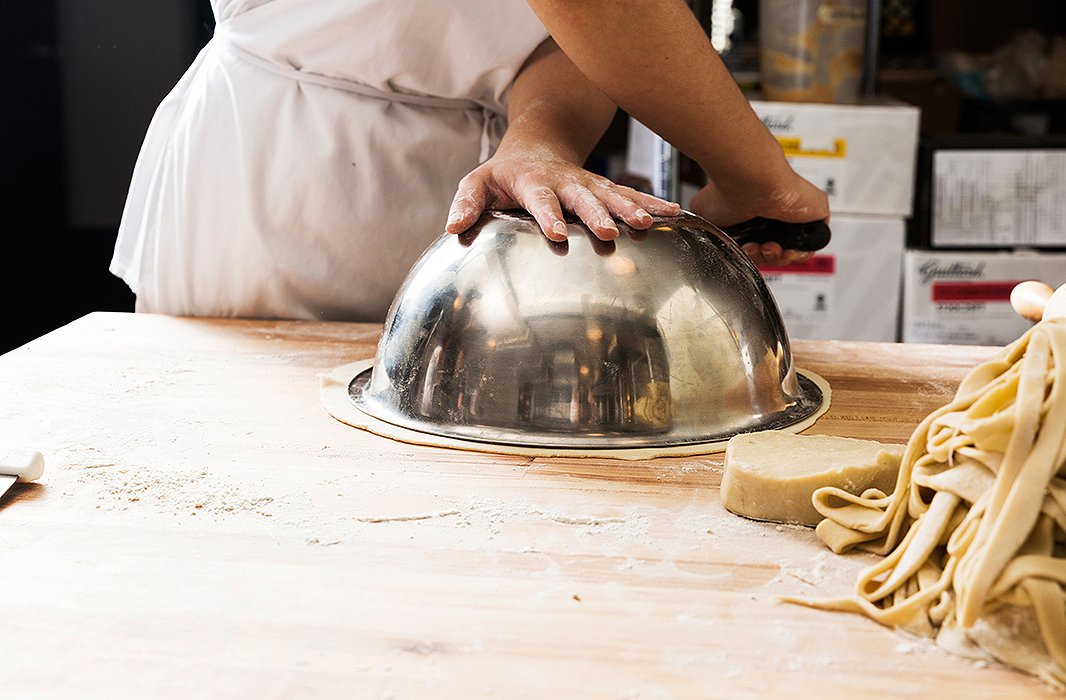 Roll Out and Prep the Crust
Take the dough out of the fridge 5 to 10 minutes before you roll, so it won't crack.
Lightly flour your work surface and a French (tapered) rolling pin.
Begin rolling, starting from slightly below the center and rotating the dough as you go. Lightly sprinkle more flour on everything as you go. If cracks start, cut a piece of dough from the edge and pat it into the crack to patch it (maybe with a bit of water to seal it). Be careful not to let the center get too thin—it shouldn't be less than ⅛ inch in thickness.
You want the dough to be 2 or 3 inches larger than the pan you are using—lay your pie pan facedown on the rolled dough to see if it's rolled out enough.
Butter your pie pan.
Fold the dough disc in half, lay it across one side of your pan, and unfold. Make sure there are no gaps between the dough and the pan.
Trim the dough along the edges to allow 1 ½ inches of excess.
Cover the pan with plastic wrap and refrigerate for at least 30 minutes (you can also freeze it at this step for up to a month if it's tightly wrapped).
Roll out the second disc—this will be for your top crust–the same way. Using a pizza cutter, cut the rolled-out dough into eight equal strips. Place those on a pan, wrap in plastic, and refrigerate for at least 30 minutes.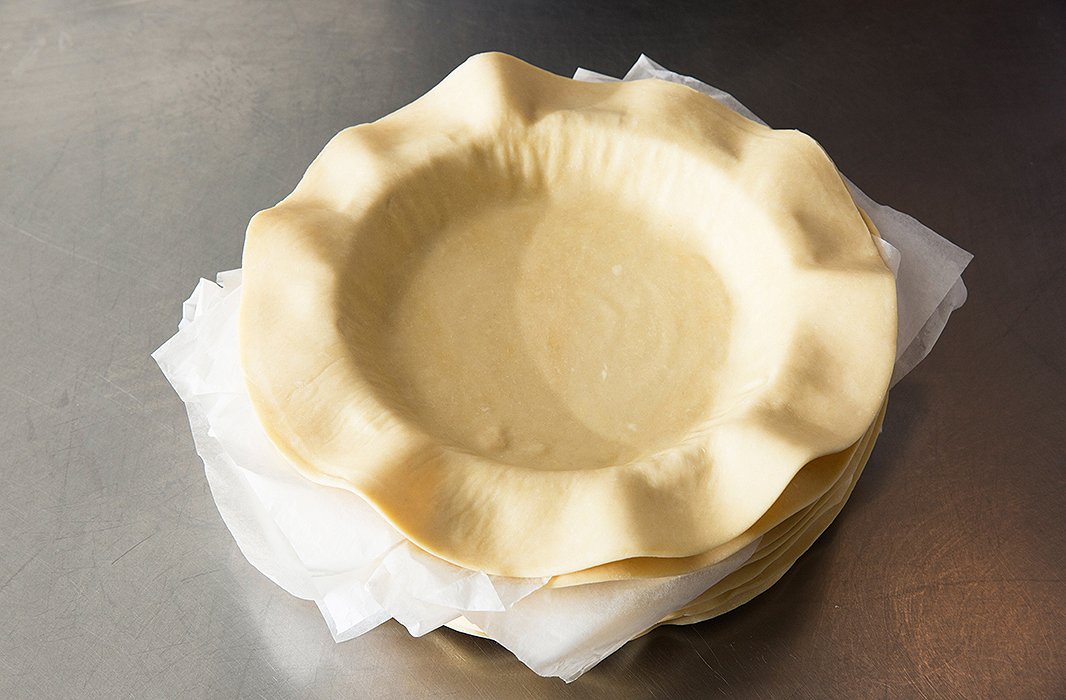 Make the Caramel, the Apple Mixture, and the Spice Mixture
Whisk together 1 cup of the granulated sugar and the water in a medium saucepan,and cook over medium-low heat until the sugar is just dissolved.
Add the butter and bring to a slow boil.
Continue cooking over medium heat until the sauce turns a deep golden brown, almost copper (you don't have to be exact about the color; just don't let it get so dark that it burns).
Remove from the heat and immediately but slowly add the heavy cream. Be careful: The mixture will bubble rapidly and steam. Whisk the mixture together well and set aside to cool. This is your caramel sauce.
Juice the lemons into a large mixing bowl, removing any seeds.
Core, peel, and thinly slice the apples.
Dredge the apple slices in the lemon juice.
Sprinkle lightly with the remaining 2 tablespoons of granulated sugar.
Set aside so the apples soften slightly and release some of the juices, 20 to 30 minutes.
In a large bowl, sprinkle the Angostura bitters over the raw sugar.
Add the cinnamon, allspice, nutmeg, black pepper, kosher salt, and flour, and mix well.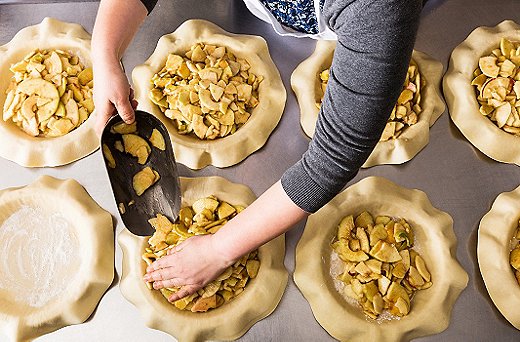 Assemble and Bake
Add the prepared apples to the sugar-spice mixture, leaving behind any excess liquid.
Spread the apples in the prepared pie shell so there are minimal gaps. Let the apples mound slightly higher in the center.
Pour a generous ½ cup to ¾ cup of the caramel sauce evenly over the apples.
Sprinkle with ¼ teaspoon of the flake sea salt.
Assemble the lattice on top of the pie and crimp the edges.
Chill the pie in the fridge for 10 to 15 minutes to set the pastry. Meanwhile, position the oven racks in the bottom and center positions, place a rimmed baking sheet on the bottom rack, and preheat the oven to 400 degrees F.
Brush the pastry with the egg wash, and sprinkle with demerara sugar and flake sea salt.
Place the pie on the rimmed baking sheet on the lowest rack of the oven.
Bake for 20 to 30 minutes, until the pastry is beginning to brown, then lower the oven temperature to 375 degrees F, move the pie to the center rack, and continue to bake until the pastry is a deep golden brown and the juices are bubbling—about 30 to 35 minutes longer. Test the apples for doneness with a knife; they should be tender and offer the slightest resistance.
Allow to cool 2 to 3 hours. The pie will keep refrigerated for 3 days or at room temperature for 2 days.
Serve with vanilla ice cream.