New Year's Eve is a time to gather with loved ones to fete the year past and look ahead to the one about to begin. It's also a time when we're a little tired and still recovering from the pomp and circumstance that is the Christmas season. With this in mind, One Kings Lane stylist and resident entertaining expert Michelle Wong set out to create a New Year's Eve party that's as simple and fuss-free as it is chic. Read on to discover her easy recipes and quick DIYs—then get ready to ring in 2018 in high style.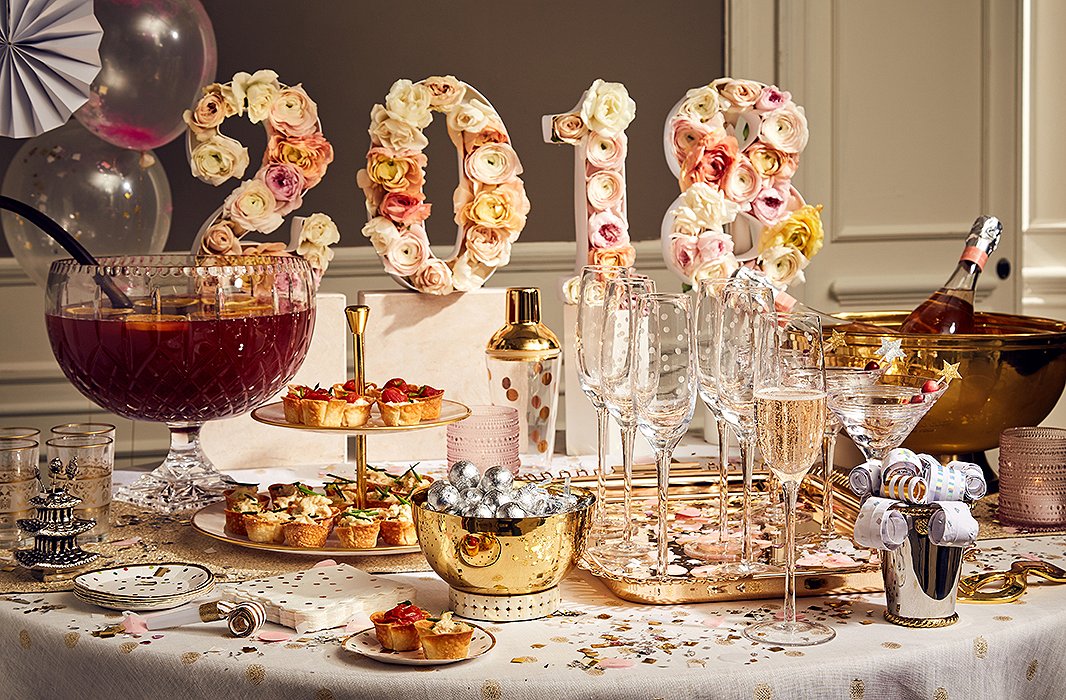 Setting Up a Party Station
There's no need to give your space a major overhaul to entertain on New Year's Eve. In fact, a single-table setup is all you need to create a festive atmosphere and keep the party going all night long.
Metallics were the theme of choice for Michelle, who used a mix of practical and pretty pieces to create a glimmering look. She started with a tablecloth to instantly dress things up, then added a sprinkling of confetti for extra sparkle and shine. Crystal, embellished glassware, and gilded serving pieces provide a festive and functional finishing touch.
Sips and Snacks
Pomegranate Cider Rum Punch
Michelle wanted a festive and celebratory drink to ring in the New Year, and what could be more so than this pretty, fizzy pomegranate punch? 
Ingredients:
32 oz pomegranate juice
25 oz sparkling apple cider
1.5 cups seltzer
2 cups aged rum
1 orange, sliced
Directions:
In a large punch bowl, combine pomegranate juice, sparkling apple cider, seltzer, and rum. Float orange slices on top as a garnish, and serve over ice. Makes 8-10 servings. 
Wonton-Wrapper Party Bites, Two Ways
Incorporating a mix of store-bought and fresh ingredients, this appetizer couldn't be easier to make. Michelle whipped up two versions of these wonton-wrapper bites: one with roasted tomatoes and ricotta and the other with chicken salad. To make things easier on the day of the party, you can make the wrappers up to two days in advance and store in an airtight container.
Ingredients:
1 package of round wonton wrappers
2 pints cherry tomatoes
1 carton of ricotta cheese
1 quart of store-bought chicken salad
Thyme and chives for garnish
Directions:
For the wonton wrappers: Spray a mini-muffin tin with oil, then fold wonton wrappers into the tin to make a cup shape. Bake wrappers according to the instructions on the packaging.
For the fillings: Roast cherry tomatoes with olive oil and sea salt at 400 degrees for 15 minutes. Fill half of the wonton cups with ricotta, top with two cherry tomatoes each, and garnish with thyme. Fill the remaining wonton cups with chicken salad, and garnish with cut chives.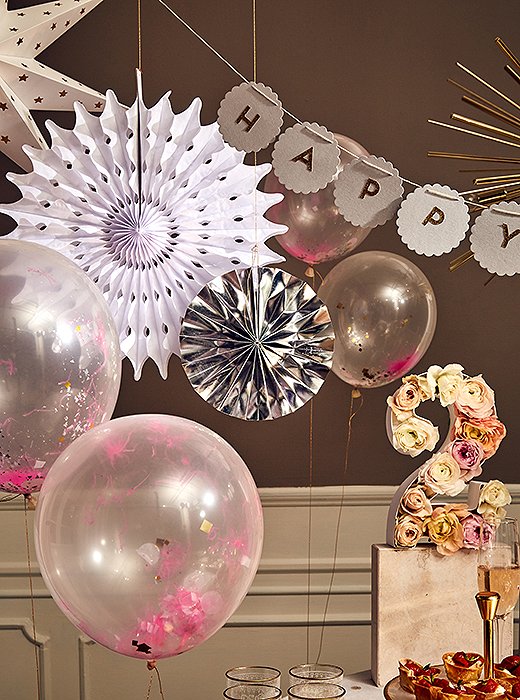 The DIY Decor
An easy way to bring your New Year's Eve look to the next level? These three simple DIYs dreamed up by Michelle, each one quick and inexpensive to pull off.
A Glittery Garland
What you'll need: glittery letter stickers, precut card-stock circles (ours measured about 5 inches in diameter), a mini hole punch, and string or twine
How to do it: Place a letter sticker on each piece of card stock to spell out "Happy New Year" (or any message of your choice). Punch two holes in the top of each circle, then thread through the string and hang.
Floral "2018" Marquee
What you'll need: Cardboard light-up marquee numbers (Michelle found hers on Amazon; they're also available at craft stores) and an assortment of fresh flowers. Large blooms, such as the ranunculus shown here, will create the most lush look.
How to do it: Place one flower in each of the holes provided for light bulbs in the marquee numbers. Pack the flowers in to make sure they stay put (you can secure with floral tape on the back if needed). 
Confetti-Filled Balloons
What you'll need: Clear latex balloons, colored feathers, and metallic confetti
How to do it: Add feathers and confetti to deflated balloons, then blow up. Michelle used about ½ teaspoon of confetti for each balloon so they wouldn't be too weighed down to float.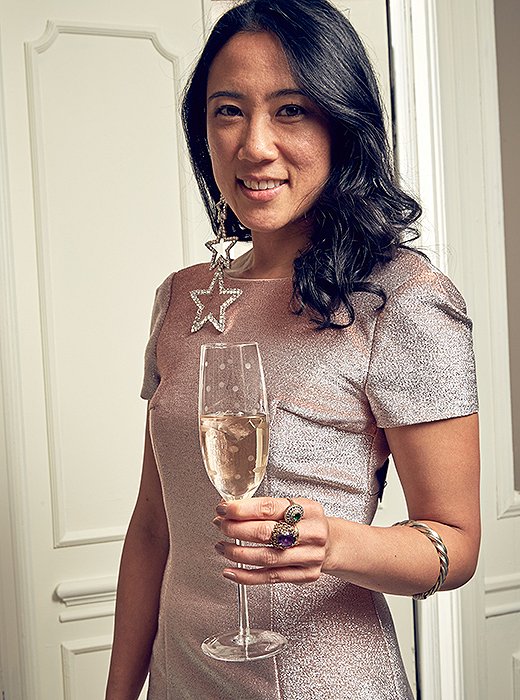 One Kings Lane stylist Michelle Wong is a New York-based foodie and passionate party planner. When she's not dreaming up new ways to entertain for our "How to Host" column, you can find her stirring up inventive cocktails and getting creative in the kitchen of her downtown apartment, noshing her way through the city, or simply taking in the best of the city's bars and restaurants.
Want more entertaining expertise? Read all of Michelle's columns and more ideas for hosting here.