In 2020, we've all had to become masters of virtual entertaining. Zoom parties and FaceTime happy hours have enabled us to connect virtually from the comfort and safety of our homes. Now that the holidays are here, we'll be hosting virtual gift exchanges too. That's right: You and your friends can still have your annual Secret Santa get-together, no matter how far apart you may be. Follow our tips and tricks below, pop your presents in the mail, and prepare for all the virtual holiday cheer you can imagine.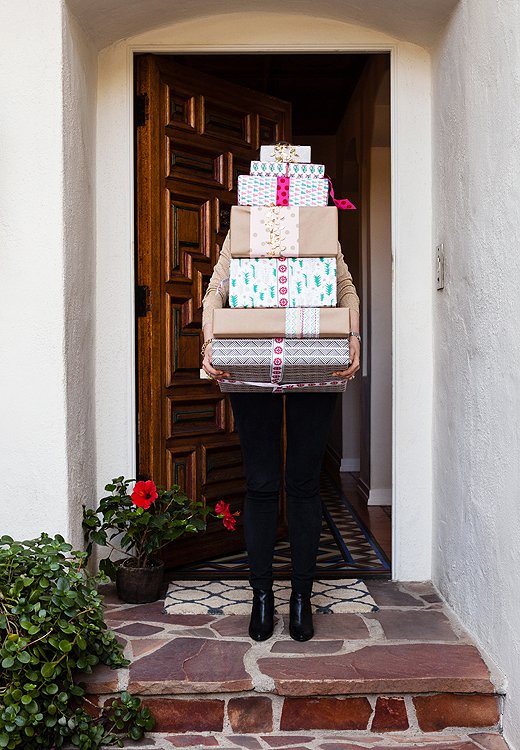 Pick a Gift
What fun is a gift exchange without gifts? Time is running out to find the perfect gift and have it delivered by Christmas. Luckily, the pros at One Kings Lane are here to help. For your foodie friend who loves supporting small businesses, try this maple syrup from Long Island-based Kerber's Farm. For the self-care queen, we suggest a delightful candle from LAFCO. This delicious Winter Current candle will get her through to spring. For the sports-lover, try this tabletop foosball set in gleaming silver. It's chic enough to leave out even after game night is over. And for the entertainer, consider these chinoiserie coasters. Don't see the perfect gift for the person on your list? Check out our quick-ship gifts here.
If you're hosting an event with multiple people, you can take your hostess skills to the next level by mailing everyone a special drink recipe along with the ingredients to make it. A family recipe for spiked apple cider is the hostess gift that transcends physical boundaries. If you want some inspiration, check out our easy holiday cocktail guide. 
Wrap It Up
Once you've got the perfect gift picked out, it's time to wrap it up. Let your creativity run wild and think about how the recipient's personality can shine through. For a New Traditionalist, try something classic with reds and greens. For a Naturalist, go basic with brown paper, twine, and a sprig of pine tucked in the bow. For the Eclectic, opt for something unexpected such as marbled wrapping paper and a bold velvet ribbon. Finally, for the Curator, go sleek with gold and shimmering accents. Check out our gift-wrapping guide here for more wrapping inspiration.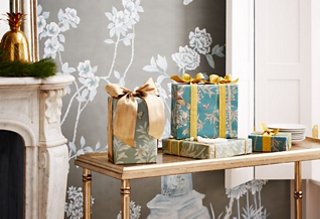 Set the Scene
Once your gift is mailed and your recipe for the night's signature cocktail is shared, you need to set the scene. One way is to find the perfect holiday background for Zoom. If you want something fun and whimsical, try a Santa's Village or the Candy Cane Forest image. If you want a classic Christmas vibe, steal an expertly decorated living room by downloading this image from our holiday photo shoot. Here's what you need to do:
Download the image you want to use by clicking the link and then saving the image to your computer.
Launch the Zoom app.
Click on the gear icon, located on the right side of the application.
Locate the "Virtual Background" tab on the left side of your screen.
Click the plus sign next to "Choose Virtual Background" to upload your chosen photo. If you haven't already downloaded the virtual background plug-in, follow the steps onscreen to do so.
Host your holiday party in style!
The second way to set the scene is by physically decorating your space. Find a blank wall and hang some garland above you. (Be sure to check the camera and make sure the garland's in frame.) You can dress up the garland with sprigs of holly or eucalyptus for a more natural look or hang some vintage ornaments from it for extra sparkle. Next, pull up your bar cart so you can refill your cocktail easily without missing out on any of the fun. Add some candles to the cart to create a holiday ambience. And don't forget to dress up! It is a holiday party, after all.