Kim Salmela's aesthetic isn't one that's easily pinned down. "My style's always been very eclectic," says the California-based designer, whose eponymous furniture line is a favorite from coast to coast. When pressed for a description, her go-to is "modern global chic," a term that denotes effortless sophistication and worldly charm while making room for moody English florals, bold citrine velvets, Cali-cool stripes, and much more. Kim Salmela furnishings are where you turn for that singular statement piece that'll take a space to the next level—or even inspire a whole design scheme. "I like our furniture to be the starting point for the room," Kim says. "I want you to fall in love with one of our pieces and then let the room evolve from there."
We chatted with the designer about the inspirations behind her line, her devotion to livable furnishings, and her life at home in Venice Beach, CA.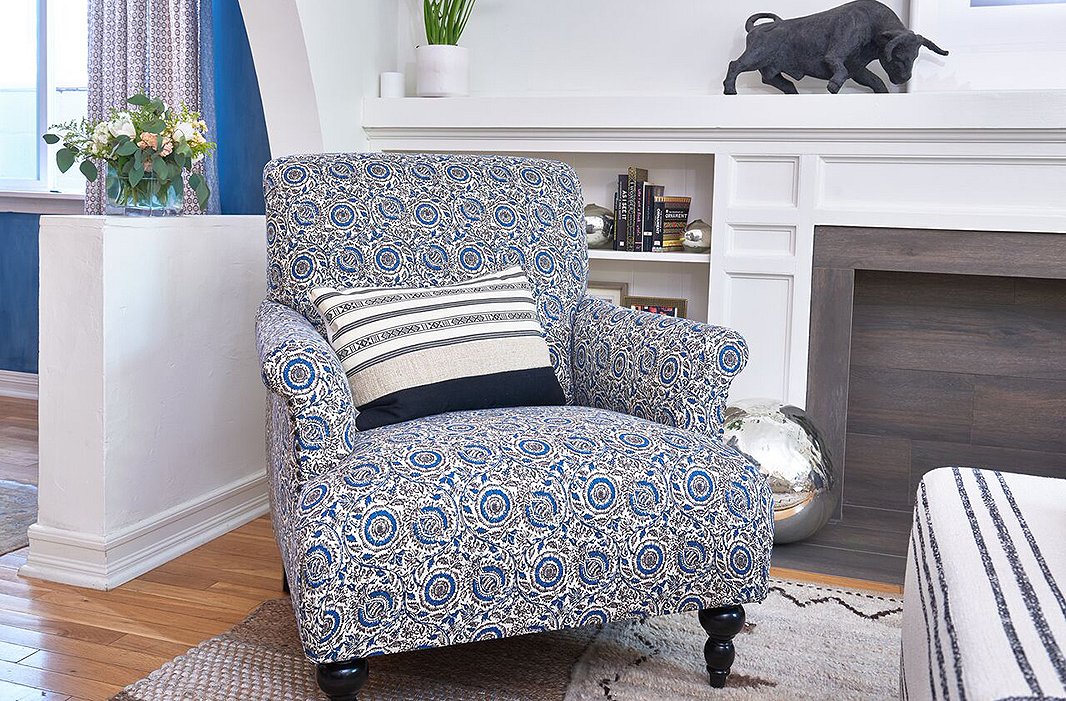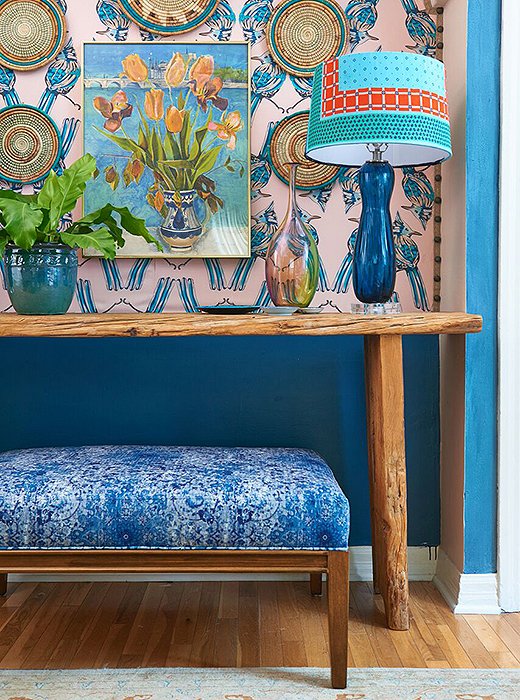 Polish Meets Practicality
No matter what each season brings in the way of creative inspirations, the customer is always at the core of Kim's design work. In addition to running her furniture business, Kim occasionally takes on interior design projects, and her clients' asks often show up in her line. "I'm inspired by the reality of how people are living," Kim says. "Clients who have kids… I'm trying to keep a very high-design aesthetic that's also really relaxed and superfriendly. Everything's usable. You can put your feet up on everything."
To achieve that balance of beauty and durability, Kim upholstered chairs, sofas, and benches in Crypton fabric, which resists stains and odors and is blissfully easy to clean—all while maintaining a luxurious, polished look. "I'm obsessed with Crypton," Kim says. "It may not come across online, but the look and feel is just amazingly soft and beautiful."
She even chose it for her own home. After Kim added a dog to her household—a 65-pound mutt named Casanova who loves long hikes as much as he does snuggling on the upholstery—her existing gray sofa had to go. The replacement? A white (yes, white!) sofa upholstered in Crypton fabric. "I never would have that done before Crypton came along," Kim says. "It cleans easily, and I'm not afraid of having my nice white, bright, modern sofa and a dog living together."
Small-Space Stars
Kim moved into her current home about a year ago—a change that brought her closer to the beach but required some serious downsizing. "I went from a three-bedroom house to a one-bedroom apartment," she says, and the new realities of small-space living inspired some additions to her line. "Space is tight for me, so everything I put in my place matters. I can't have a piece of furniture that doesn't serve some sort of double or triple duty." Footstools that offer extra seating, ottomans and benches with hidden storage, beds with roomy (and cleverly concealed) drawers: Kim designs these helpful pieces with luxe fabrics and sophisticated silhouettes, so you can add function to any room without compromising your style.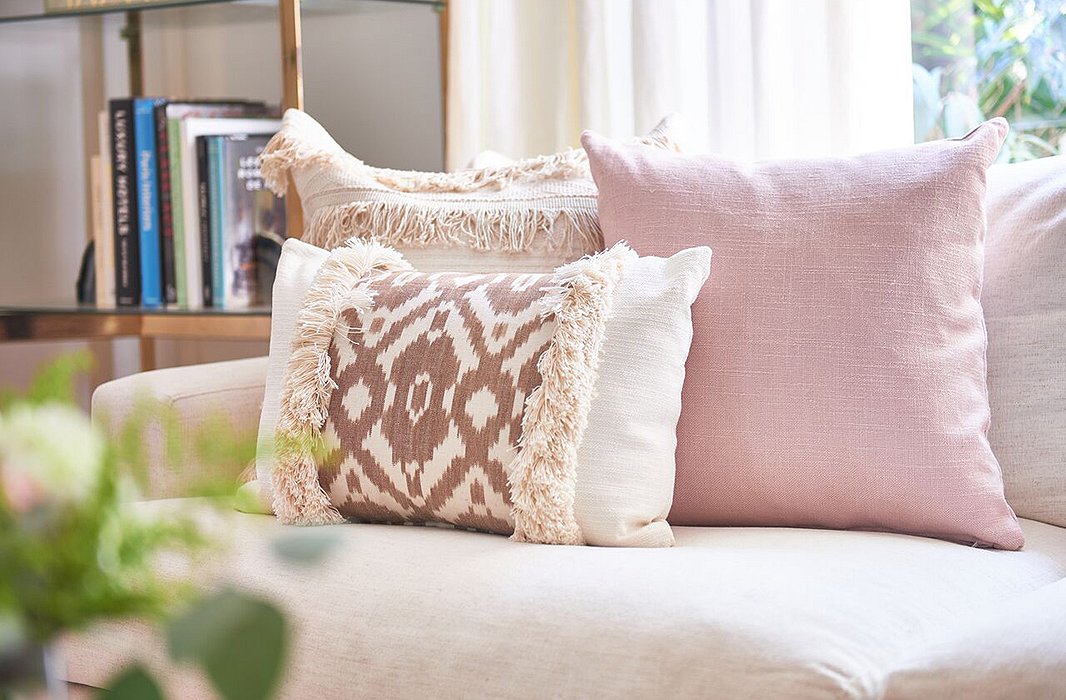 Kim's Top 3 Tips for Decorating with Pattern
Florals, ikats, geometrics, stripes: Kim puts them all together beautifully. Here's her formula for getting it right:
Color. "You can mix florals together if they're different scales. You just want to have at least one color tying them together."
Contrast. "I like high contrast—you want something with strength—so pop in a solid with a bigger floral, an ikat, or something with more open ground, and then add in your smaller prints or your geometrics."
Compatibility. "It's not about matching necessarily; it's that complementary [quality] of size and scale of print."