It's officially fall. The leaves are changing color, and the temperature is dropping. That doesn't mean you have to rush inside to cozy up by the fire just yet, however. We've rounded up some of our best tips and tricks on making use of our outdoor spaces through autumn and even beyond.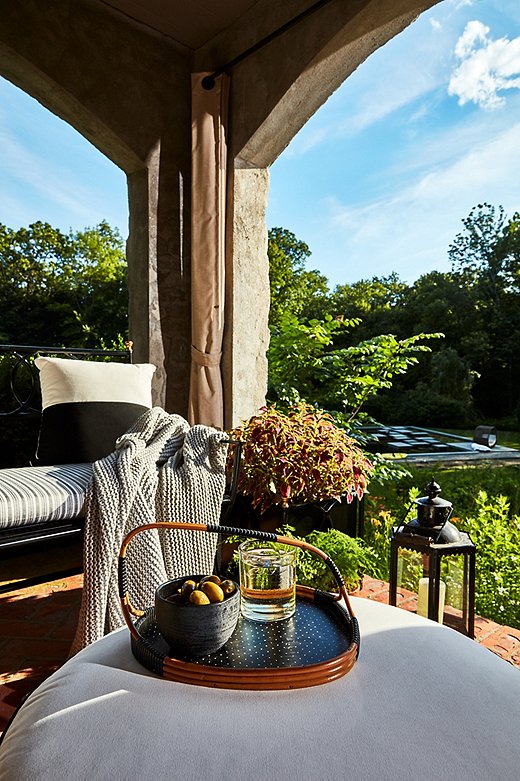 Palette and Pattern
The bright, sunny yellows and soft blues that define summer can feel out of place come October. Welcome in the new season with a new color story based on the warm, earthy tones of fall. Opt for burnished gold, russet, and browns, from caramel to chocolate. As for patterns, you can't go wrong with animal prints, plaids, or stripes.
Materials Matter
Once you've got your look picked out, you need to make sure that it is safe against cooler weather. This is where performance fabrics come into play. All of the upholstered pieces in the One Kings Lane Outdoor Collection are made with performance fabrics such as as Outdura and Sunbrella. These fabrics ensure that the color doesn't fade under the hot summer sun and that fall's rainy weather won't cause rot and mold. You can read more about how to care for your outdoor furniture here. 
Cover It Up
The real secret to extending the life of your outdoor furniture is covering it when you're not using it. Furniture covers are especially important as winter brings cooler, damper weather. And if you live in a climate where you won't be using your outdoor furniture at all come winter, store it indoors if at all possible.
Let There Be Light
Fall means shorter days and longer nights. This will cut down on the time you can spend outside unless you introduce another source of light. Our favorites include string lights and fire pits or tables.
String lights: These are great for defining spaces and creating a dreamy scene. They can substitute for a ceiling, outline a doorframe, or wrap around a column. The best way to determine how long a strand you'll need is to test out your ideal hanging plan with twine. Add up all your measurements and divide the sum by the length of the strands available to get the total number of strands you'll need.
Fire pits: Do not dig a hole in your yard to create a fire pit. Unless built correctly, these hand-built pits can lead to dangerous situations. Along the same lines, inexperienced people should not build fires from kindling. Opt instead for a gas-powered fire pit; it's easier to control and less of a hazard than a wood-burning fire. These fire pits or tables also work in areas where firewood is not easily accessible, such as in the city. Always go with a fire pit that has a safety screen around it. This will keep the wind out and help protect you and, especially, your little ones.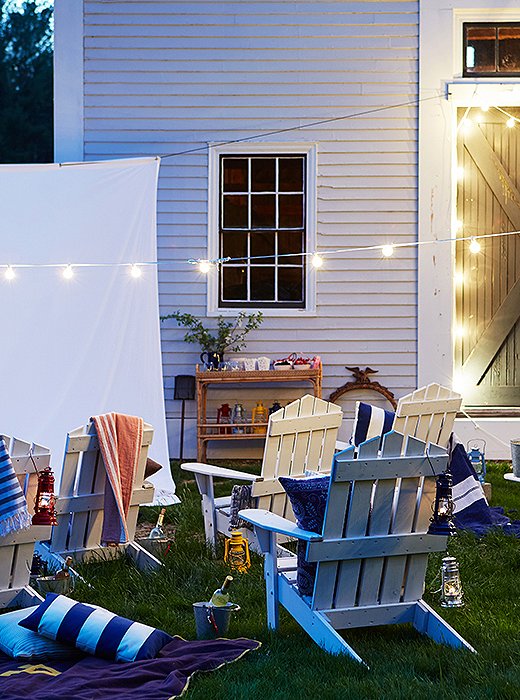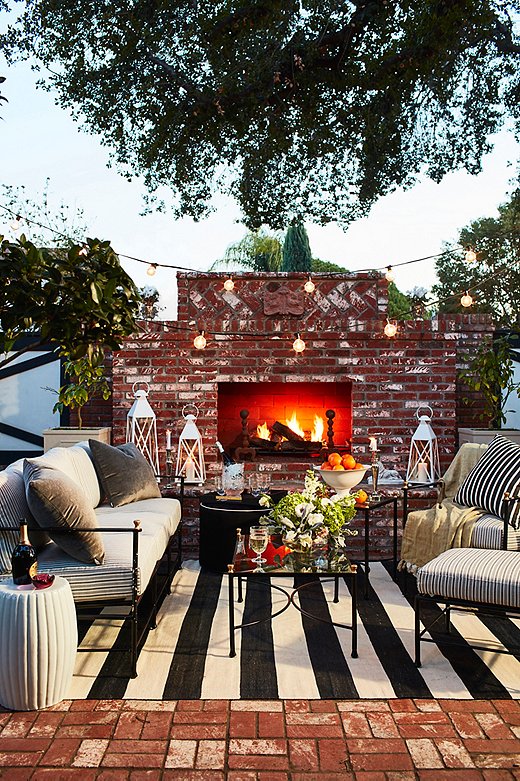 The Art of Cozy
Once you've got your basics down for fall, it's all about achieving maximum coziness.
Add a throw. The type of blanket you need depends on how cold your outdoor space gets in fall and winter. For those in warmer climates, a simple cashmere throw will do. If you're battling colder temps, we suggest a faux-fur throw.  
Bring in a bit of velvet. Velvet is one of our favorite materials to use when the weather gets a little cooler. Velvet pillows are a simple way to introduce a new texture and layer of luxe to an outdoor space. One of our favorites is the exclusive One Kings Lane Collection's Claire velvet pillow. As is the case with cashmere and faux fur, velvet is not typically suited for prolonged outdoor use, so be sure to bring these accents with you when you head inside.
Layer rugs. This is a long-held secret to a well-designed space. The basic rules of rug layering are the same indoors and out. First: Choose a neutral base. Second: Make sure it is the correct size. Choosing the wrong size rug can ruin even the most well-designed space. Always go big and make sure that at least the front legs of any seating options are on the rug. Third: Center the rugs. If they're off-center, the whole design is thrown off. Most important, for your alfresco space, choose only rugs made for outdoor use or designated as okay for both indoors and out.