We first fell for Sophia Bush on One Tree Hill and have since become more and more in awe of her activism. Then we came into her Hollywood Hills home and hit the point of no return, girl-crush-wise: It turns out Sophia is an old California soul who's all about restoring and playing up the sensational design traditions of her native state.
Most fun of all, she wanted our help. She had called upon One Kings Lane Interior Design to do a tip-to-toe makeover of the main room in her guest cottage. When Sophia bought her main house, a 90-year-old woman named Annette lived in the cottage, which she'd built with her husband in the 1950s. Sophia and Annette grew close over cocktails and strolls through Annette's garden: "She had this outrageous rosemary bush that was the size of a Smart car," Sophia recalls.
After Annette died, developers were threatening to rip down the cottage and garden. "It broke my heart" to think of that happening, Sophia says, so she bought the property herself and set about making it an extension of her main house. "I wanted to stay true to certain midcentury aspects of it and also to make it really feel like that getaway cottage." That's where the One Kings Lane Interior Design team came in.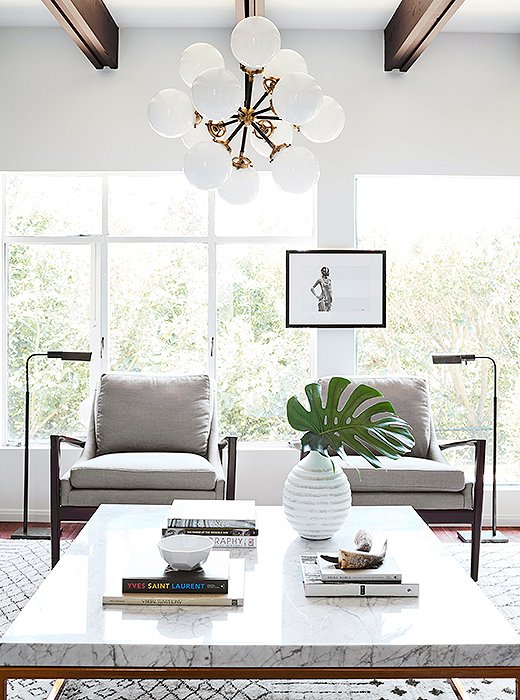 Letting in the Light
While the cottage had a beautiful post-and-beam structure and a lush garden, its interior "felt like a cave," Sophia says, with lots of wood paneling and a 1970s yellow ceiling. While Sophia oversaw some renovation work to clean it up, she began talking with One Kings Lane designer Alexander Reid and the rest of the Interior Design crew. "I had such a quick simpatico feeling with the One Kings Lane team," Sophia says. "I was able to articulate what I was thinking very easily to Alex—he completely got it. Together we homed in on a vision very quickly."
As a result, the renovations went hand in hand with the vision for the interior's design. First, a wall separating the kitchen from the main dining/living room came down. All the walls and ceilings were whitewashed, while the dark floors were polished up and the overhead beams were stained even darker. Through the renovations, Sophia says, "I just knew, loving [the designs of Richard] Neutra and [John] Lautner, that there was a classic California bungalow feeling here" that could be tapped by playing up the exposed wood beams, the vaulted ceiling, and the wide windows.
I wanted to stay true to certain midcentury aspects of it and also to make it really feel like that getaway cottage.
Mastering the Two-in-One Room
Once the renovations wound down, Alex began tackling the furnishings for the cottage's main room, destined to be a living and dining area (there's a more-formal dining room elsewhere in the cottage, but this room, which is right off the kitchen, needed a casual eating nook). "Two-in-one rooms can be really cozy," Alex says. The key is to stay mindful of the overall space rather than treating it as separate zones: "If you make a big statement on one side, edit on the other."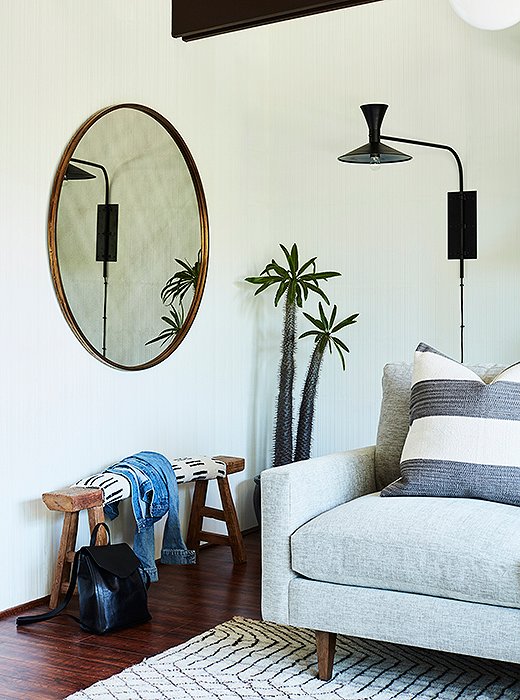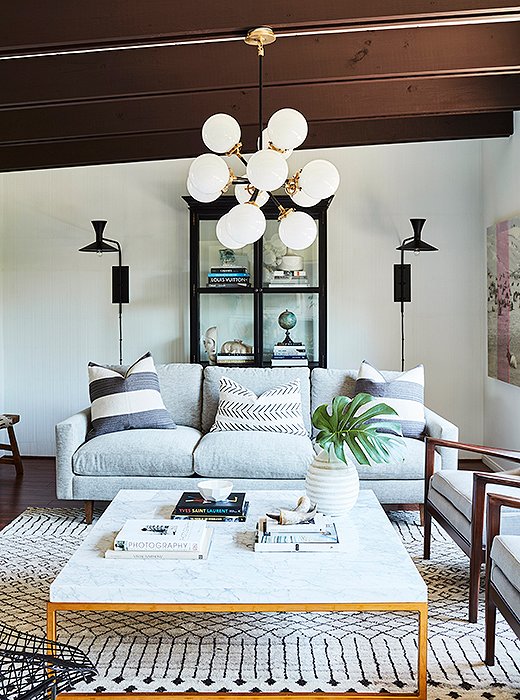 Creating a Focus
The room stretches the length of the cottage—it's a long narrow rectangle with an asymmetrical floor plan. To create the cozy bungalow feeling Sophia pined for, the Interior Design team placed the furnishings three to four feet in from the walls. "To have a sofa along the wall would have felt a little lonely," Alex says. "To make it cozy, we needed to create a conversation pit focused around the fireplace."
Along the walls, the team created a series of vignettes such as a glass cabinet of Sophia's collected curios and some books for a library feeling and an entry vignette with a mirror and bench. One bonus is a clear way of passage around the furniture—you can walk around the seating area easily to get across the room.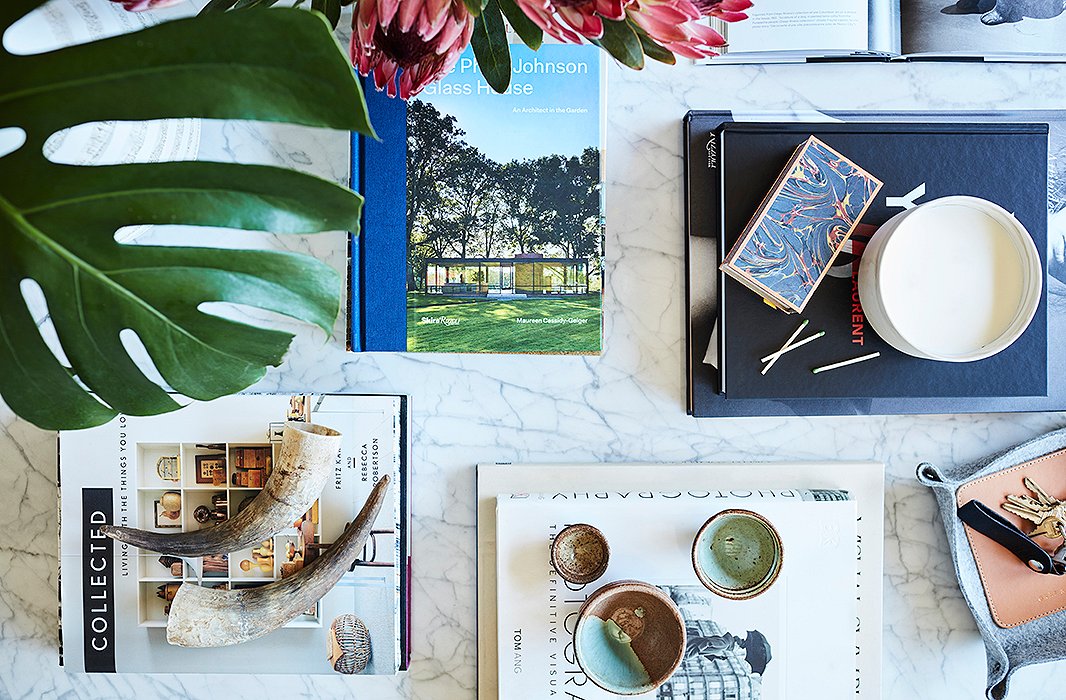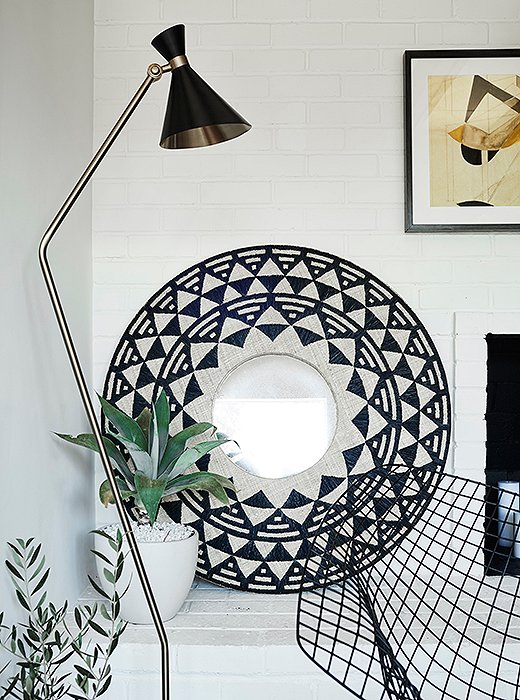 Freshening Up a Vintage Vibe
"Sophia has a great eye," Alex says, pointing to her already-robust collection of vintage pieces. Her main house has an industrial-chic aesthetic overlaid on wonderful 1960s bones. While she adores Mid-Century Modern, Sophia's no purist. "I wanted this space to have that mid-mod vibe but also to feel contemporary, romantic, and a little eclectic." She's a natural collector: Her interior style, she explains, is "built on pieces I've found traveling, a few classic pieces I've collected, and very early mornings at the Rose Bowl [Flea Market]." Her textiles collection includes pieces from trips to Guatemala, Turkey, and the Middle East. 
Keeping all that in mind, Alex leaned into Mid-Century Modern but kept a good ratio of other styles as well. He emphasizes the importance of mixing new pieces with vintage—"otherwise it can begin to look dingy"—and of expanding the range of vintage styles beyond what he calls a "wagon-wheel vintage" aesthetic. "I broke up the more farmhouse-y vibe with some cool metals—like the vintage Bertoia chair and the dining chairs with wicker and chrome legs, which are more a late-1970s style."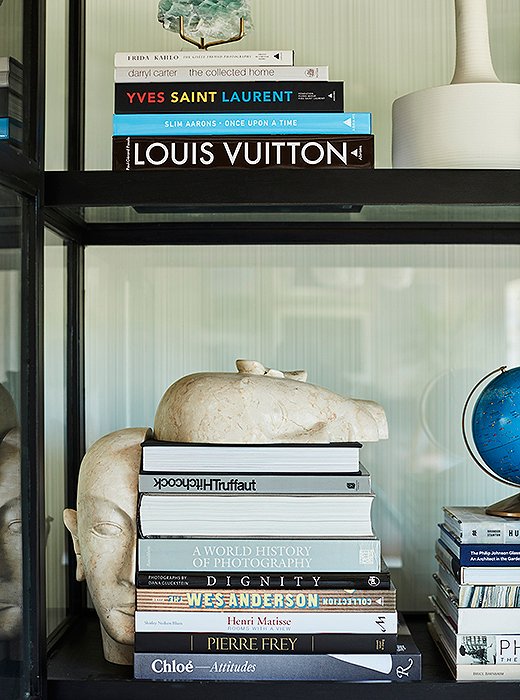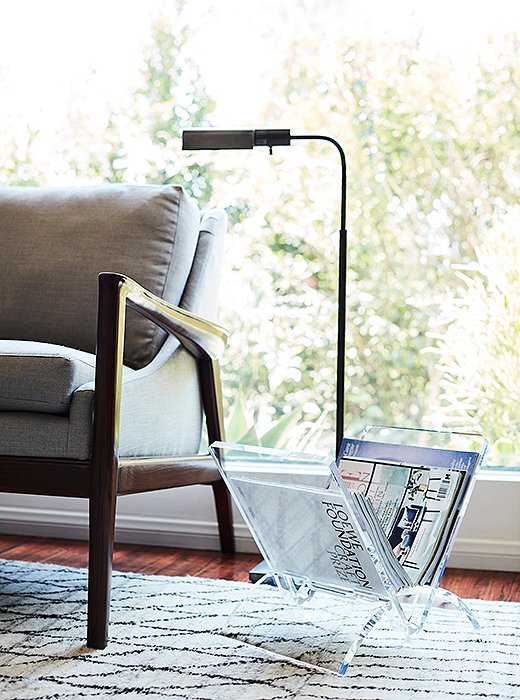 Easing the Flow from Day to Night
In thinking about lighting the space, Alex kept it natural by day and bold by night. "The light you get in California is so beautiful—if you have some, you shouldn't get in its way. We didn't do drapes for that reason." Since this end of the cottage backs up to a hedge, he explains, the space stays private. A single striking image from Drew Doggett, hung between the two large windows, sets off the view. And in the evenings, a classic midcentury starburst light in oil-rubbed brass and bronze, set on a dimmer, illuminates the whole living zone. "It's reminiscent of a Sputnik fixture but is not exactly on-the-nose midcentury," Alex says. Along the back wall, a pair of black sconces give a sculptural touch.
For the floor, Alex and Sophia landed on an enormous Moroccan rug. "I wanted the entire seating area to be based and grounded by that rug," Alex says. "It's a TV room, and those rugs are so easy, you can toss pillows on the ground and have a big movie night."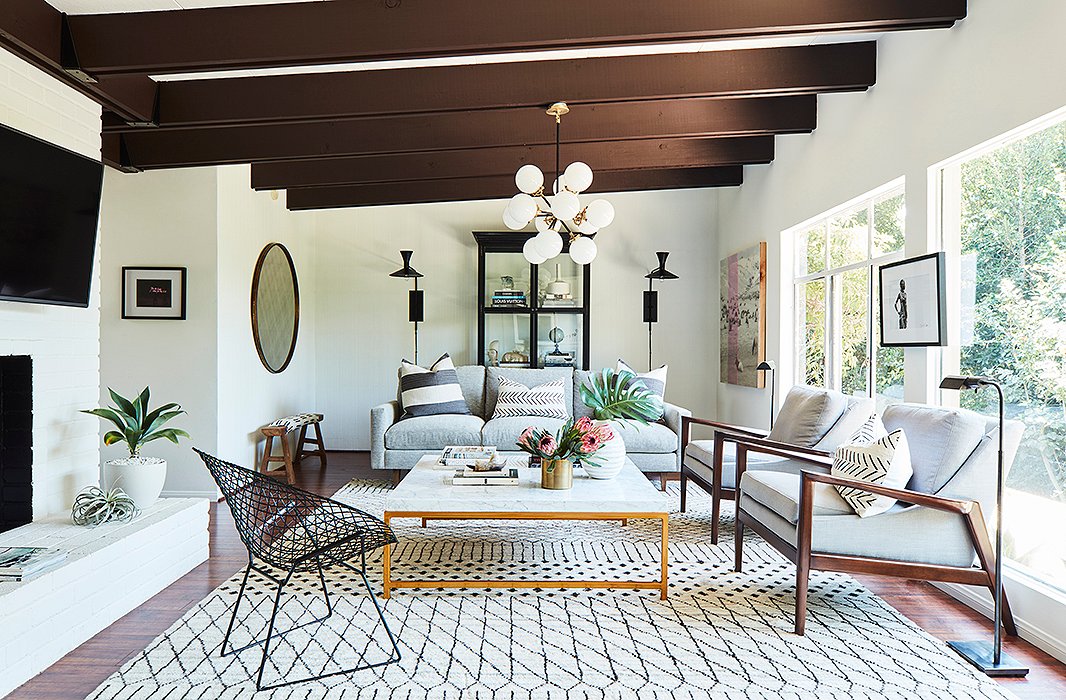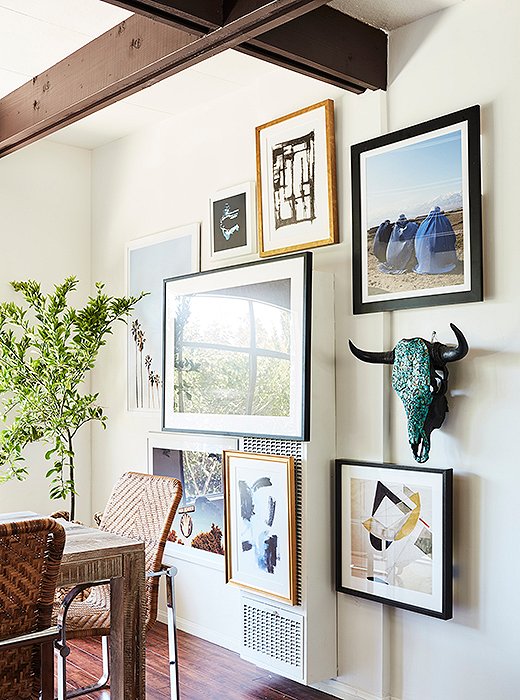 Making a "Road Trippy" Wall
While the aesthetic of the living space hangs on relaxed, sprawling furnishings and a chic California understatement, the dining space became the place to go deeper into color and art. By keeping the rest of the furnishings here restrained—an understated black canopy light and no rug—they could layer in loads of art. And because Alex kept the art elsewhere simple, with one large piece on its own, they could now go wild with one great gallery wall.
To give the wall a textured feel, Alex pulled art from lots of categories: "You need to mix it up—mixed media, charcoals, abstracts, photography." The pieces included many from Sophia's collection—her dad is a photographer. She describes her collection as "California meets witchy women meets classic midcentury art. It has a very road-trippy vibe." When she came into the One Kings Lane Interior Design office in New York, she spotted a photo of an elk covered in resin and exclaimed, "That's my vibe!"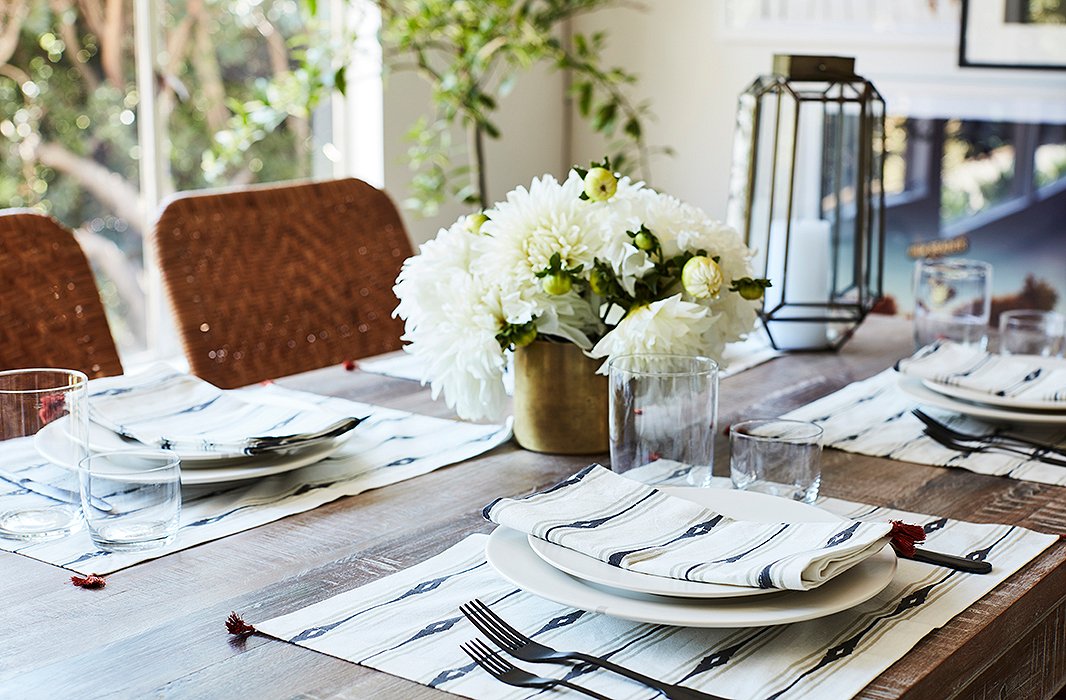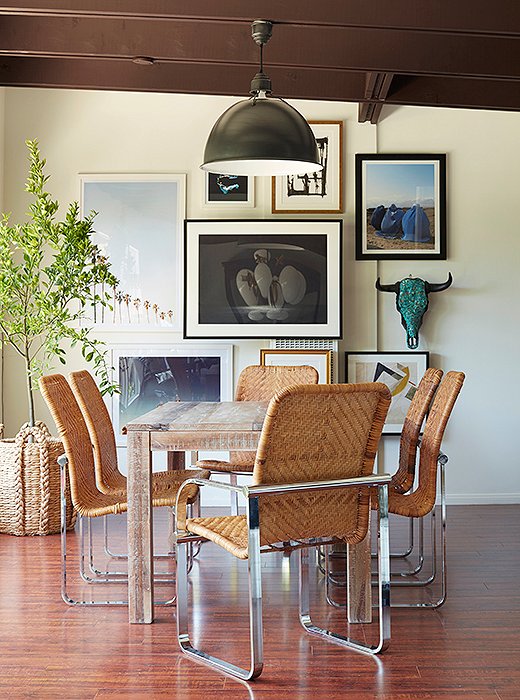 Opening Up the House
True to her relaxed California nature, Sophia goes with an open-house, more-is-merrier approach when it comes to entertaining. This table nook sits right off the kitchen, making it an ideal spot for small dinner parties. If her crowd grows, Sophia uses the table for a buffet, and friends sit throughout the whole space.
These gatherings have become the linchpin of her social life. "I'll fly home on a Saturday and need to get back to set on Sunday, so having a really warm entertaining space ready to go is so important," she says. "I'll send a group text to my closest friends and see who can come for a barbecue. I love roasting a rosemary chicken, and we grow lots of mint outside to make killer mojitos. To break bread with everyone in a space that's so light and inviting and comfortable is the greatest thing."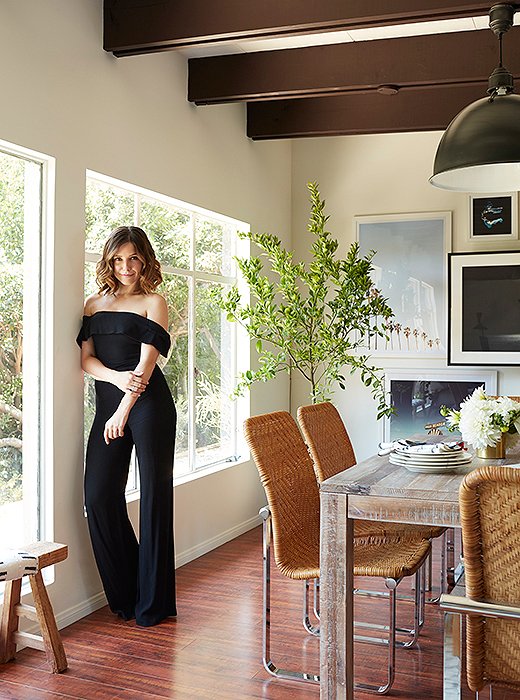 A Retreat Within a Retreat
Although Sophia pruned the overgrown gardens that had surrounded the cottage and blocked some of the light, she took cuttings of Annette's beloved cacti. After the renovation, she planted segments throughout the hillside of her property. She jokes that she wants it to "feel like a southwestern Huntington Gardens" of Pasadena, where she grew up.
More than anything, though, "I love honoring this woman whom I've really admired," she says. "We've grown her garden back out, growing all kinds of vegetables and herbs, tomatoes, and chili peppers. It's turned into something special, and I love how we've been able to preserve this home. This cottage has become a respite for me and my friends."
I didn't want to be so specific to any era or any style. And I didn't want it to feel precious. Here, I know people can put feet up on the couch and roll around on the floor with the dogs.