The Chatham Artillery—a Revolutionary War-era military group in Savannah—originally brewed its punch with old-fashioned pragmatism: Members filled horse buckets with ice, added a heady mix of liqueur, and then topped each bucket to the brim with champagne. Savannians would later start adding strong tea.
I would've never heard a whisper about this magical brew had I not married a man from Savannah. In some Savannah circles, Chatham Artillery Punch is akin to holiday holy water. It's remained mythical, never becoming domesticated like other Southern standbys such as the mint julep or the Sazerac, and you won't see it on restaurant menus. Yet it's kept a distinguished place at Christmas and New Year's parties in Savannah homes—and now ours in Brooklyn. I remain an unconverted Yankee, but one with so much love for these carefully preserved Southern traditions.
It was during one visit to Savannah a few years ago that my mother-in-law, Sylvia, suggested we try making this punch—shall we call it CAP?—for our annual tree-trimming fete, promising that it had never let a party down and would provide a little Southern novelty for our New York crowd. She opened her cabinet of cookbooks to look for variations on CAP, digging out one recipe (with "Serves 200" scrawled at the top) that blithely listed ingredients by the gallon, including Bénédictine—a liqueur made by an elite club of monks in a French cloister—and Catawba wine, which seemed semi-impossible to source.
Sylvia's cabinet of cookbooks—many of them created by garden clubs and various Southern societies—has yielded another Christmastime favorite, a bourbon-laced whipped dessert called syllabub.
With Sylvia's sure hand, I learned to make both—and then to make them my own. Read on to see how they've come to earn an honorary spot on our annual holiday menu.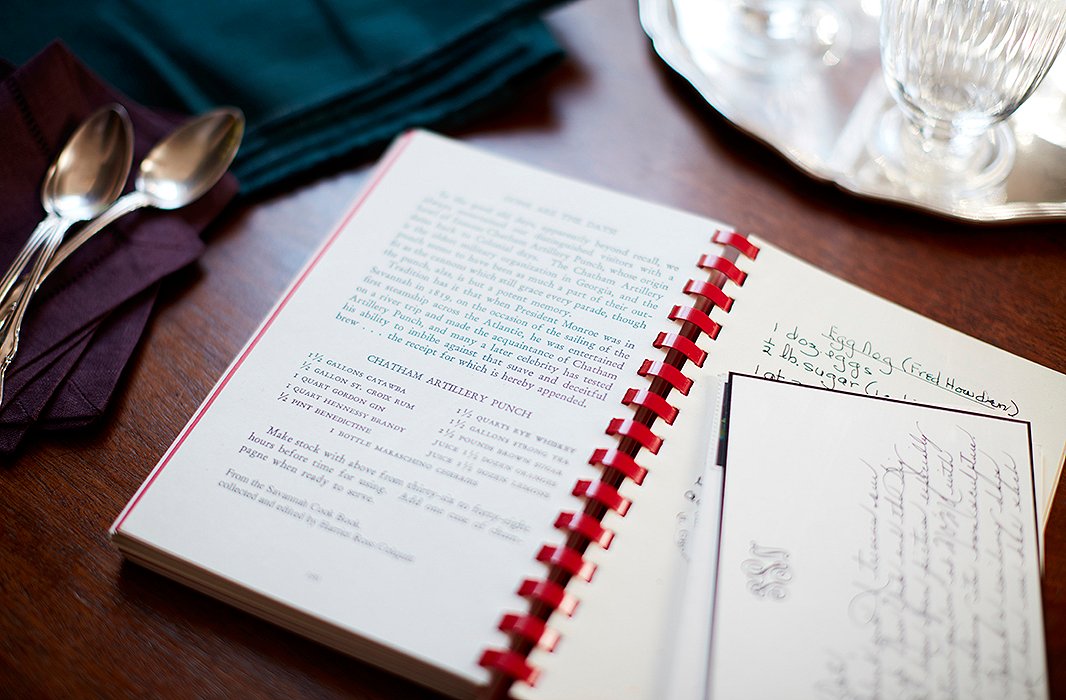 I would have never heard a whisper about this punch had I not married a man from Savannah...I remain an unconverted Yankee.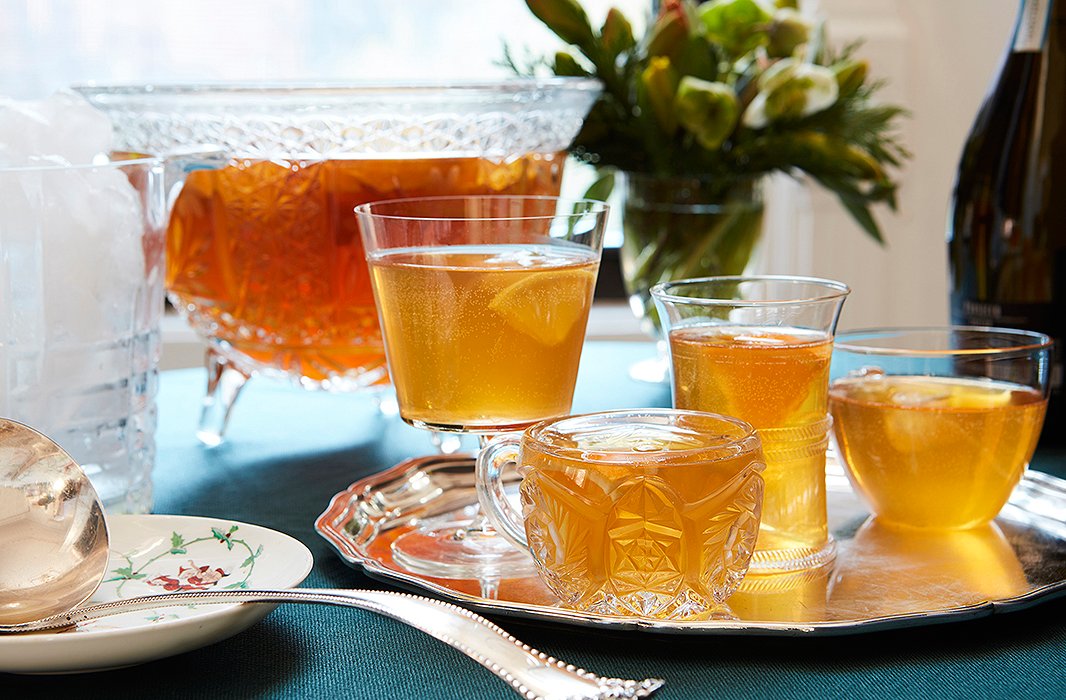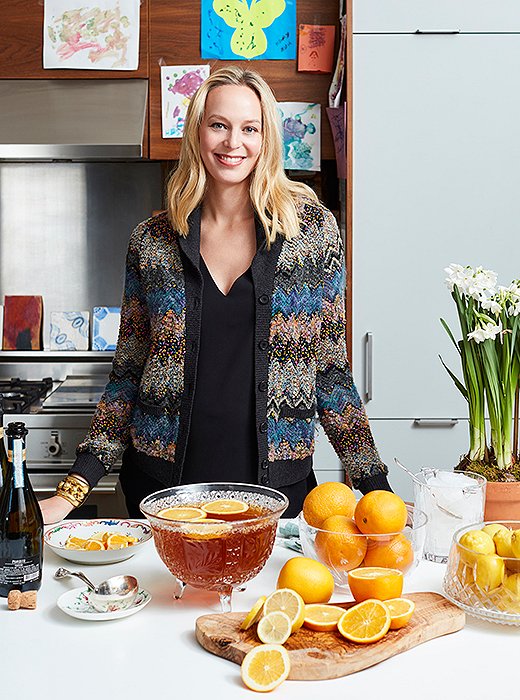 Be Warned of This Very Spirited Sip
The CAP recipe we've come to love most is partly adapted from one featured in Garden and Gun magazine. The booze list is streamlined: bourbon, brandy, and rum. Green tea also goes in, and we add squeezed orange juice as well as lemon juice for an extra-citrusy flavor. We also cut down the sugar so that, as my husband, Phillip, says, "our friends won't hate us the next morning."
The only thing this recipe really needs is some advance planning. Try to put all the ingredients (except the champagne) together about a week before you serve it. Sylvia says two weeks is even better: "At that point, the punch can stand up and walk around." In our experience, just four or five days has done the trick of mellowing and blending the ingredients into one perfect stock. It's this graceful smoothness that sets it apart from other punches—along with its spirited wallop.
On that last point, be warned: "Its kick comes about 30 minutes after you start drinking," Sylvia says. "There are lots of stories of some Revolutionary War-era general standing up to toast some other illustrious soul, but since he'd been drinking this punch, no one could understand what he was saying. So the military band would pipe up and save the day."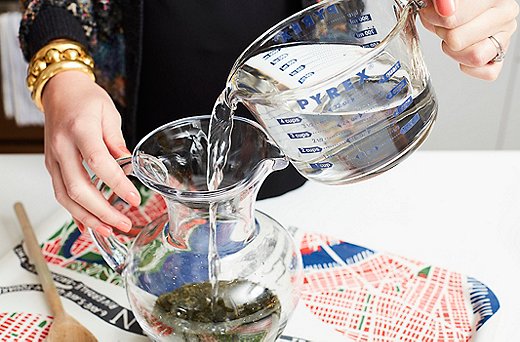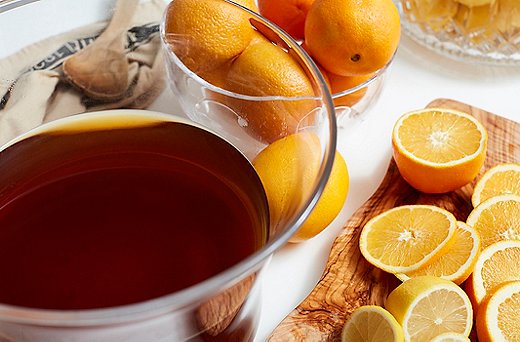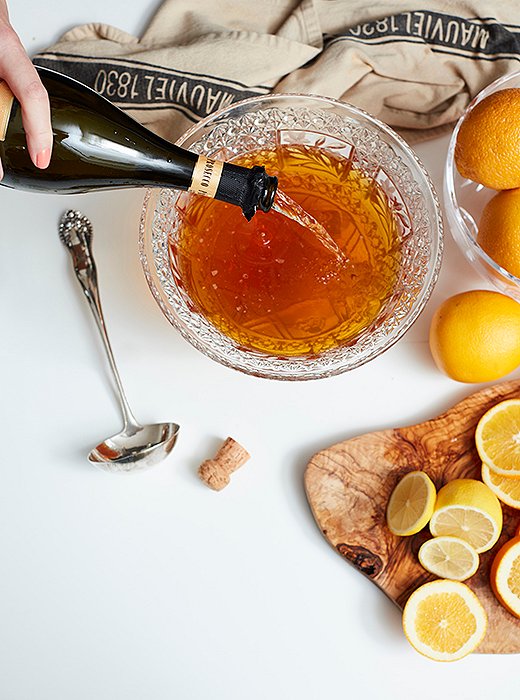 A Delicious Take on Chatham Artillery Punch
This punch is wonderful for holiday parties or a pick-me-up between Christmas caroling stops. It's also sensational on New Year's Eve.
Serves 25 (a far cry from its traditional 200)
Ingredients:
2 ounces green-tea leaves (or one standard box of good green-tea bags)
6 large lemons (4 for juice, 2 for serving)
2 large oranges (1 for juice, 1 for serving)
3/4 cup turbinado or light brown sugar
1 quart dark rum
1 quart bourbon or rye
1 quart brandy (try apple brandy for fun)
3 bottles champagne or prosecco
Directions:
1) Soak the tea leaves (or teabags) in a quart of cold water overnight. I used a glass pitcher, since you'll add a few things and stir it all up the next day.
2) Strain out the tea leaves (or remove the teabags). In a separate cup, squeeze four large lemons and one orange, then strain out any seeds. Mix the sugar into the citrus juice. Then mix it all into the green tea, stirring until dissolved.
3) Put the tea mixture into the largest nonplastic container you can find—glass, ceramic, crystal, a stockpot (or you can split everything into two big nonplastic mixing bowls). Add the rum, bourbon or rye, and brandy. Stir and cover with plastic wrap. Put it aside to sit for at least a few days, preferably a week (or more).
4) When ready to serve, put six cups of the boozy brew into a punch bowl, and add one bottle of champagne. Add slices of lemon and orange.
5) Once your punch bowl is emptied, refill using those basic proportions: six cups of brew to one bottle of champagne.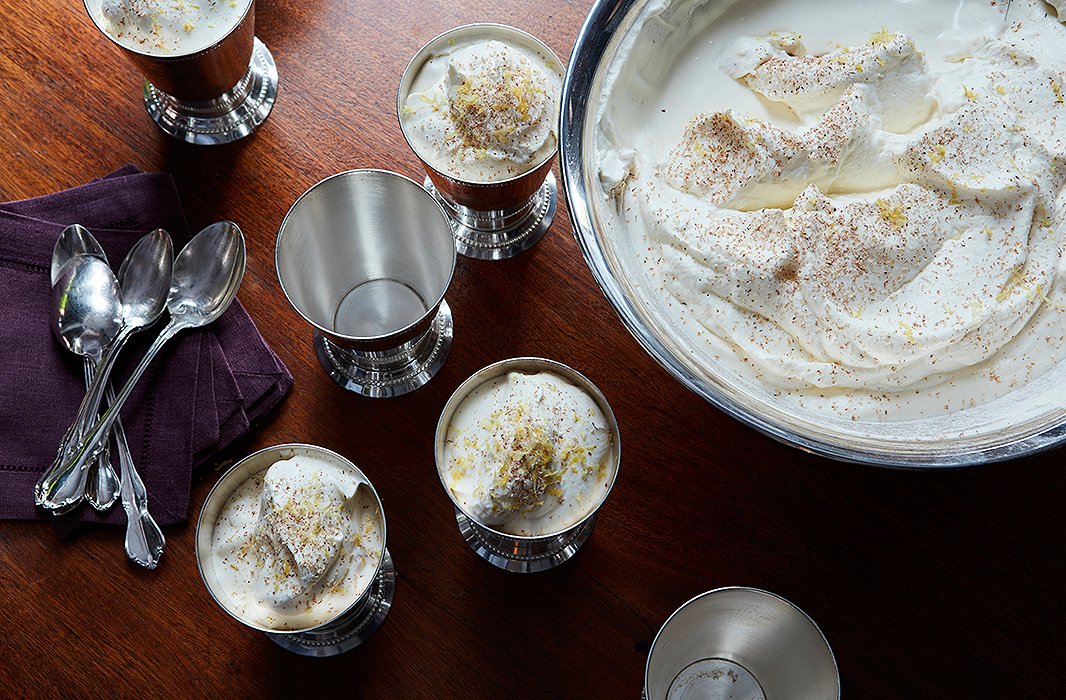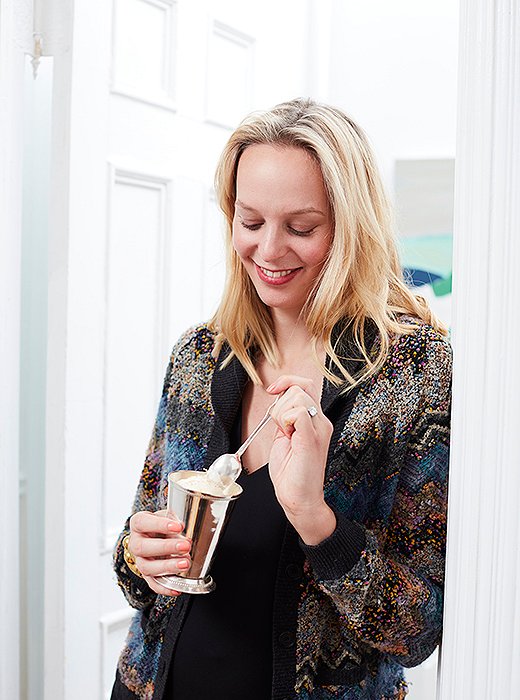 A Dessert Full of Easy Charm
Syllabub, rooted in 16th-century England, folds seamlessly into modern Southern culture, which retains a healthy streak of Anglo tradition. When Sylvia first served syllabub at a cocktail party just before one Christmas, I swooned. You can just whip cream, add sugar and bourbon, and serve it all with a spoon? For all the pomp and circumstance that can go into cocktail-party traditions, this concoction is such an easy win, it almost seemed like cheating.
The English way is to mix it with traditional British sherry, cream, and sugar, but in Sylvia's kitchen, it's made with bourbon instead and served in mint julep cups.
Sylvia Newton Summers's Syllabub
My mother-in-law prefers syllabub "with a rich and thick texture," so the cream is standing up to the bourbon rather than getting all soupy. Hers needs to be eaten with a spoon, not sipped. She also likes to serve it as a cocktail in the early evening, while I like to think of it as an easy dessert. Regardless of when, syllabub should be served immediately after it's made so the cream doesn't fall.
Ingredients:
1 quart heavy cream
1 cup milk
1 cup sugar
1 cup bourbon
1 lemon
nutmeg (fresh if you have it)
Directions:
In your mixer, whip the cream until it's stiff and thick. Slowly add milk and sugar, then the bourbon. If the mixture isn't thick enough, just add more whipped cream. Adjust sugar and bourbon to taste. When the consistency is correct, pour into a crystal or silver punch bowl. Serve into mint julep cups, then add a sprinkle of grated lemon and nutmeg.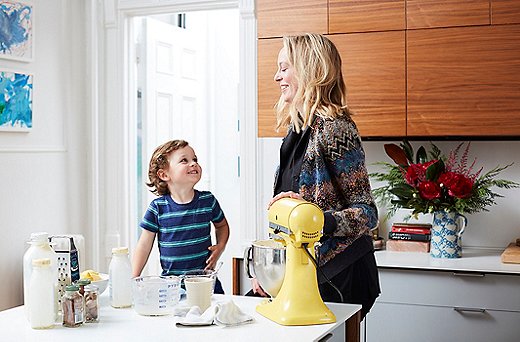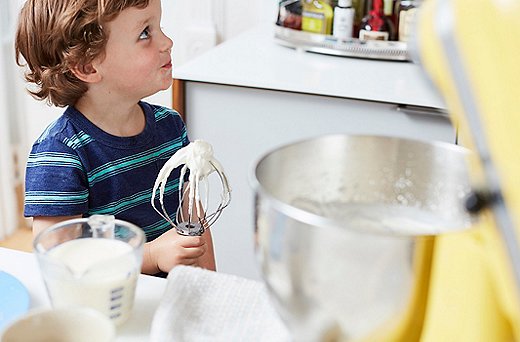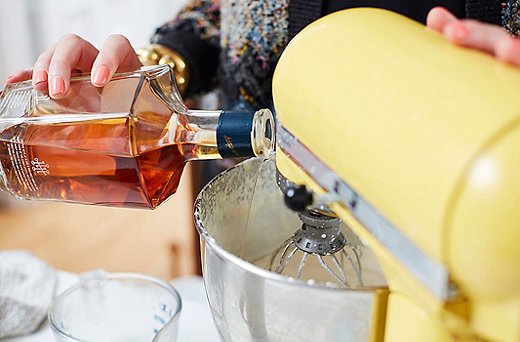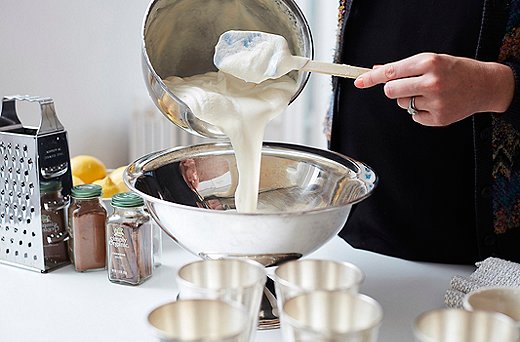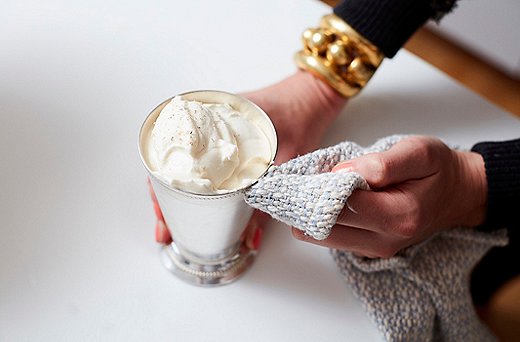 Making Peace with Holiday Hosting… My Way
Like many others, we live in a city far away from most family, and remembered traditions become needed touchstones over the holidays. That said, a few things are certainly lost in translation as they've traveled north of the Mason-Dixon line and come into our Brooklyn home.
That said, I don't know if I'd be a relaxed hostess if we had to have the perfect serving piece for each moment. Maybe it's the fact that I spent a lot of my childhood barefoot with uncombed hair, but in my hands, many things seem to descend into messiness, even if they've started out tidily enough. Over the years of hosting our tree-trimming party, we've learned that advance prep pays off, and also that some messiness makes everyone feel at ease. Perhaps this represents, in some deeper way, to the yin-yang of my and my husband's North-South marriage. It's certainly true that the longer you let it all mellow out and blend, the better.