Lizzie Garrett Mettler's signature look is a mix of masculine and feminine styles. Though she focuses on fashion on her Tomboy Style blog, Lizzie's sartorial instincts translate beautifully to the Los Feliz home she shares with husband Matthew Mettler and pup Harrison. The house itself is a hybrid of styles; built in 1921, the sun-filled spot has Spanish Revival and Mission Revival architectural details. With an eye for vintage finds, a sense of humor, and a masterful blend of high/low pieces, Lizzie designed a welcoming, warm space with tons of character. We went inside to see how this superbusy writer lives, works, and entertains.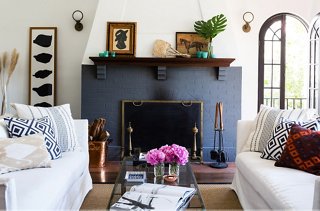 Designed for Company
Rather than sticking to one particular decorating style, Lizzie focused on the overall feel of the house. "I really want people to feel comfortable," she says, "like they can sit anywhere: on the floor, on the couch, outside."
In her sunny living room, Lizzie puts her guests-first ethos to work. The facing slipcovered sofas create an instant conversation area. "We decided we didn't want a TV there," Lizzie says. "It's so great to have appetizers with people and face each other, instead of orienting the room around a TV." Lizzie instead reacted to the room's natural features. "It's so bright and breezy—I wanted to let the space be the space," she says. She opted for bright white sofas, a natural-fiber rug, and pillows that mimic the window details.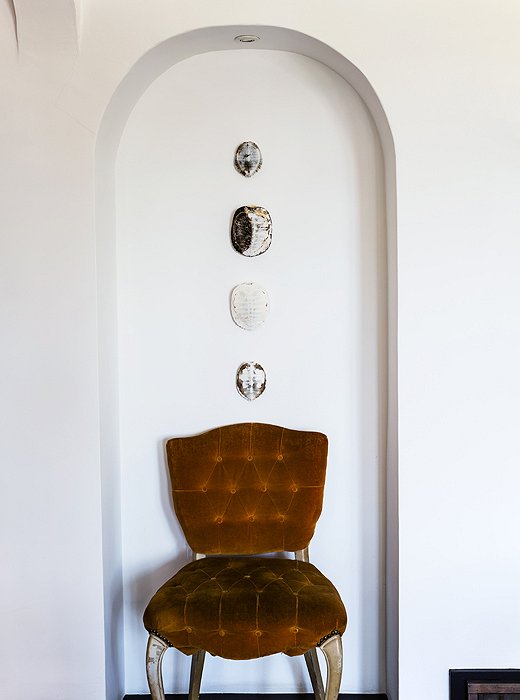 It's so bright and breezy—I wanted to let the space be the space.
Entertaining with Personality
A former writer for Bon Appétit, Lizzie loves to cook and entertain. "I'll get really deep into a theme," she says. "Last time I entertained it was British food. I made a meat pie." Dinner parties at Lizzie's are casual, fun affairs, so the vibe in the dining room is equally buoyant, with brightly colored art, 1960s Murano blue-glass sconces, and red fretwork chairs she scored on Craigslist. "The entries and main areas are really bright and white, so I brought in these fun and happy colors to liven it up," says Lizzie.
Her entertaining prowess extends to the bar, too. This summer Lizzie will be mixing up Biciclettas, a refreshing blend of dry white wine, Campari, and ice. "Bars are a homey space to me," says Lizzie. "Mine is a receptacle of weird things that sort of make sense here."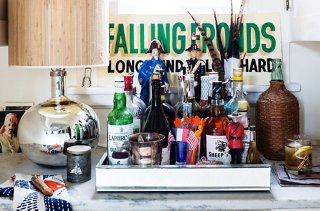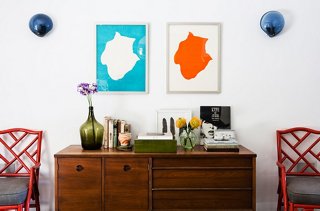 Playing with Styles
With deep blue walls and a dark sofa, the den has a masculine tone that Lizzie balances with a white hide rug, a clear coffee table, and fresh flowers. "The style I celebrate is equal parts masculine and feminine," says Lizzie. "It's not a woman trying to be a man. It's celebrating all the parts of who you are. I think our house is gender neutral that way."
Lizzie experimented with paint colors until landing on that dark teal hue, a blend of two Farrow & Ball colors. "The rest of the house is so white, we really wanted to do something fun here." For the gallery-style walls Lizzie turned to vintage art. "I love things that have a historical context—some flags, old posters, things that have a little bit of data on them like years and dates. It feels more artifact than it does random."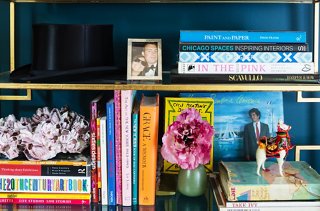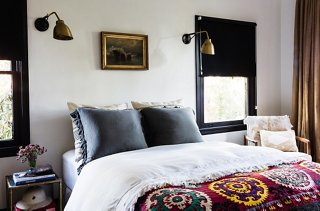 Making Room for Guests
In their previous homes, Lizzie and Matthew had no dedicated space for overnight guests. Now that they have the room, Lizzie wants guests to feel they have everything they need. "After a certain point, an air mattress is not comfortable! I want guests to feel like they can spread out and have a home base."
In addition to blackout shades, cozy linens, and an en-suite bath, the guest room features a desk bedecked with hats, in case guests need shade from the L.A. sun. From the wall hanging Lizzie made to the "badly drawn" folk-art painting of Queen Elizabeth, the desk is full of details that showcase Lizzie's personality. "It looks old-fashioned, like you'd sit in the Campaign chair and write a letter in the desert or on safari. But you can actually utilize it—plug your phone in, sit down. It's not just to look at."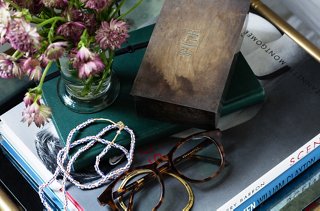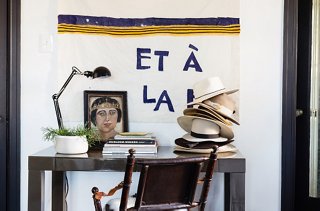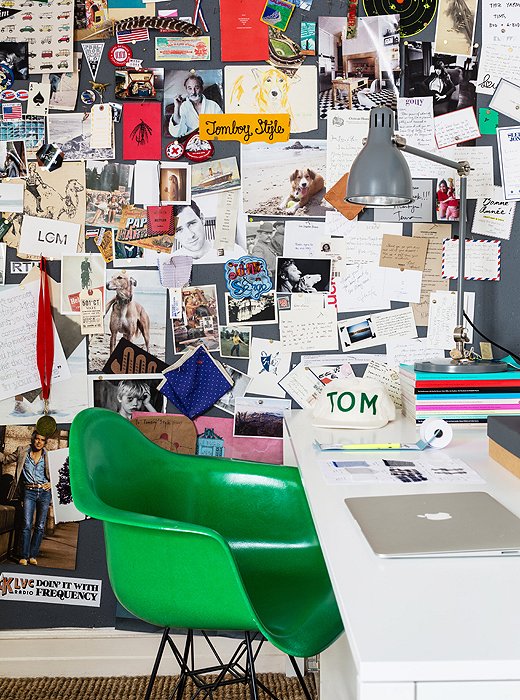 Working from Home
With a book under her belt, a superpopular blog, freelance writing projects, and an ecommerce site on the way, Lizzie needs an inspiring office space. She fills her wall-size inspiration board with what makes her happy: "postcards from friends, funny little things that I don't really have a place for…" The board has a practical purpose too: "Without it, my desk would look so cluttered. This way I have things I love to look at, but my work space is clean," Lizzie says.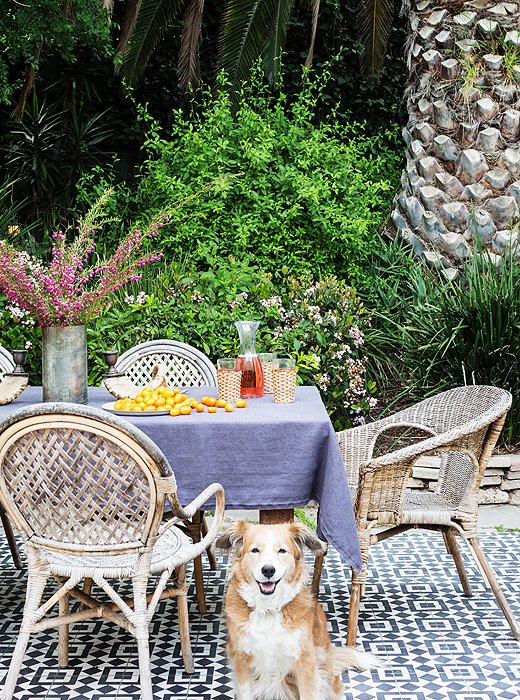 Enjoying the California Life
Lizzie and her husband eat outside when it's warm, which is easily half the year in sunny L.A. The couple entertains outdoors too. "People are more relaxed in the open air," Lizzie says. "There's nothing formal about it." In keeping with her signature style, the outdoor furniture is classic but rugged; it has weathered over years of use. "I'll be sad if we replace them," says Lizzie. "I like how crunchy they've become. I love that it feels natural."