Beautifying small spaces is just part of the job for Whitney Leigh Morris, who's often called in to help people organize and declutter. And the designer and creative director definitely lives by the advice she dishes out, putting her less-is-more design ethos to work every day in the quaint 362-square-feet home she shares with fiancé, Adam Winkleman.
Morris and Winkleman looked at more than 30 houses before falling for this 1924 Craftsman-style cottage three-and-a-half years ago. "It was so darling we couldn't pass it up," Morris says. "We stumbled on a space and fell in love." Though petite, the L.A. bungalow has some obvious perks: It's situated between the Venice canals and Abbot Kinney, a buzzy hub of amazing shops and restaurants. Plus, the house is always bathed in bright sunlight thanks to skylights, windows, and glass-paned doors all around.
We first spotted the "tiny canal cottage" (as Morris calls it) on her inspiring Instagram account and couldn't wait to take in its light-kissed rooms and plant-filled terraces.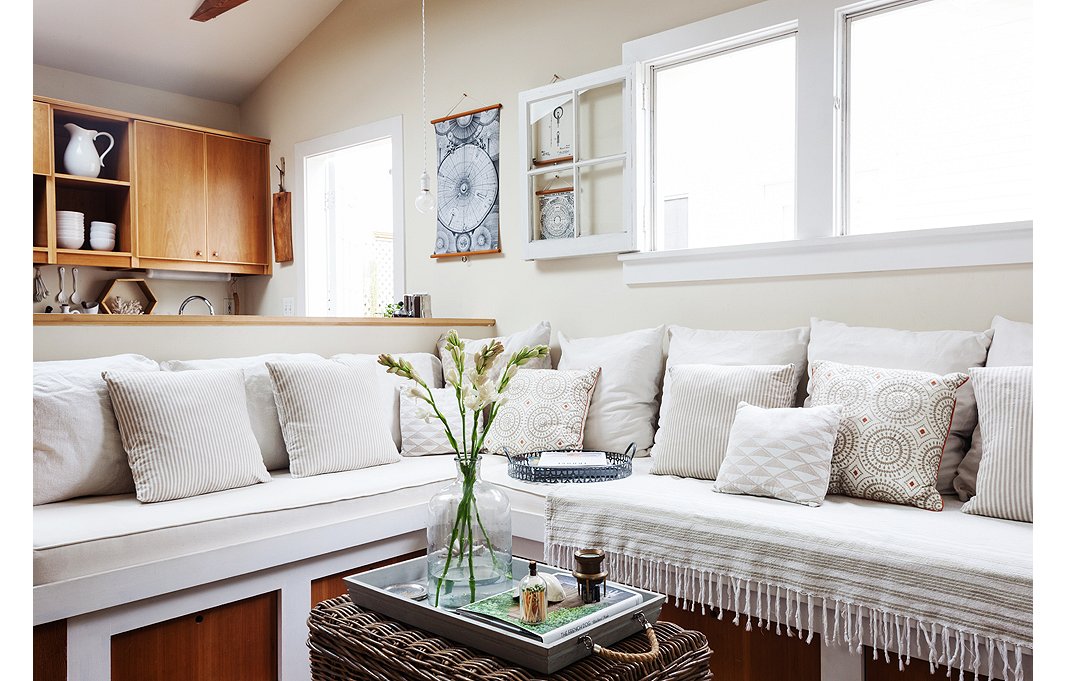 It Takes Two
Though Morris and her fiancé have different design aesthetics (he goes for modern furnishings in primary colors, she for earthy neutrals), the two never disagreed on how to furnish the home. "What works for the space is obvious!" she says. And for her living room sofa, that means off-white pillows in a variety of subtle patterns. In the winter, she works in richer textiles and metallic accents.
Personal Touches
Rounding out the white dishware, a handful of thoughtfully chosen accents decorate the kitchen, including a piece of coral over the sink—a reminder of Florida, Morris's home state. The photograph behind the hanging mugs shows the Washington Pier, which is a short walk from Morris's current home. In case of culinary messes, Morris sticks to art that's easy to wipe down or rinse off.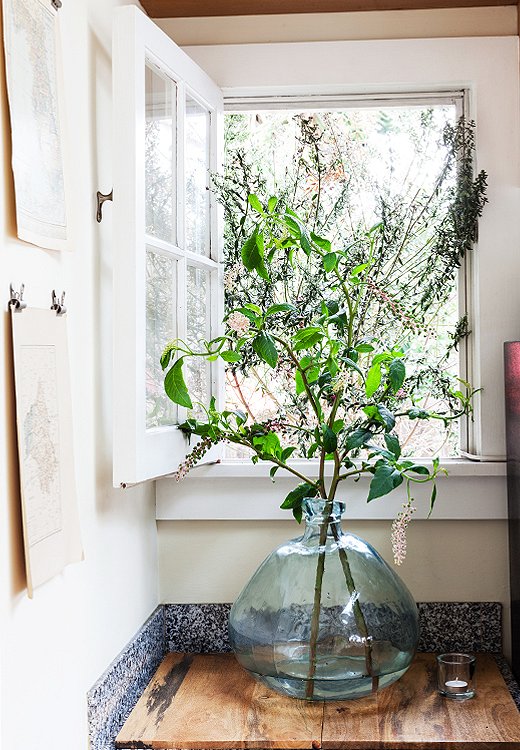 Easy Accents
Morris doesn't buy artwork that requires framing, since earthquakes are common in the area. Instead, nearly every piece of art in her home hangs on simple bulldog clips. She also prefers to decorate with leafy green branches over fussy flowers. "They tend to last longer, make less of a mess, and have a way of making spaces look simple yet wild at the same time," Morris says.
Work/Life Balance
Morris's desk is tucked into a corner of the living room, right off the kitchen. Because the room has to serve multiple functions, she selected a thin metal-and-wood chair "to prevent it from taking up too much visual space." A sizable wall mirror also makes the room appear larger. "Whenever we take it down to clean it, we realize what a difference it makes," she says. A collector of driftwood, Morris shops Etsy and beachside vendors in search of the naturally rugged material. The corner is decorated with a twine-driftwood display.
We always want the focus of our home to be the people in it or the neighborhood around it. Here, we have this amazing beach community and each other—and Stanlee.
Shift into Neutral
Morris chose her palette carefully, opting for paint and furnishings in whites and neutrals. "A bright, consistent palette makes the space look far larger than it really is," she says. The couple gave away some too-colorful items, painted a few others, and got creative for the rest. Case in point: their collection of multicolor books, which made the bedroom feel cramped and cluttered. Morris flipped book jackets over and wrote titles on the white sides to make the space look airier while keeping her collection intact.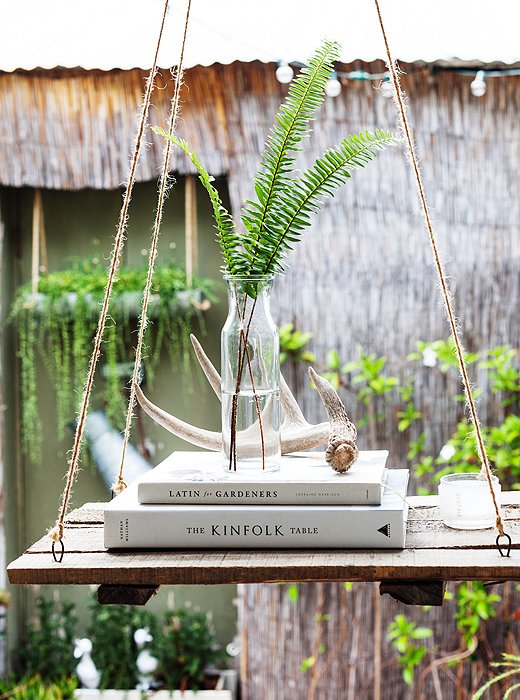 When in Doubt, Look Up
Morris edits her space constantly, but she still had to get creative with storage. Her expert tip: "Hanging storage has been extremely helpful for us. We use hanging trays, wall ladders, and S-hooks on branches to go vertical." Whatever you hang, Morris suggests making it functional too: "Put things up high that will be pleasant to look at and also serve some purpose." In her bedroom, she kept the previous owner's up-high TV shelf and filled it with plants and candles, which bounce light around the vaulted ceiling. "It looks very cool," says Morris.
Party Planning
Morris uses the wheeled baskets at parties too. One holds clean glasses, and the other is for used glasses. She spreads them out so that guests will circulate. "I'm all about using pieces in ways that they were not intended," Morris says.
Garden Fresh
Getting the exact look you want isn't always easy, even for a pro like Morris. "We'd tried butterfly chairs out here to create a smoking lounge, but that wasn't working. Then we tried a white bench, but it stuck out too much from the darker colors behind it. Then I saw this [bench], and it's a keeper," says Morris.
Pulling Double-Duty
How to keep your space feeling open and airy? Morris's first tip is to be careful about what you bring into your home in the first place: "Most of my belongings need to serve at least two purposes." She also recommends reconsidering belongings after returning from a trip. If you missed it while you were away, keep it. If you forgot about something, consider letting it go. "Living out of a suitcase can be a pain, but it can also be very eye-opening when it comes to assessing material clutter," Morris says.