As Valentine's Day approaches, it's time to think about how to celebrate with your loved ones—whether it's a cozy dinner with your significant other, a casual meal with the family, or cocktails with your closest friends. If you need a little bit of hosting inspiration, you're in luck: Stylist Michelle Wong dreamed up a few genius ideas, including an easy but elegant tablescape and extra-sweet desserts certain to please a crowd. Read on to learn how to do it—then get ready to feel the love.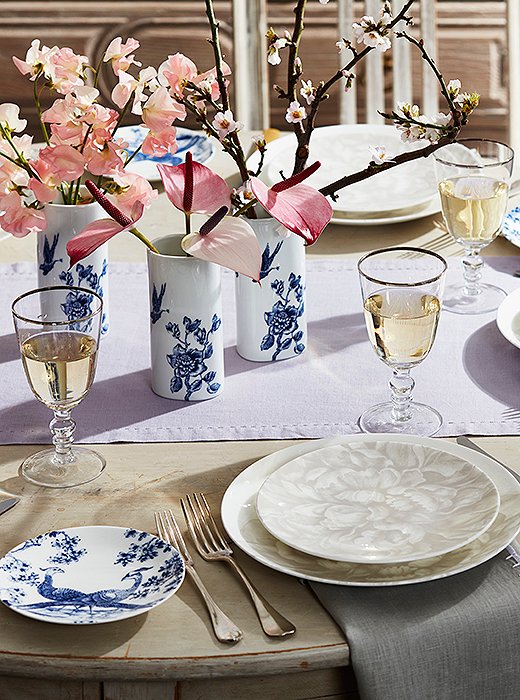 The Elevated, Easy Table
"I wanted a modern take on something very classic and traditional," Michelle says, so she turned to the gorgeous wares of Caskata, a Massachusetts-based brand whose handmade tableware is a One Kings Lane favorite. Gray floral salad and dinner plates bring in subtle, modern elegance, while blue-and-white dessert plates provide contrast and a whimsical touch. For linens, Michelle chose a simple lavender table runner, whose hue feels right at home in a winter-meets-spring palette, and whipstitched gray napkins (tucked under the plates to keep the settings uncluttered). Vintage French silver-plate flatware adds an effortlessly polished finish.
In lieu of one large arrangement for the centerpiece, Michelle opted for a cluster of same-size bud vases, each filled with a different type of flower. Anthuriums, almond branches, and sweet peas were her blooms of choice; the monochromatic pink palette lends a cohesive feel. (On top of being easy, these arrangements come with an added bonus: Once the party's over, you can divide up and relocate the vases to spread a little beauty throughout the rest of your home.)
The Decadent Desserts
Double Chocolate Tart
"I have the biggest sweet tooth, and I'm a serious dark-chocolate addict," says Michelle, so it was only natural for her to whip up something extra rich for Valentine's Day. Michelle recommends making this dessert in a 9-inch tart pan, but a pie tin works in a pinch.

Ingredients
For the crust:
1 package chocolate wafers (Michelle used Nabisco Famous Chocolate Wafers, 9 oz)
5 tbsps unsalted butter, melted
For the filling:
1 cup heavy cream
2 large eggs
10 oz bittersweet chocolate chips (Michelle used Ghirardelli 60% Cacao Chocolate Premium Baking Chips)
1 tsp vanilla extract
For the toppings:
3 tbsps crushed pistachios
Fresh berries
Ready-made whipped cream
Directions
For the crust: Preheat the oven to 350 degrees, and coat a 9-inch tart pan with nonstick spray. Pulse chocolate wafers in a food processor, then add into mixing bowl with melted butter and stir until uniform. Press the mixture into the tart pan, using the bottom of a glass to flatten the crust on the bottom and sides of the pan. Bake for 10 minutes and allow to cool.
For the filling: In a small saucepan, bring the heavy cream to a boil. Turn off the heat, and pour cream into a mixing bowl. Whisk eggs in a separate bowl. Add the chocolate chips to the cream, and let sit for 1 minute before stirring. Add whisked eggs and vanilla extract, and stir to combine. Pour the filling into the cooled tart crust, then bake 15-20 minutes at 350 degrees. The edges of the filling should appear firm and set. If you start to see cracking on the surface, pull the tart out of the oven—this means it's done.
For the topping: Allow the tart to cool completely. To create the heart design, fold a piece of paper in half, draw half of a heart shape, then cut the shape out. Carefully lay the stencil on the tart, fill in the empty space with chopped pistachios, and remove to reveal the heart shape. Display on a cake stand, then serve with whipped cream and fresh berries.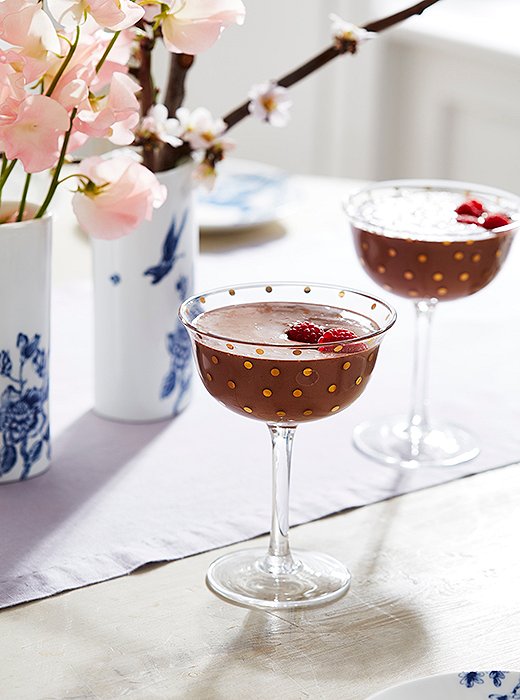 Chocolate Addict Ice Cream Cocktail
If you're going to splurge on a cocktail, this tipple—with its chocolate ice cream and double dose of liqueur—is the one. If you'll have kids joining you, simply omit the alcohol and serve with berries and a drizzle of chocolate sauce.
Ingredients:
2 oz amaretto
2 oz crème de cacao dark (Michelle used Marie Brizard)
4 scoops chocolate ice cream
Raspberries for garnish
Directions:
In a blender, combine amaretto, crème de cacao, and ice cream. Blend ingredients until smooth. Pour into shallow coupe glasses and garnish with raspberries. Serves two.