You can live large, even if your apartment is less than 1,000 square feet. Small-space living is all about finding the optimal mix of textures and patterns to keep things visually compelling without creating clutter. Sheepskin atop sisal, gleaming brass atop raw wood: Mixing rather than matching textures gives petite spaces sophistication and depth. Read on for advice on everything from picking paint colors to finding just the right piece of sculptural furniture for your tiny abode.
All Things Considered
Even if you believe that rules were made to be broken, there are certain tenets you should keep in mind in a small space.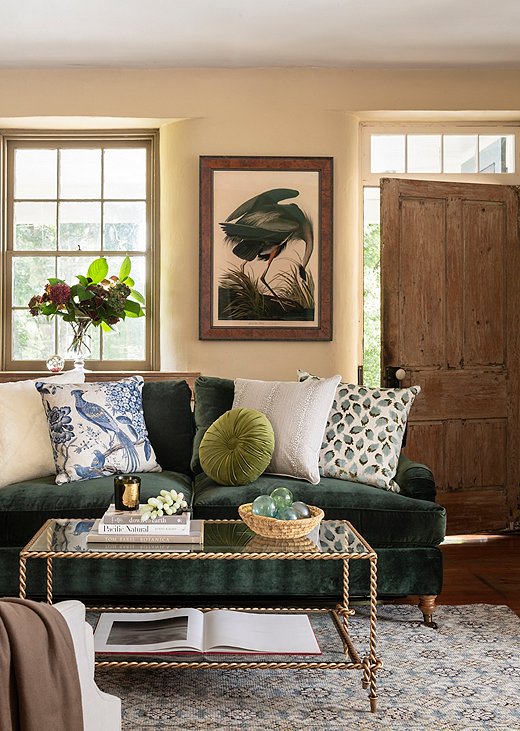 Proportions: Proportion controls every choice you make when decorating a small apartment. It affects not just your choice of furniture silhouettes but also the size of art and even that of your pillows. So while you might easily see that a two-seater sofa is better suited for your petite space than a three-seater, you might not consider that a large pendant light might overwhelm your space—or if your ceilings are high, might not. Know your measurements and you should be able to find all the right dimensions.
Durability: Things get used a lot more in small spaces. For instance, sofas and chairs often double as places to sit during meals or take a quick nap. You should always opt for performance fabrics when available. They'll hold up to average wear and tear as well as to the extra strain small-space living puts on them.
Organization: Keeping things organized is the key to not going crazy in a 500-square-foot apartment. We have written tons of organization stories over the years, but our best tip sums it all up: Every item needs a home. If you find a place for everything, your space will never feel too cluttered.
Style: Make your style obvious. You don't have a whole house to tell a story. Be conscious of this when you're buying pieces to fill your home. You want to make sure each piece ties back into your style. Not sure what your style is? Check out our style guide and see which category you fall into here. 
Start with the Walls
Once you've gotten those ground rules in place, it's time to start decorating. You have only so much space to tell your style story, and your walls make up a significant portion of that space, so let's begin there.
Paint: Some people believe that dark colors don't work well in small spaces. We disagree. Dark colors often make things feel cozy. Given the right amount of natural light, they can also make a room feel larger than it appears. If you want to go a more traditional route and paint the walls a lighter color, take a cue from your soft goods (bedding, pillows, etc.) to land on a color. Coordinating these will make the space feel more harmonious. If you're feeling adventurous, you could go big and paint a mural on the wall; check out our guide here.
Lay the Foundation
Good design is like construction. You wouldn't build a second story if you didn't have a secure foundation, would you? The same applies when decorating a room. You have to create a good foundation—literally—to design a polished room. For many, especially the apartment-dwellers among us, that means rugs.
Sizing: Rugs have the unique ability to throw off the feel of an entire room if they're sized incorrectly. For a detailed breakdown of rug sizing, check out our rug guide. In general, there are two ways we recommend using a rug in a small space. If you have the room, center the rug in the space and place furniture on top of it. If you don't have the budget or space, put at least the front legs of furniture pieces on the rug to prevent it from seeming too small or skimpy.
Styling: Finding way to introduce texture is key in a small space, and layering rugs is a chic way to do that. The best base rugs are made of natural materials such as jute or sisal. Layer a kilim or sheepskin rug atop that to create a sense of depth. That sense of dimension is key in making a small space feel larger than it is. Use this philosophy to determine where else texture can be used in your space.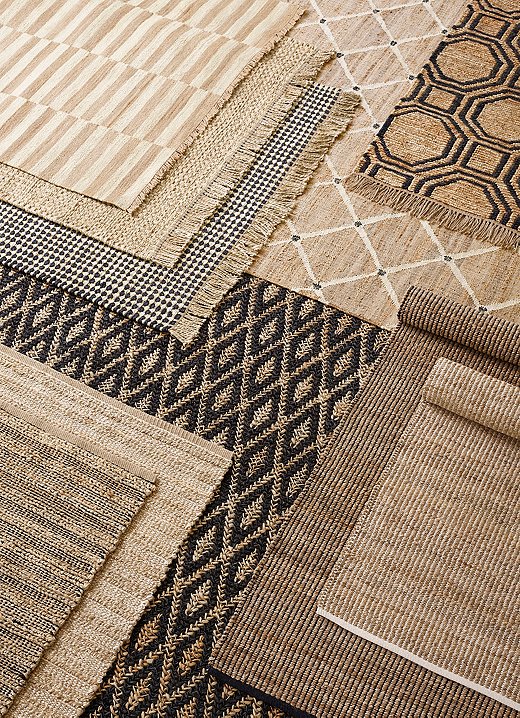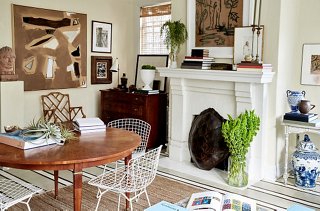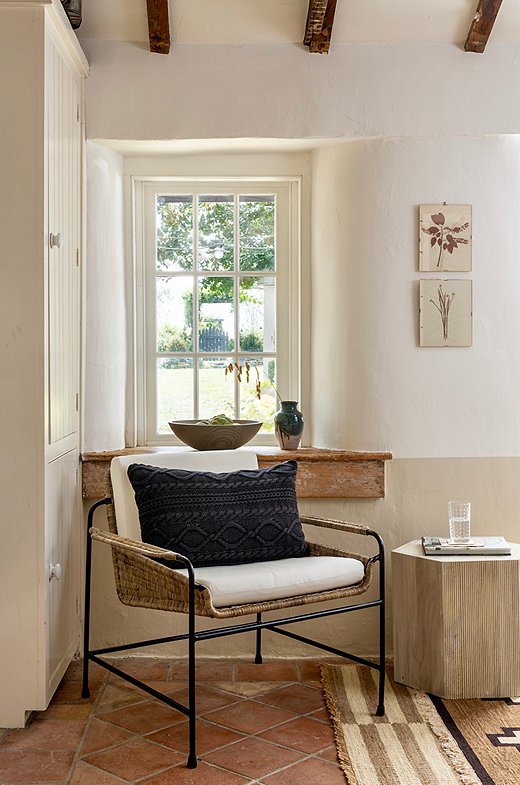 The Standouts
The standouts are the items that bring your style to the forefront: Think larger pieces such as sofas, coffee tables, and buffets. Use their pattern and color to your advantage, but choose them carefully because they'll carry a lot of power.
Sofas and chairs: You already know that picking the right size for your sofa is of the utmost importance in a small space. (For ideas on how to execute the perfect living room layout, check out our guide here.) Beyond size, sofas and chairs are great vehicles for pattern in a small space. Use them to create a showstopping moment. Consider going bold in your color choice or opting for a pattern such as stripes or animal print. For texture, try velvet. Or if you would prefer to stick with solid, neutral upholstery, select sculptural silhouettes to create intrigue and layer on pillows in an array of colors and patterns.
Coffee tables: Smaller, streamlined silhouettes will serve you best here. Acrylic frames or glass shelves free up visual real estate and create the illusion of airiness. Or go for two X-benches or other small ottomans instead of a big table; they can also serve as extra seating. Place trays atop them to create surfaces for styling beautiful tableaux.
Case goods: We suggest going tall and narrow for any storage pieces; you want to leave as much room for foot traffic as possible. For instance, opt for a tall bookcase instead of a wide credenza for your TV.
Finishing Touches
Art, mirrors, decor: These are the things that make a house into a home. They should tie together all the colors, textures, and patterns in the space.
Art: Pick art that speaks to your style and colors that match the palette of the room. If you're a New Traditionalist, go with a classic oil painting. An Eclectic could try a framed shibori print. A Curator might love the abstract colors of a Michelle Armas work, while a Naturalist might choose fossils in a shadowbox. 
Hanging art in small apartments is all about balance. Forget the rule that says you can't hang large statement pieces in small spaces. You can, especially if you offset them with smaller pieces that fill a similar amount of space around it. If you want to go the gallery-wall route, try sticking to smaller pieces. More pieces that take up less visual space individually leads to a more dynamic display.
Mirrors: Mirrors are key to making a space feel larger. Consider putting a mirror up along an entire wall to make the space feel twice as big. If your lease forbids it, try placing large mirrors throughout the apartment. Opt for a full-length mirror near the entryway, and hang another mirror above your dresser.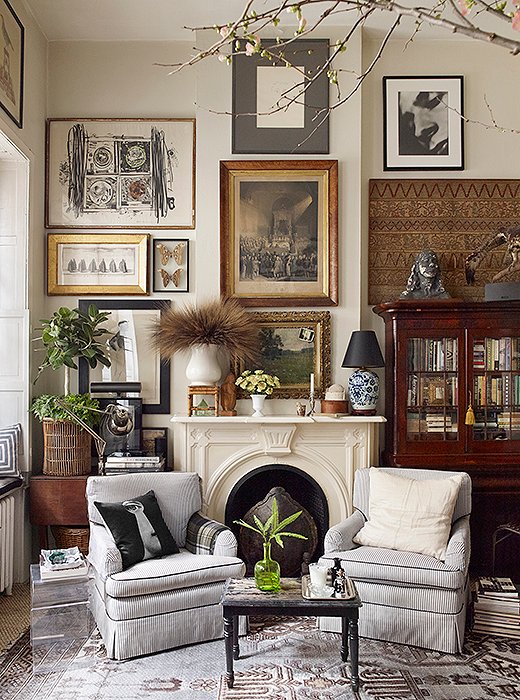 Decor: Objets add personality— but edit them down to keep a space from feeling too cluttered. Scale collections back to a single group of three or five items. Even better, opt for one large item instead of a few smaller ones. If you have tons of books, consider donating the ones you haven't picked up during the past year.