Magical is often overused. But Twin Farms really is magical. Tucked into the rolling hills of Vermont, the property is huge—300 acres encompassing gardens, trails, a pond, and secret finds (like a Japanese furo bathhouse)—but the guest list is small, with only 40 at a time.
Twin Farms' main house dates to 1795 (with a few enhancements along the way, natch). George Washington was president then. Let that soak in. It is a meeting place, dining hall, chill-out, swap-stories kind of a spot. Decadent breakfasts and drawn-out dinners. Fine wines and even better conversation.
And rooms, totaling 20, are spread through that farmhouse and a newer one, a lodge, and a handful of standalone cottages. Decor-wise, they're varied and fascinating, from cabin chic to wrapped in toile, with art front and center always (Twin Farms has quite the collection) plus vintage pieces from all over the world. Below, we share a peek into some of our favorite spaces and let you know how to make the look your own.
The Farmhouse at Copper Hill
This farmhouse, the newer little sister to the historic heart of the farm, has four suites (all with private entrances and botanical names) off a shared lounge and library. Architect Peter Bohlin dreamed up its design—high ceilings, natural wood, stone, and glass; designer Thad Hayes was responsible for the decor, with its creamy linens, sturdy wood furnishings, and hits of Americana. "It's styled like a sophisticated Vermont farmhouse," says general manager Michael Beardsley.
What We Love
The hotel possesses an enviable linen collection, and tables are set differently for each meal but always with famed Simon Pearce glassware.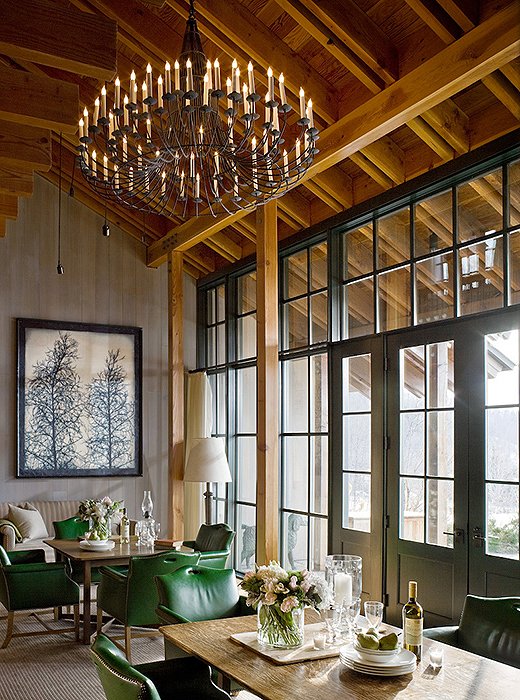 3 Decorating Ideas to Steal
1) Let art draw focus. "The property was designed around art," says Michael. "Some walls were even sized just so to showcase certain pieces." And if the property knows one thing, it's art: Works from such luminaries as Cy Twombly, David Hockney, and Jasper Johns decorate each room as well as the common areas.
2) Exposed rafters make ceilings look even higher, as your eyes pass over them on the way to the true ceiling.
3) Farmhouse-style flower arrangements need not be fussy. The hotel's florals are all snipped from its property, where snapdragons, hydrangeas, black-eyed Susans, and lupines flourish in tended gardens and wildflower patches.
The Chalet
"All accommodations were individually designed," says Michael, "from a Tuscan theme to an Asian farm cottage." And the Chalet is the never-want-to-leave wonderland, with eye-popping amenities: the two fireplaces, the 18th-century stone floor (reclaimed from a Burgundy chateau), the private hot tub on the porch, the private downhill ski slope. Plus a little birdie told us it has "the best view on the property."
What We Love
Other fun decor touches include overstuffed furniture, a stag-antler chandelier, and hand-thrown glazed tiles surrounding the bedroom fireplace.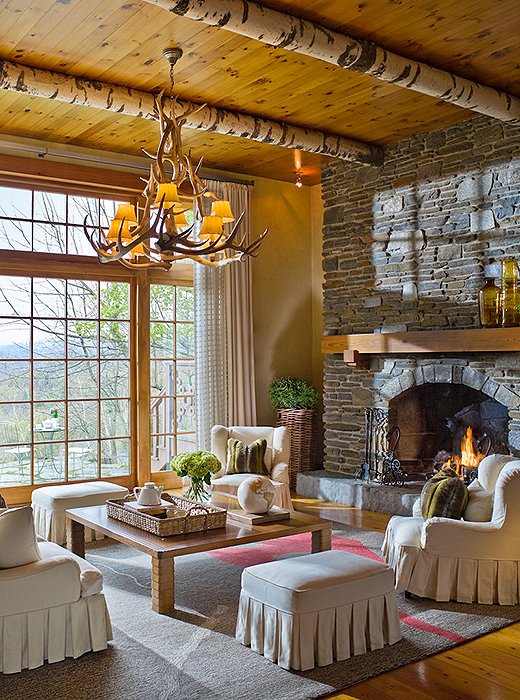 3 Decorating Ideas to Steal
1) Take it from a hotelier, "dreamy bedding is all about the feather topper on the mattress," says Michael. "That and good-quality feather pillows." Of course, the beds are made with organic Italian cotton sheets too.
2) Always have your guests' comfort in mind. Twin Farms has water carafes on nightstands, chenille throws to cuddle up with, shelves of hardcover books, and current magazines and newspapers at the ready. "Everybody's into their electronics, but a great deal of newspaper reading happens here," says Michael.
3) Whether standalone trees, potted orchids, or groupings of succulents, houseplants add an instant (and inexpensive) dash of color and life to rooms.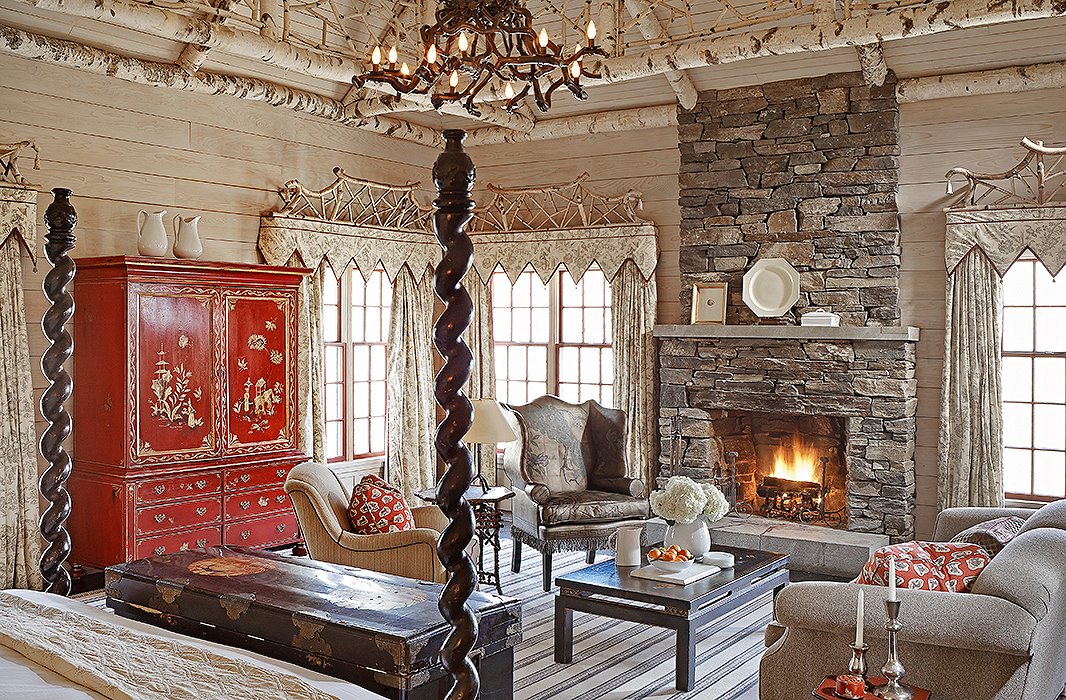 The Treehouse
The Treehouse is one of the inn's most intricately decorated, most whispered-about cottages. From the delicate birch frieze around the ceiling (dreamt up by designer Jed Johnson) to the four-poster bed topped by hand-carved parrots to the hand-painted leather chair, it's a down-the-rabbit-hole trip into "a little birch forest," Michael says.
What We Love
Improbably, the look is at once subtle (thanks to a mostly neutral palette) and completely over the top.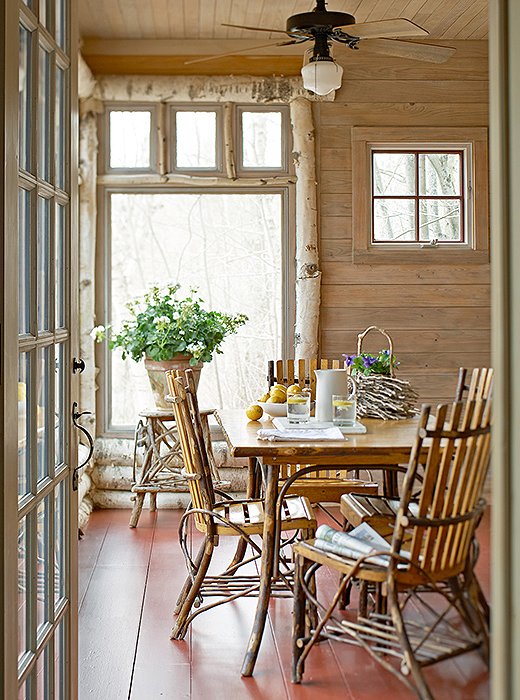 3 Decorating Ideas to Steal
1) Embrace the mix! "Throughout the property, antiques were brought in from France, England, and Asia and also sourced locally from estate sales and antiques stores," Michael notes. This room alone mixes Italianate detailing and chinoiserie with raw stone and bent wood.
2) Working a purposeful contrast (dark furnishings on pale floors and walls—or vice versa) makes the details of each stand out.
3) The vaulted ceiling is framed by unskinned birch logs, an underutilized twist on the natural-wood craze.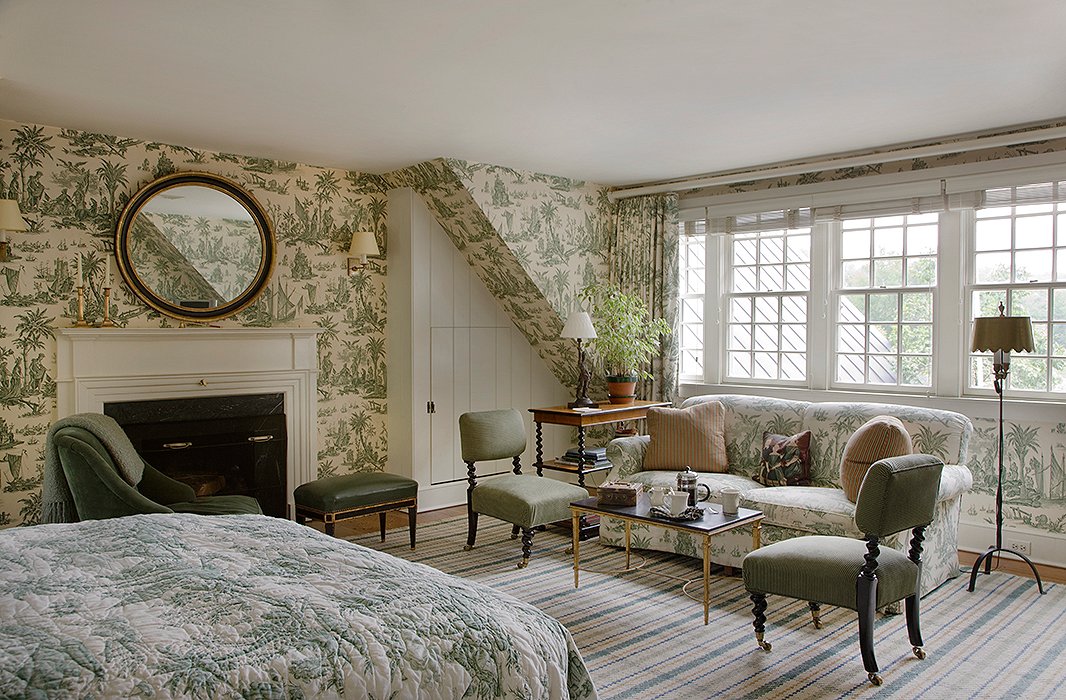 The Guest Room
Tucked within the main house, this riot of grass-green pattern on pattern is one of the four most historic rooms on the property. Measuring 560 square feet, it's still stretch-out-and-stay-awhile spacious, with a matching green-marble fireplace, garden views, and an antique clawfoot tub in the bathroom that calls for wine, a novel, and a few hours to yourself.
What We Love
Wrapped in toile de Jouy, the room feels as if it could be in an eclectic friend's well-appointed pad. No surprise, everything in the hotel was designed from a residential perspective: fine furnishings, finishes, and fabrics—no weird hotel polyesters, acrylics, or pleathers here.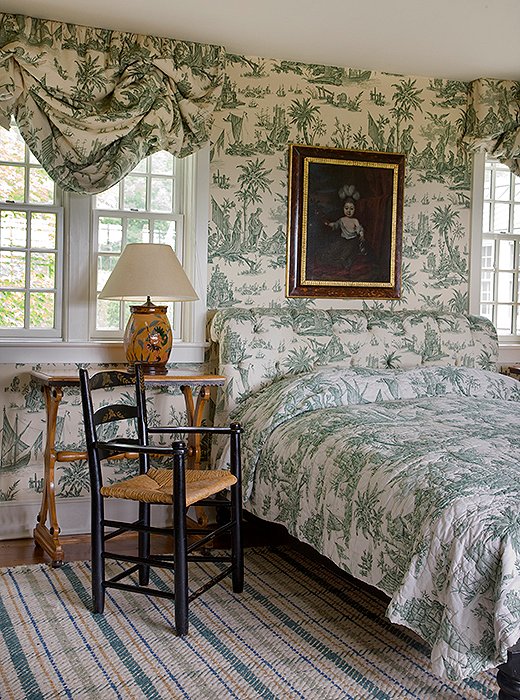 3 Decorating Ideas to Steal
1) A power pattern used in multiple ways—here on the walls, the linens, the curtains, and the sofa—is a bold decorating move employed by designers unafraid to make a statement. When done with sophisticated small-scale prints, the look as a whole is chic and subtle.
2) Vintage portraits can dignify an eclectic mix, grounding out-there elements such as bold palettes and prints with their deep tones.
3) If you have the space, adding a chair to your bathroom gives it a lovely boudoir feel, whether it's stacked with decorative towels or left bare as a handy perch.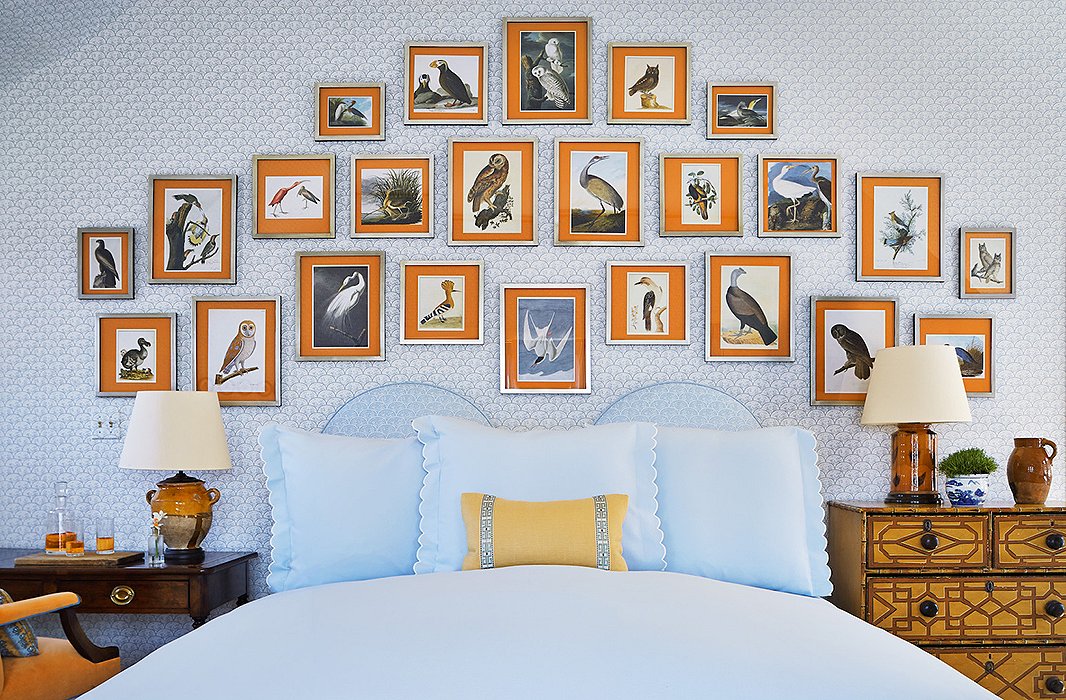 The Hillside Suite
One of two suites in the lodge, a separate building near the main house, this light-filled space is all traditional decor on the inside: a tulip post bed, an American zodiak hand-hooked rug, and English chintz fabric. Outside, from the covered porch, it's all views of Mount Ascutney.
What We Love
Hillside possesses the bathroom of your dreams: soaking tub, tufted window seat, double sinks, and walk-in shower. (Each Twin Farms room comes with a selection of bath products featuring a custom blend of fresh scents including lavender and pine by local maker Versante.)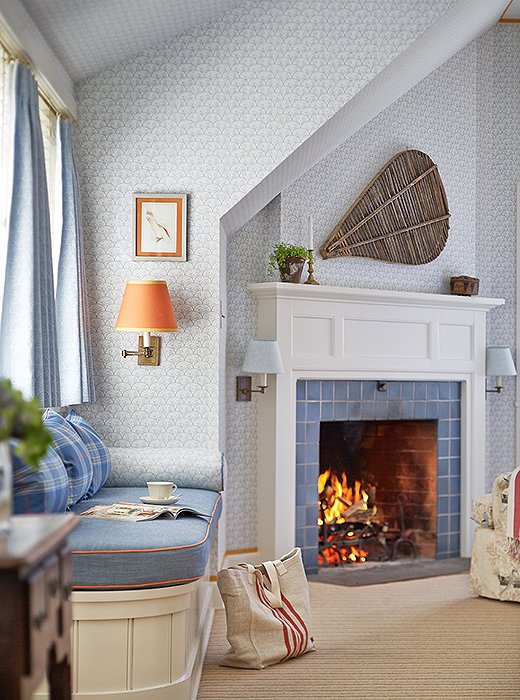 3 Decorating Ideas to Steal
1) Designers love a collection because all items look stellar when en masse. And images displaying variations of the same theme (here, birds) provide an unexpected refinement on the tried-and-true gallery wall.
2) A nearly monochromatic color scheme comes off as of the moment, even when paired with traditional-leaning furnishings. "We tried to bring the outdoors in when it came to the palette," Michael says. "Four seasons of colors run throughout the rooms." With its pale blues, Hillside is spring personified.
3) When you live in an area with a strong style perspective—whether New England or the Southwest or Southern California—bringing in local touches nods at a shared design heritage, but the way you style them remains resolutely your own.
In terms of color palette, we tried to bring the outdoors in. Four seasons of colors run throughout the rooms.